Frugal Living: Organize Like a Pro
Phaedra Studt destroys disorder. In an interview on Frugal Living, she shares her expertise in decluttering and maintaining an organized life.
---
There's a cost to clutter. Storage space costs money, and organization costs time. So, we asked Phaedra Studt how to organize like a professional. How can a frugal person save money and time by decluttering their life?
We also discussed how to find a professional organizer, where to start decluttering, and why it pays to avoid clutter in the first place. As always, you can listen for free wherever you download podcasts.
Where to listen to Frugal Living
Interested in direct help with your own clutter? Phaedra offers consultations on how to use your space efficiently. Here's a partial transcript of our conversation.
Transcript of Frugal Living: How to Organize Like a Pro
This is Frugal Living. <Music> In previous seasons, we've talked about clutter. But what about the other side of it? How do you get organized? That's something that's been on my mind for a while, and I wanted to reach out to someone who knows a lot about this. So I found Phaedra.
She's a professional organizer. This is what she does for a living, and she built her own business. So this hits a lot of the interests that we have on the podcast. It's about entrepreneurship. It's about decluttering your home. There are conversations here about zero waste. I learned a lot from her, including practical tips about how to address clutter in my own home. And I think you will too. Here's our conversation. <Music>
Phaedra:
I'm Phaedra Studt, the Disorder Destroyer of Practical Possibilities.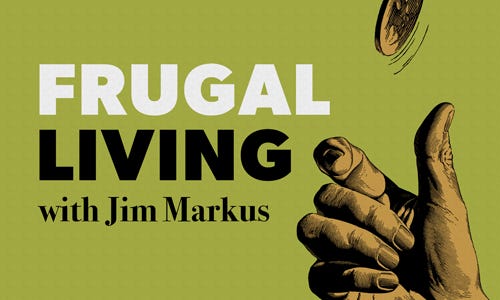 Listen to Frugal Living
Jim:
You just got back from a convention. Is that right?
Phaedra:
Yes, the NAPO annual conference. NAPO stands for the National Association of Productivity and Organizing Professionals.
Jim:
I know this is a familiar place because when we talk about clutter, this is an organization that comes up pretty often. Can you tell us a little bit more about what they do?
Phaedra:
It's just a large organization, probably the main organization that anyone that's within the organizing field or the productivity field joints into. They offer a series of educational classes on all different kinds of topics within the organizing realm as well as for productivity as well. They also offer networking opportunities for other professional organizers. As well as they're just trying to get out into the world what professional organizing is, that we exist and, and try to connect us with the people that need our services.
Jim:
You are an organizer. You help people get their lives in order. Can you tell me a little bit about what that means?
Phaedra:
People will contact me when they feel like their homes are getting overly cluttered and they feel like they're not able to do certain things in their homes. Some of the basic things will be having people over without, like, shoving everything into another room. I also like to help artists. So I'm trying to help them organize all of their items, all their materials, so that they know exactly where they're at and not going back and forth throughout their homes to try to find, like, that one pair of scissors.
And what's really helpful about knowing where everything is, is that it prevents you from rebuying the same things over and over again. It also helps you use up what you have when you know you have it. But within all the sorting of what you have in your home, I will also help create a system for maintaining that space, which includes designating homes for categories of items, making all the storage options easy to access.
So you're not just piling things up nearby to put away later. And then usually a decluttering component with it because we wanna get things out of the home that are not being used and are taking up space and probably blocking our way to the things that we actually want to use.
Jim:
How do you start? So, like, when, when someone invites you over and they have, I mean whatever their situation is, what does that process look like?
Phaedra:
Yeah. So I start with just a conversation with a client. And that's usually before I even step foot in their home. I try to schedule a Zoom call with them so that if they wanna, like, show me some of their spaces so I could see what they're working with. Then I'll ask them, like, you know, kind of what their pain points are, why is now the time to get organized, just so I could figure out a place to start. Which is an obstacle that a lot of people have when they're trying to organize on their own.
Just, they look at the clutter. They're like, "Where do I start?" So from there, when I get into the home, I start with, like, the place that makes the most sense. You know, it's not one-size-fits-all. You know, sometimes it's, you know, just the kitchen table. Sometimes it's clear off the desk so you can work more efficiently.
It's just a matter of picking up one item at a time and making a decision. I think we get overwhelmed when we see all of the items. But ultimately in order to get started, you just have to reach out, grab something, and decide if you're keeping it or if you need to discard it.
Jim:
I like the idea of, you know, one thing at a time. Pick it up, evaluate it. But it seems like you need to have a strategy in place before you begin that process. What are the steps you take to create a strategy before you start organizing?
Phaedra:
It helps to have a space open where you can, kind of, stage certain categories. Not to mention, it also helps to have a bag for all the trash that you're gonna find. A little box or container for all the change that you're gonna find because we always find money when we're decluttering and organizing. It also helps to have a couple of boxes. One box is gonna be for your donations. A lot of times you're gonna find things that are perfectly usable, but just don't fit you. So you just put it in the donation box so you can move it along to someone else who can use it.
<Transcript Break>
Jim:
When it comes to hiring someone like you, a professional, an organizer comes in tackles the problem with you and also coaches you, so you know how to, you know, mitigate issues in the future. What does someone need to look for to find someone who's great at what you do?
Phaedra:
A great place to start is with NAPO, N A P O.net. There is a search function that you can use to find an organizer in your area. And you can even search by specialty. So some people have specialties in hoarding disorders.
Others have specialties with neuro divergence, some are just general organizing. Or maybe they specialize in closets. So you could search that way. Everyone within NAPO, they have to take some foundational classes first to get on that listing. And those classes go over, like, basic organizing principles as well as ethics. So we treat our clients with dignity. And so we also don't take on a project that we're not qualified for.
For example, I'm not gonna take a hoarding project because I'm not qualified for that. So that's a great place to start. In Chicago, we also have NAPOChicago.com. We have a series of chapters throughout the US. So Chicago has one. You could also look at your local chapter's NAPO listing to find organizers in your area as well. That would be the first place to start.
Jim:
Anything else that you wanna share with an audience of frugal-minded people that you think would be helpful?
Phaedra:
If anyone out there is concerned about what comes outta their homes, as far as when you're discarding and donating. The one thing to keep in mind is that it all starts in what we bring into our homes. So you're not gonna have to worry about tossing a plastic bin in the trash if it never comes into your home in the first place.
Now that's not to say don't buy that plastic bin, but it is saying make sure that you have a need for that plastic bin before you go and purchase it. I think there's a number of people that think that organizing is buying all the bins. And that is just not the case. It's just adding to the clutter if it's not done in a thoughtful manner. <Music>
Jim:
Special thanks to Phaedra Studt. I learned so much from our conversation. If you wanna talk to her yourself, you can do that. That's a thing that she offers. We will have a link to her scheduling on our site at Frugal.fm. Just check out our show notes and we'll have everything you need to know right there.
If you want to buy organizational furniture, if you want storage furniture or organizational bins, that's something you can find on Brad's Deals. What I like about Brad's Deals is you can set up a saved search where if you... Say, storage bench. You really want one for your front room. It's something you've wanted for a long time, but you don't wanna pay retail price on it.
Set up a saved search on Brad's Deals. As soon as the team finds one that they think is worthwhile, the best price online, and worth your attention, if you have a saved search, you'll get an email that tells you right then. That's one of my favorite things about the site. And that offer, like, that service, is free. It doesn't cost you anything to set up a saved search. You just get alerted. If you like what you see, you can go buy it right then. Or don't. You know, it's your life. Today's episode was edited by Genny Blauvelt. Thanks Genny! And I'm Jim Markus. <Music>