The Best Outdoor Halloween Decorations this Year
What are the best outdoor Halloween decorations in 2022? Our experts show you the most popular styles this season–and where to find them.
---
Home haunt decorators and other Halloween enthusiasts rejoice! The season of spine-tingling decorations has returned, and we're already busy finding deals. Here are the best outdoor Halloween decorations we're seeing in 2022—and where to find them.
The Best Halloween Lawn Decorations 2022
We found several popular ways to haunt your home this year. We break down stationary, animatronic, and inflatable options here. Most of these are designed for your yard, but some work best in covered areas.
Stationary Lawn Decorations at Target
Shoppers always expect new gravestone decorations and inexpensive plastic skeletons each year. We found several new styles at Target. That's also where we see the lowest prices for smaller plastic lawn decorations. Check out their outdoor Halloween decorations for a full list of what's available.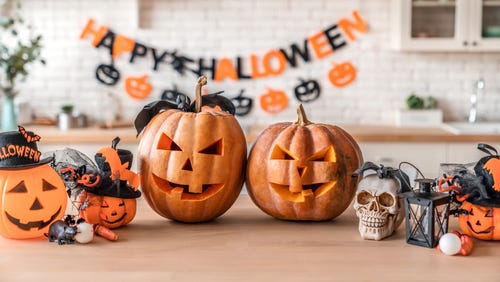 The Best Indoor Halloween Decorations this Year
We like Target for these decorations because of their low list prices. For example, this 18-Piece Cemetery Decoration sells for only $20, even when it's not on sale. It comes with gravestone, skull, and fence props. That's enough for a starter scene on a budget. This Skeleton and Spiders Set looks like another modern classic. It also lists at $20.
Of course, the biggest (literally) Halloween decoration of the year is still the 12' tall Skeleton by Home Accents Holiday. It's exclusively sold through Home Depot, and while it has a staggering $299 price tag, it usually sells out the same day it's available.
Animatronic Lawn Decorations at Target
Halloween animatronics usually cost much more than static decorations. We found an exception in this Animated Skeleton Dog Prop at Target. It lists at only $15. You just have to buy it online to get it at that price.
As always, we see some of the most unique Halloween animatronics coming from Spirit Halloween. Unfortunately, high prices (and high shipping fees) eliminate many of them from consideration for budget-conscious shoppers.
Instead, we've seen unique decorations at much lower prices at Best Choice Products. Their Haunted Holly Animatronic Roaming Doll sells for less than $40, and she's one of our all-time favorite Halloween party guests. Just make sure to keep her in a covered area and take her in at the end of the night.
Inflatable Lawn Decorations at Costway
When we search for the best Halloween inflatables online, Costway deals pop up everywhere. These sell at Amazon, Walmart, Target, and through Costway directly. That's why we usually start searching for deals directly at the source.
For 2022: This Terrified Little Ghost Inflatable caught our eye. It lists at $44 and, at the time of writing, was already on sale for $35 directly through Costway. We always like to see Halloween inflatables under $40. Just note that prices usually reach their highest in September and October, when hordes of home haunters start their shopping.
Where to Find the Best Outdoor Halloween Decorations
We found all of these decorations online. Some sell out quickly, while others usually have deep inventory for the holiday. You can find them at:
Target
Costway
Home Depot
Best Choice Products
We always know where to find deals on holiday decorations. Check out the free Brad's Deals app to get all the latest discounts.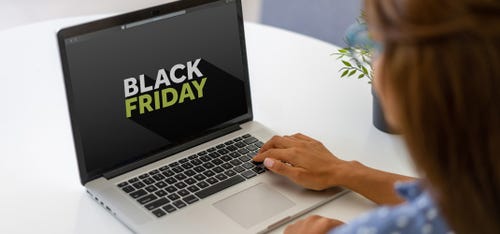 Expert Predictions for Black Friday 2022