The Best Luggage Deals for Every Budget
Many travelers are back in the air and on the road this year. With reports that Thanksgiving 2021 was one of the biggest travel days of the year, it's clear that everyone is itching to get out of their homes …
---
Many travelers are back in the air and on the road this year. With reports that Thanksgiving 2021 was one of the biggest travel days of the year, it's clear that everyone is itching to get out of their homes after the year we had in 2020. Whether you're visiting family you haven't seen in over a year or heading to the beach for some R & R, we've got a list of luggage deals to fit every budget.
In This Post
Luggage Deals By Budget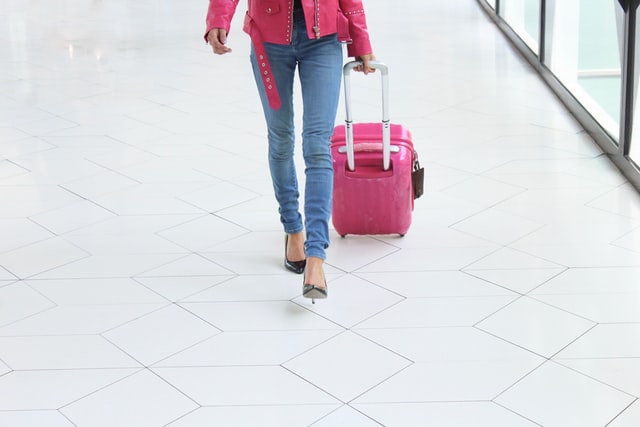 Below we list some of our favorite luggage options from budget-friendly and luxury brands. Categorized by hardside or hardshell, softside or softshell, and luggage sets, there are deals that will fit into any traveler's budget.
Note that many of the prices are subject to change. Whether due to Cyber Week sales or Amazon's dynamic pricing, we may see frequent price changes this week. We'll do our best to keep this post updated.
Save or Splurge
We've broken down each luggage category into Save or Splurge options. You'll find a selection of budget-friendly luggage in the save category. We chose well-reviewed, good-quality luggage that came with an affordable price tag, most under $200.
The splurge options offer more convenient features like integrated TSA-approved locks, custom wheel designs, removable packing cubes, and overall quality that isn't always found in the budget options.
Hardside Luggage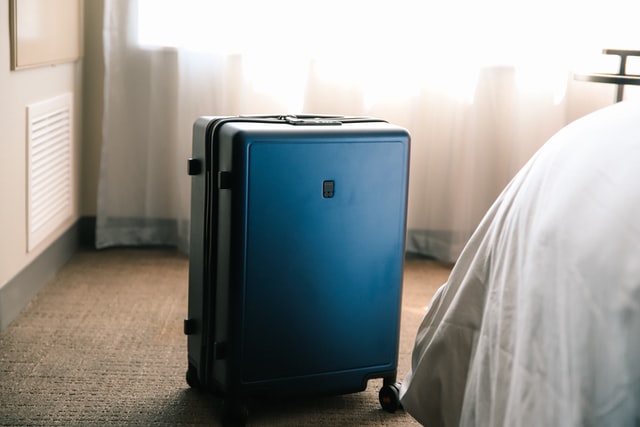 Most budget hardside luggage is made from ABS plastic or polycarbonate. ABS is more lightweight, but polycarbonate is more durable. You can also find some aluminum options, which are extremely durable but also heavy.
The biggest perk with hardside luggage is that it keeps its shape and you can't overfill it to the point of it not fitting in the overhead bins. We love hardside options for carry-ons, for that reason. You may also want to choose a hardside suitcase if you'll be traveling with breakable items as the durable shell can offer some extra protection for your belongings.
Save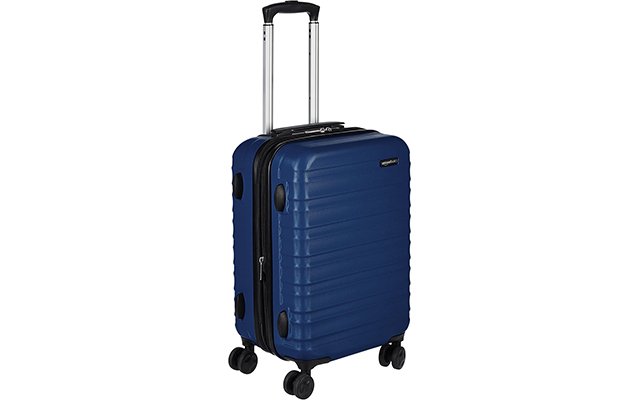 This 26-inch spinner by Amazon Basics comes in 4 color options and has 4 double spinner wheels as well as a telescoping handle. You can also select other sizes or 2- and 3-piece sets. (Amazon; $96.32)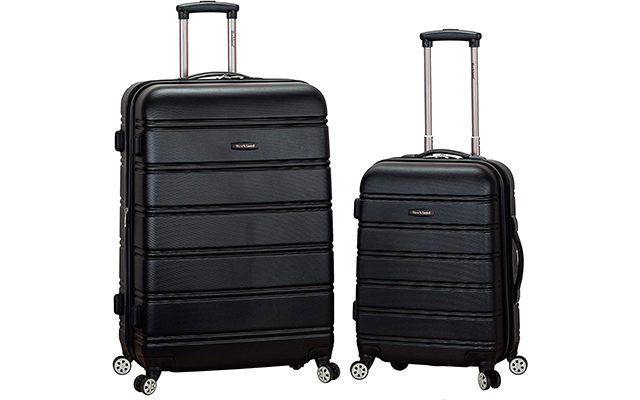 A customer favorite, this Rockland Melbourne hardside set comes in a 22″ carry-on and a 28″ upright. Both are expandable and feature telescoping handles and double spinner wheels. (Amazon; $140.34)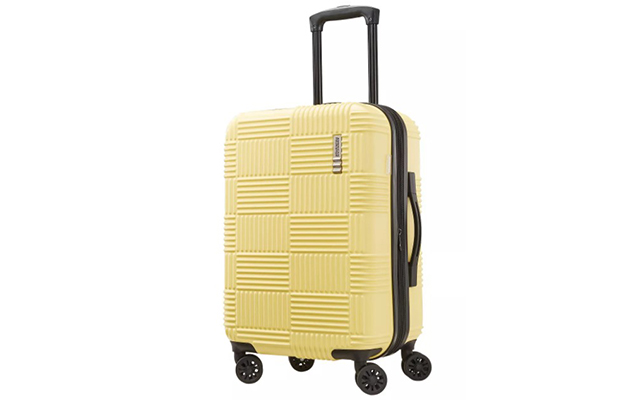 This 20″ option from American Tourister is a great option for small luggage with wheels. It features a 10-year warranty and weighs less than seven pounds. Choose from 4 easy-to-spot color options. (Target; $94.99)
Splurge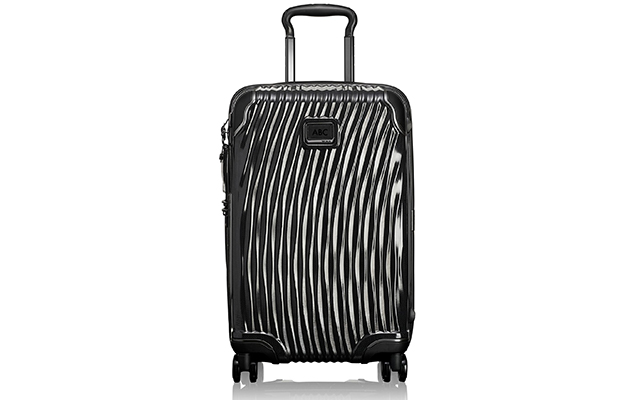 The TUMI Latitude Carry-On features a hanger bracket and an integrated TSA-approved lock. This small luggage with wheels fits the international carry-on size guidelines and is made from specially woven SRPP BALLISTIC material for a durable but flexible outer shell. (TUMI; $750)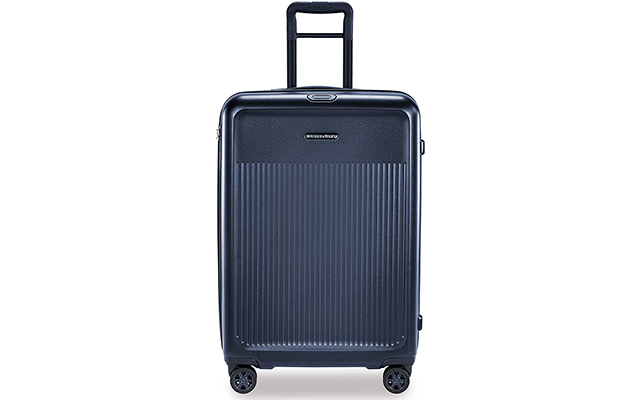 The 27-inch Briggs & Riley Medium Hardside Spinner comes with a lifetime guarantee and expands by 17% giving you a little bit more space when expanded than many budget buys. It has a TSA-friendly lock and garment compression to minimize wrinkles. (Amazon; $689)
Softside Luggage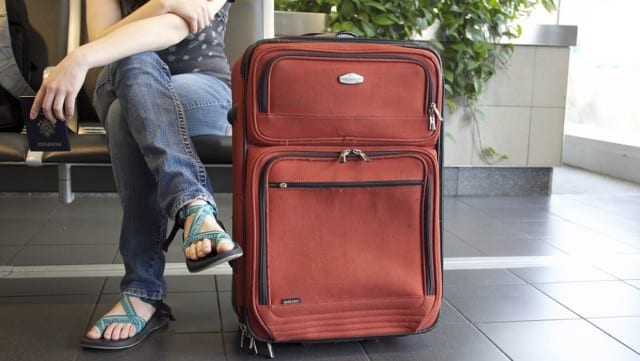 If you're not an over-packer, softside luggage is a great option for you. Its flexible and lightweight exterior make for excellent use of overhead bins and small hotel closets.
Most softside luggage is made of nylon. The downside to this lightweight and flexible fabric it that it won't offer as much protection during travel as a hardside case would.
Save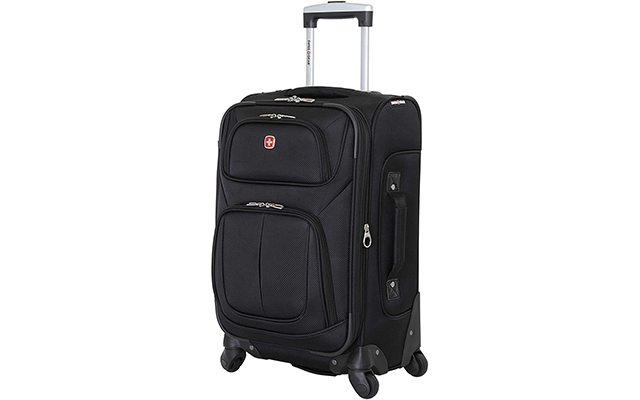 The black option of this SwissGear Sion is just under $115 and features 360-degree multi-directional spinner wheels and a locking push/pull telescoping handle. There are other color options at higher price points, but all are still a great bargain. (Amazon; $119.99)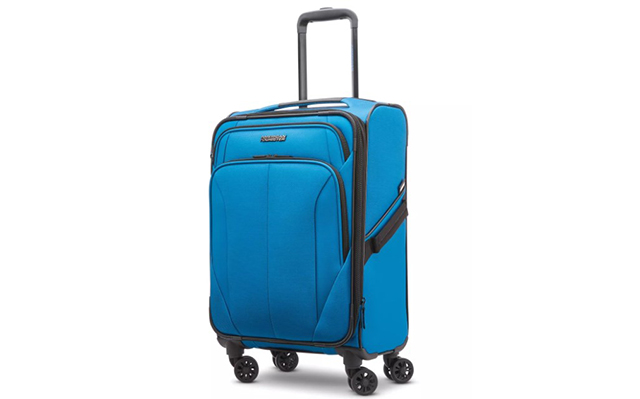 Featuring a 10-year limited warranty, this small luggage with wheels by American Tourister has Smart Fix Buckles to keep the interior organized and a highly durable polyester exterior. (Target; $79.99)
Splurge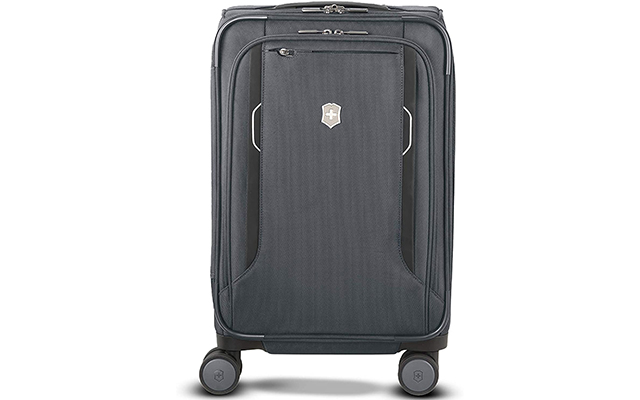 The Victorinox Softside Luggage is made from 600D ballistic nylon fabric which is water-resistant. It comes with a removable packing cube that has a padded laptop sleeve, features dual caster wheels and an integrated TSA lock. (Amazon; $450)
Luggage Sets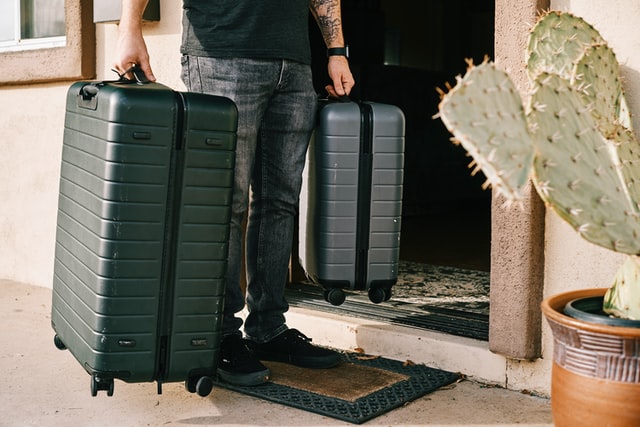 Luggage sets offer the convenience of various sizes and sometimes even various materials. Most luggage sets fall under the save category and are very budget-friendly. Many luxury splurge options don't come in sets and you'd need to buy each piece separately. If you have a family or know you have the need for multiple-size suitcases, buying an affordable set would be a great option to help you save money.
However, if you're a solo traveler who is in the air more often than at home, splurging on a smaller, high-quality set would be more economical in the long run.
Save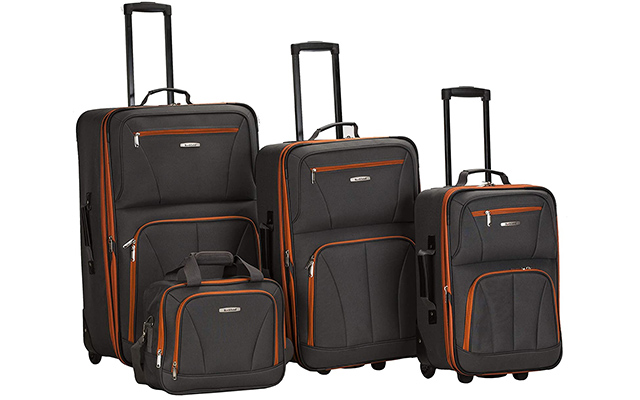 Rockland is a customer favorite and many of their luggage sets are best sellers on Amazon. This 4-piece set features expandable uprights in three sizes and a tote. The uprights have two skate wheels and retractable handles. (Amazon; $105.15)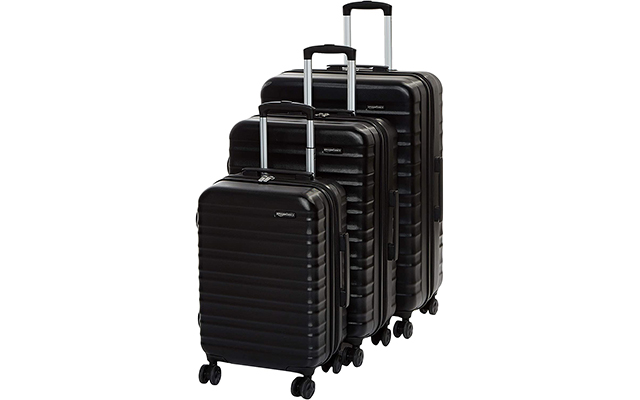 At under $200, this 3-piece hardshell luggage set from Amazon Basics is a great budget buy. The set includes 21-inch, 26-inch, and 30-inch uprights each with 4 double spinner wheels and telescoping handles. They are expandable and have a sturdy ABS exterior. (Amazon; $198.74)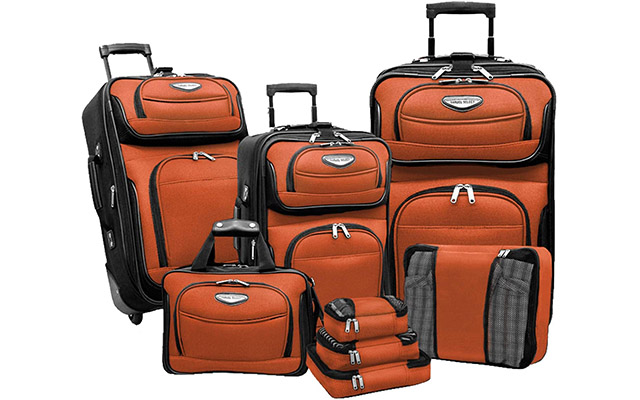 This 8-piece set has great reviews and comes with three upright suitcases with in-line skate wheels, a tote, and four packing cubes of various sizes. There is also a 4-piece set for an even lower price without the packing cubes if you prefer just the necessities. (Amazon; $169.81)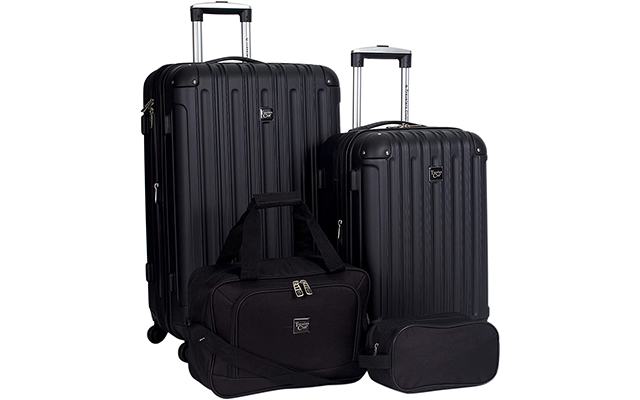 A hybrid set, this Travelers Club 4-Piece set comes with two hardside uprights and a softside tote and toiletry bag. The black color option is the most affordable, but there are other eye-catching color choices available, all under $200. (Amazon; $129.99)
Splurge
Travelpro is a high-quality, well-reviewed brand that is commonly used by flight crews. They offer soft- and hard-side luggage options and we love both as splurge-worthy sets. While we do have these listed as a splurge, the quality you get for the price is actually very well worth it. The only caveat is that they can be hard to find in stock. If you see a deal on a set, grab it quickly!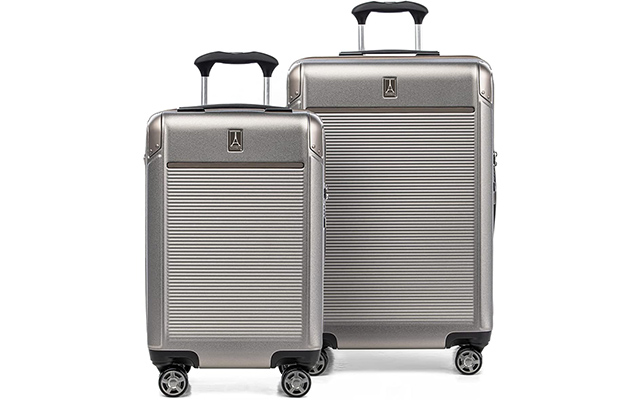 This Travelpro hardshell luggage set comes in a 21-inch carry-on and 25-inch medium spinner. The carry-on also has USB A & C ports with an external battery pocket. It also has a built-in TSA-friendly lock, water-resistant interior pocket, and aluminum corners for extra durability. (Amazon; $519.75)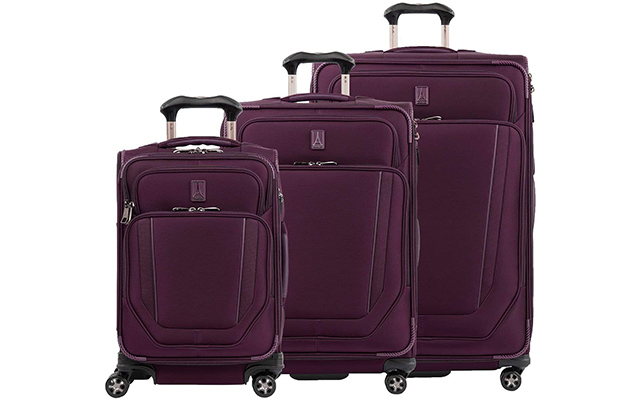 This softside set from Travelpro has 20-, 25-, and 29-inch upright suitcases in durable ballistic nylon fabric with duraguard coating. These sets are almost always sold out because they are such high-quality, durable sets. The carry-on features an external USB port that provides access to power on the go and the larger suitcases both have TSA-friendly integrated locks. (Amazon; $639.99 – Currently Sold Out)
Save on Luggage Fees With a Travel Credit Card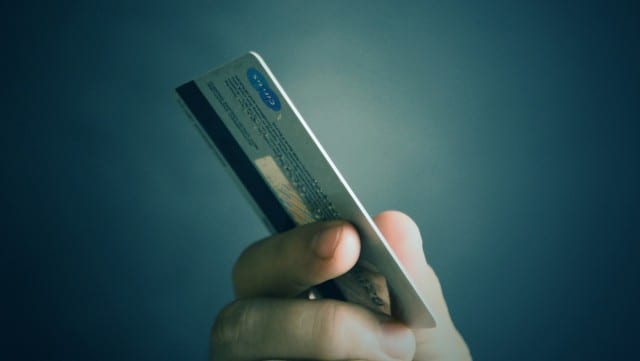 Whichever luggage option you choose, don't blow your entire travel budget on baggage fees at the airport. Choose a travel credit card that covers any additional fees so you pay nothing extra out of pocket. Your favorite airline likely offers a credit card option to waive fees. And don't forget, Southwest allows for two free bags with everyticket.
Do you have a favorite luggage brand? Let us know in the comments!