5 Las Vegas Hotels You Can Book With Points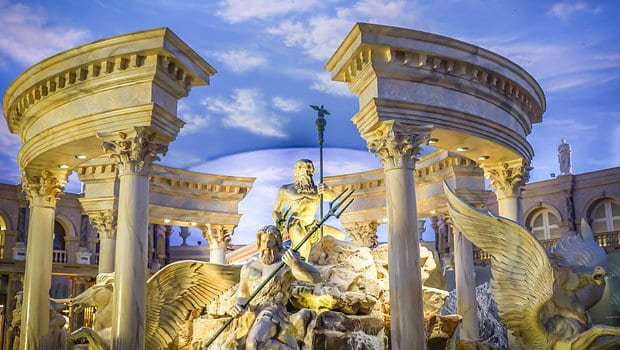 When most people think of Las Vegas they think of casinos and nightclubs, and while it certainly has plenty of both, it also has a lot more to offer. I recently made my first ever trip to Las Vegas, and as someone who isn't much of a gambler, I was pleasantly surprised with all the fun I had.
One of the best things about Las Vegas is the growing number of luxury hotels. Hotels on the strip have just about everything that you can ask for, including an endless supply of restaurants, over-the-top pools, and, yes, plenty of gambling options.
Here are my picks for the best Las Vegas hotels that you can book with points.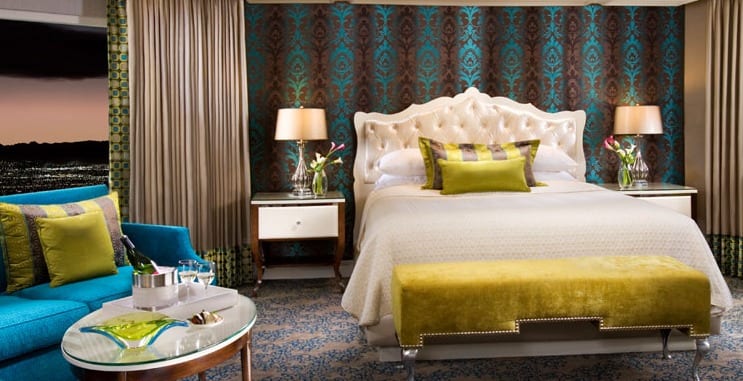 In 2013, Hyatt and the MGM's Reward program, M Life, established a new partnership. This gave anyone with Hyatt points new ways to use their points. Each of the M Life hotels, including the Bellagio, is now available to book using Hyatt points.
The Bellagio is one of Las Vegas's most iconic and luxurious hotels. With nearly 4,000 rooms, suites and villas there is a room type for every visitor. Within each room you will find luxurious bedding, flat screen televisions, and an Italian marble bathroom that includes not only a shower, but also a soaking tub.
Unless you decide to treat yourself to a fountain-view room, make sure you step out on Las Vegas Boulevard and check out the famous fountain show. Then head inside for a meal at one of the Bellagio's many five star restaurAND hants, like Prime Steakhouse or Olives.
The Bellagio might not be the newest hotel on the strip, but it's still one of the most frequently booked. Prices are around $269 or more per night for a stay in June. Alternatively, it's a category 6 Hyatt property, which means it would cost 30,000 points per night. If you need a few extra Hyatt points, consider signing up for the Chase Sapphire Preferred card. You will receive 60,000 Ultimate Rewards points if you spend $4,000 in the first three months, and those Ultimate Reward points can be transferred to your World of Hyatt account.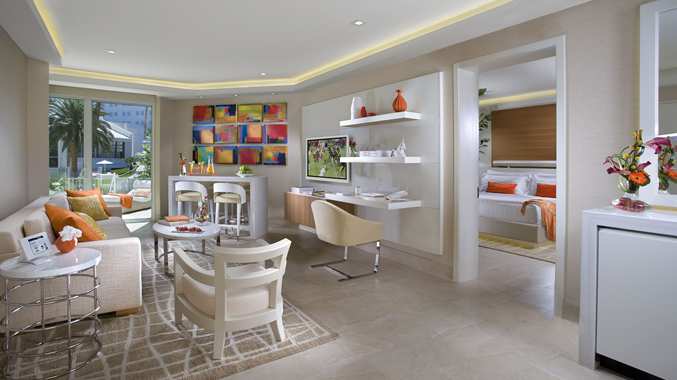 I stayed at the Tropicana on my recent trip to Las Vegas. It was recently re-branded as a Hilton Doubletree property, and gives off the feeling of a South Beach Miami hotel. The rooms are spacious and come loaded with flat screen televisions and luxurious linens.
If you don't want to feel like you need to wear heels to the pool to fit in, this is the hotel for you. The pool had a laid-back vibe, and even though it was fairly busy, our waitress made frequent stops to get drink orders.
The hotel features three different restaurants, including the Beach Café, Bacio and Biscayne. They also have a food court where you can chow down on fast food items like burgers and pizza. If you're looking for a great steak in Vegas, Biscayne is a place you must visit. I ordered the bone-in filet and it was incredible.
A one-night stay at the Tropicana in June starts at just $139 per night, or 50,000 Hilton HHonors points. You can also use 20,000 Hilton HHonors points and $49 cash. If you don't have enough Hilton HHonors points, you have two options: Sign up for the Hilton HHonors Visa Signature card and earn 40,000 HHonors points for spending $1,000 within the first four months, or try out the Hilton HHonors Reserve card to get two free weekend nights after you spend $2,500 within the first four months.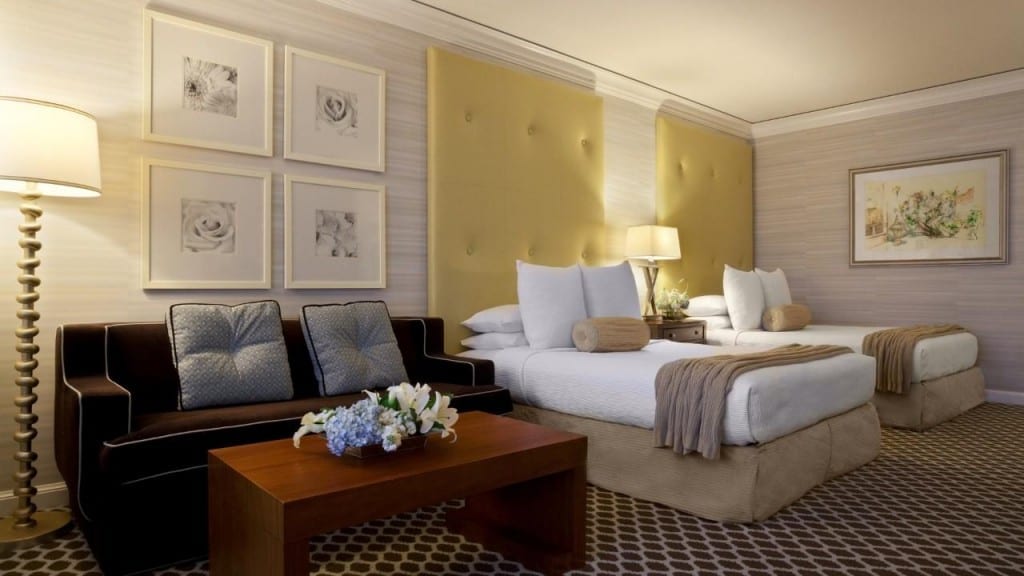 In 2013, Starwood Hotels and Caesar's Entertainment announced a partnership that offers Starwood Preferred Guest members access to all the Caesar's Entertainment hotels. This includes Caesar's Palace, Bally's, Planet Hollywood and more.
If you are looking to do some shopping while you are in Las Vegas, the Forum Shops at Caesar's Palace are a must. I took a stroll through the shops at night and I was in awe–it feels more like walking through the streets of Rome than wandering around a shopping mall.
The hotel might be one of the oldest on the strip, but it still holds its own compared with some of its newer competition. For example, the Laurel Collection of rooms offer guests plush pillowtop mattresses and Anichini linens.
A one-night stay at Caesars Palace in June starts around $210 or 25,500 Starpoints. If you need to pick up a few extra Starpoints, the Starwood Preferred Guest credit card will offer you 25,000 Starpoints: 10,000 after your first purchase and 15,000 when you spend $5,000 within the first six months.
When you're thinking about taking a trip to Las Vegas you probably aren't thinking about laying on a beach, but if you stay at the Mandalay Bay you can do just that! The property features a man-made beach with 2,700 tons of sand and a lazy river.
If you're in Las Vegas for the culinary experience, your options are seemingly endless at Mandalay Bay. Celebrity chefs can be found all over the property: Lupo by Wolfgang Puck is excellent, and one of my favorite burger restaurants, chef Hubert Keller's Burger Bar, is also located in the Mandalay Bay.
While a one-night stay in June starts around $210 per night, it's category 5 Hyatt property, which means you could also book a night for 20,000 Hyatt points.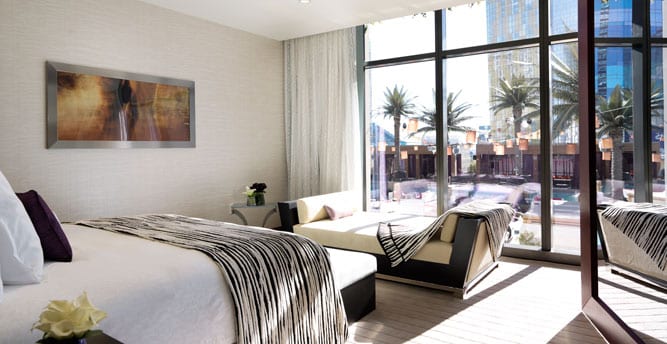 One of the newest hotels on the Las Vegas strip, the Cosmopolitan is located right next to the Bellagio, in one of the city's most ideal locations. If you are walking through the hotel you can't miss the multi-story Chandelier Bar, which offers patrons three different experiences: a high-energy hot spot, a sophisticated cocktail haven and an inviting lounge.
As a part of the Marriott Autograph Collection, the Cosmopolitan will set you back 45,000 Marriott points for a one-night stay. That's two nights with the Chase Marriott card's spending bonus! Marriott is another transfer partner of Chase Ultimate Rewards, which means the 60,000 point sign up bonus from the Cash Sapphire Preferred card could be enough for a free night.
The Bottom Line
Las Vegas is a vibrant city with so much to do and tons of amazing hotels to stay at. Before you make the choice to use points for your stay, I always suggest checking the cash price on the dates of your stay. Vegas hotels often offer major discounts on rooms, which can make it a better deal to save your points and just pay cash for the room.
What's your favorite Vegas hot spot? Give us your top hotel picks in the comments!
Related coupons: