What's good in the Best Buy Black Friday Ad? Basically everything.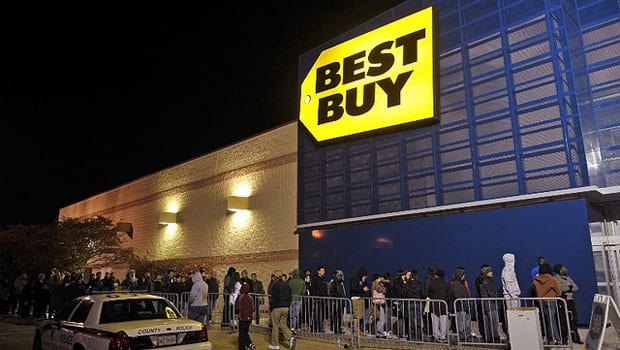 We've loved on the Best Buy Black Friday sale for so long now that you'd think it would be getting old. But electronics as a category changes so fast that Black Friday at Best Buy presents us with brand new delights every single year.
It really is hard to go wrong with anything in the Best Buy Black Friday ad. It's consistently great, going deep on categories where other retailers stay shallow and turning up solid discounts on returning favorites like MacBooks and a certain ultra-cheap printer that we look for every year. Let's dive in!
When does the Best Buy Black Friday Sale start?
Just like last year, Best Buy will open their doors at 5pm to Black Friday shoppers. However, if you want that 50" Sharp that's featured on the cover, you may want to pack a cooler and pitch your tent a few days in advance.
Although some doorbusters will not be available online, the vast majority of this ad will be. The Best Buy Black Friday sale will begin online sometime in the early morning hours on Thanksgiving Day – a specific time start is never given.
Select Black Friday deals will be available on Monday 11/20 for My Best Buy Elite and Elite Plus Members, and on Tuesday 11/21 for all My Best Buy Members. The My Best Buy program is free to join, with elite levels unlocked by your annual purchasing.
Best Buy Black Friday Ad: 2016 vs. 2017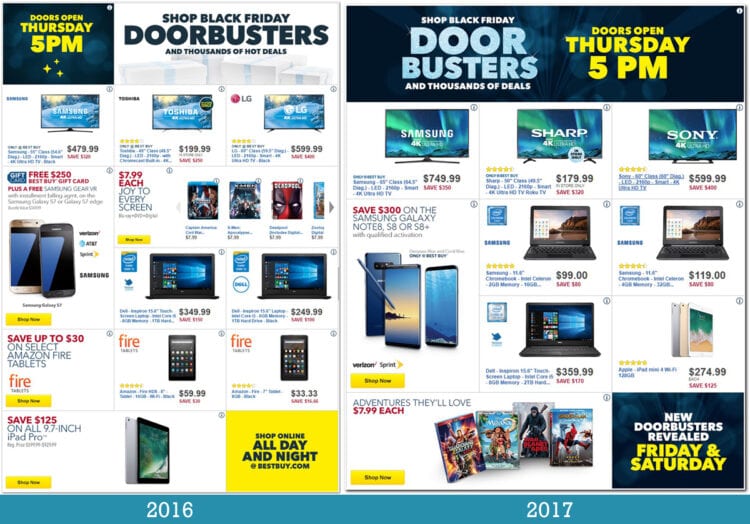 We rarely see a traditional print-style Black Friday ad from Best Buy anymore, but we can compare the digital editions from one year to the next. Looking at the first page from 2016 versus 2017, there are marked similarities. The doorbuster with the most buzz is placed top row center, flanked by two more deeply discounted top tier televisions that are also worthy of your notice. Along the left side of both covers, a deal on the latest Samsung phones. We also find an iPad deal and new release Blu-ray movies for $7.99.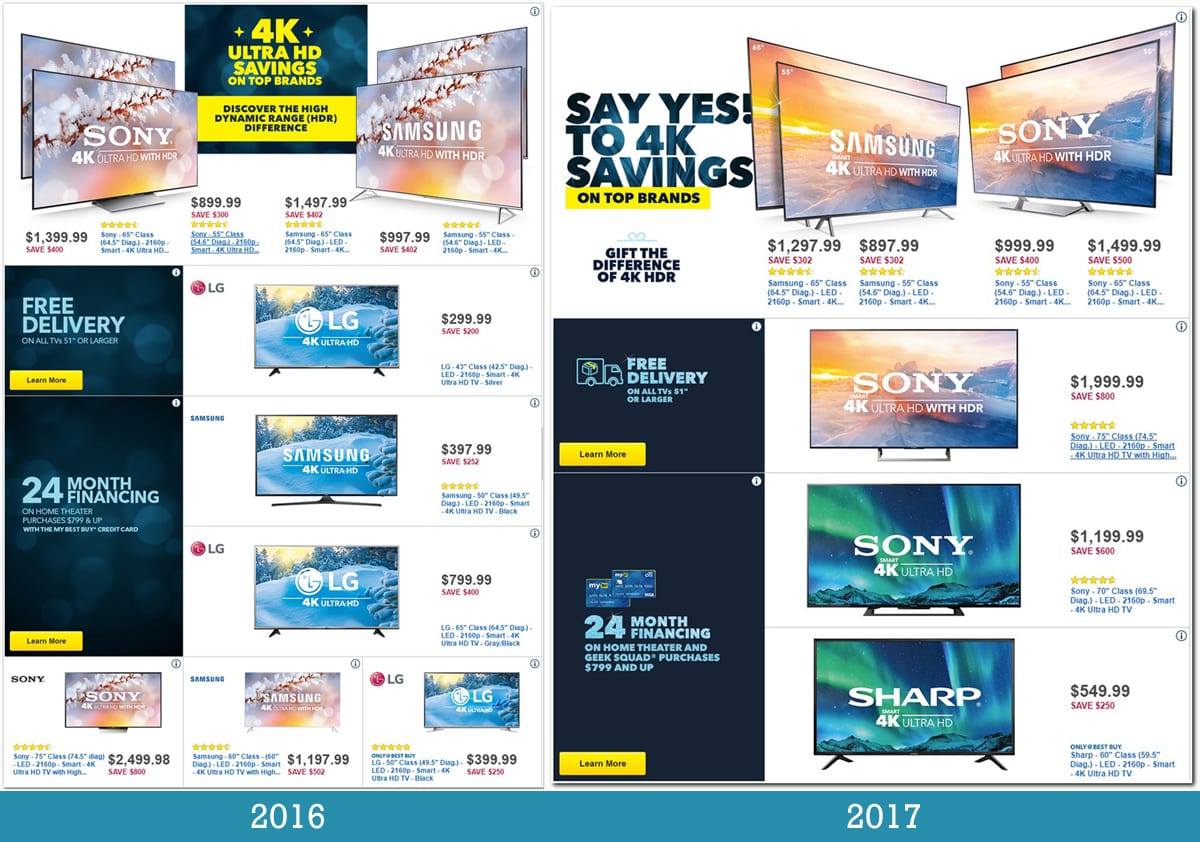 You don't need to go too deep into the ads to find more similar pages. While specific models of televisions don't tend to repeat from one year to the next, we do see very similar pricing on TVs from Samsung and Sony at the top of both pages, and a familiar layout below.
Our Favorite Best Buy Black Friday Deals for 2017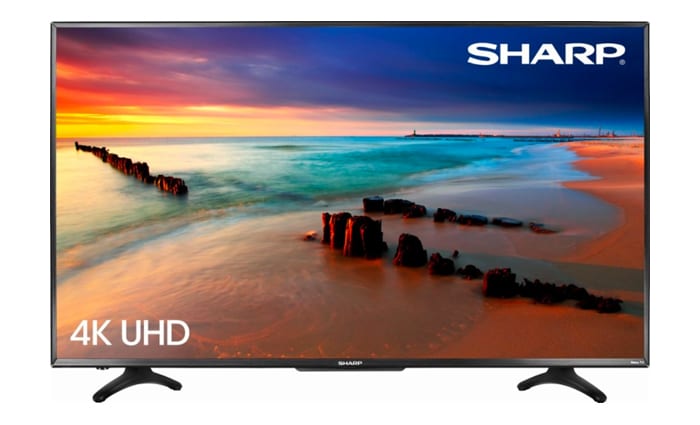 Sharp 50-in LED 2160p 4K Ultra HDTV Roku TV
Black Friday Price: $179.99 (was $499.99)
Available In-Store Only
This is the Black Friday TV deal that your crazy neighbors will camp out for. Look for a local news item about a camper setting up before the end of the week. You may have seen it already. Black Friday hands tickets out to people standing in line just before they open to avoid a stampede. No ticket, no TV for you.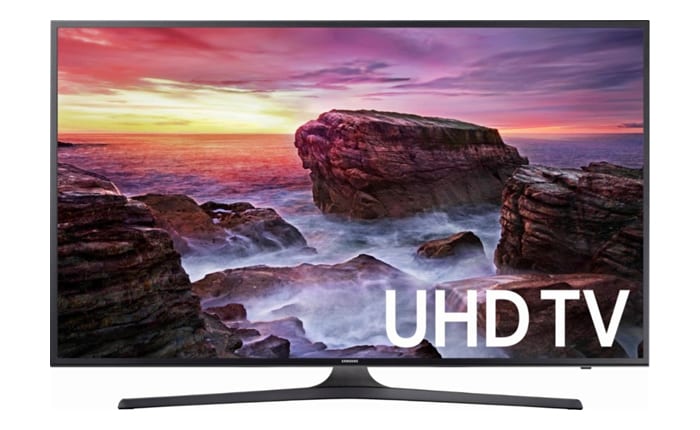 Samsung 40" Smart 4K Ultra HDTV
Black Friday Price: $327.99 (was $549.99)
We also like this 40-inch Samsung 4K TV which gets a 40% discount for Black Friday. Honestly, it's hard to go wrong with Black Friday TV deals at Best Buy.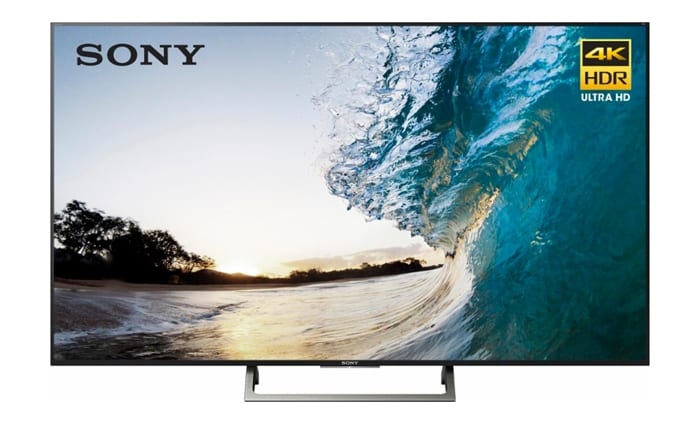 Sony 75" Smart 4K Ultra HDTV with HDR
Black Friday Price: $1,999.99 (was $2,799.99)
Looking to go big with your next TV purchase? How about 75 inches of 4K Ultra HDTV with HDR at an $800 discount?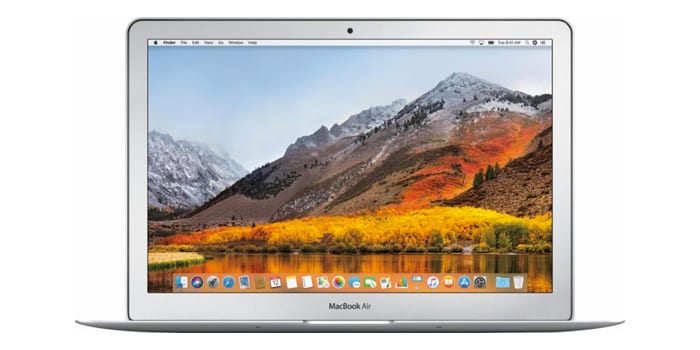 Apple MacBook Air 13.3" Display 8GB Memory 128GB Hard Drive
Black Friday Price: $799.99 (was $999.99)
MacBooks with $200 discounts are Best Buy Black Friday staples, and we love it every year.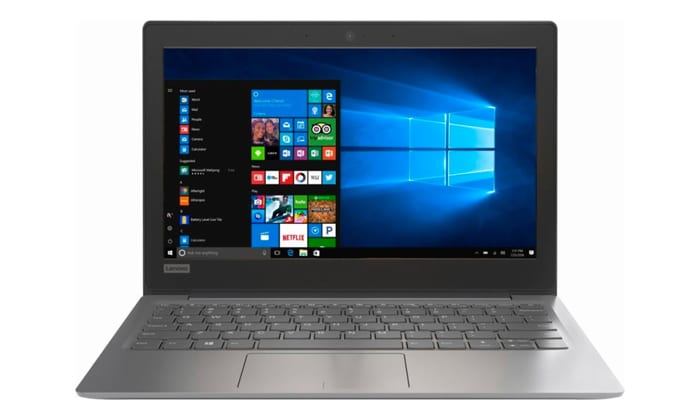 Lenovo IdeaPad 11.6" Laptop 2GB Memory 32GB Hard Drive
Black Friday Price: $99.99 (was $199.99)
Sometimes all you need from a laptop is bare bones and cheap. There are two $99 laptops in the Best Buy Black Friday ad, and of those two this Lenovo IdeaPad has the best specs.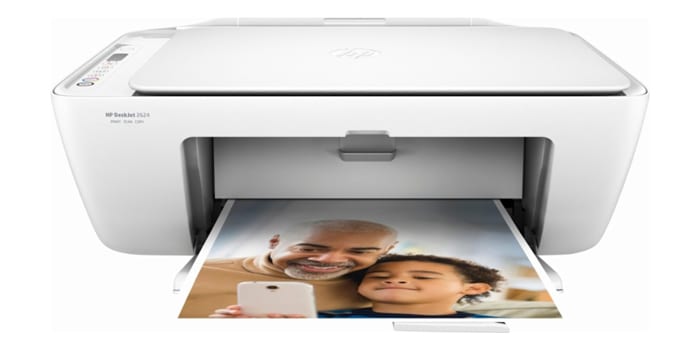 HP DeskJet 2624 Wireless All-in-One Instant Ink Ready Printer
Black Friday Price: $19.99 (was $49.99)
Our favorite dirt cheap printer is back for Black Friday 2017! It's actually cheaper to replace the printer than it is to replace the ink.

Sony 2.1 Channel Soundbar System with Wireless Subwoofer
Black Friday Price: $148.99 (was $279.99)
Black Friday is awash in soundbar options, mostly inscrutable to those of us who know little about audio. We like this option because the subwoofer is wireless, Sony is generally a safe choice, and the 46% discount means that quality is actually within reach for those on tighter budgets.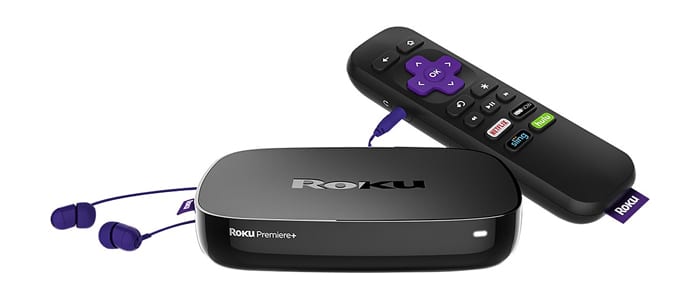 Roku Premiere+ Streaming Media Player
Black Friday Price: $49.99 (was $99.99)
Sure, you can get a Chromecast for less, but so long as Google, Amazon, and Apple all refuse to host each other's streaming services, Roku remains one of the few streaming boxes that has all of them.

Samsung Streaming Wi-Fi Built-In Blu-ray player (BD-J5700/ZA)
Black Friday Price: $47.99 (was $99.99)
We always look to Best Buy for the best deal on a Blu-ray player, and with streaming Wi-Fi built in, this one does not disappoint.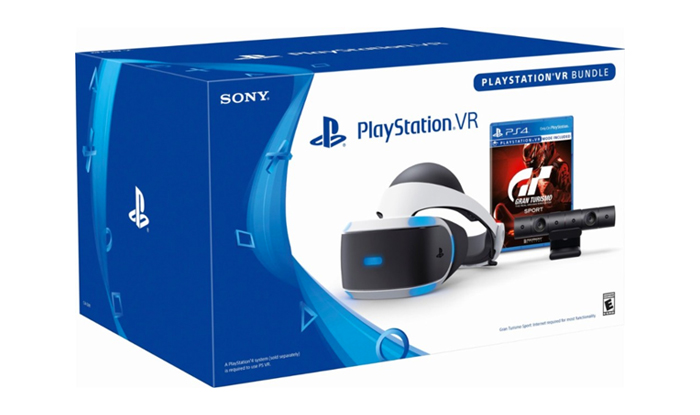 Sony Interactive Entertainment PlayStation VR Gran Turismo
Black Friday Price: $299.99 (was $399.99)
This is one of the first deals we've seen on a PlayStation VR bundle, so naturally we love it.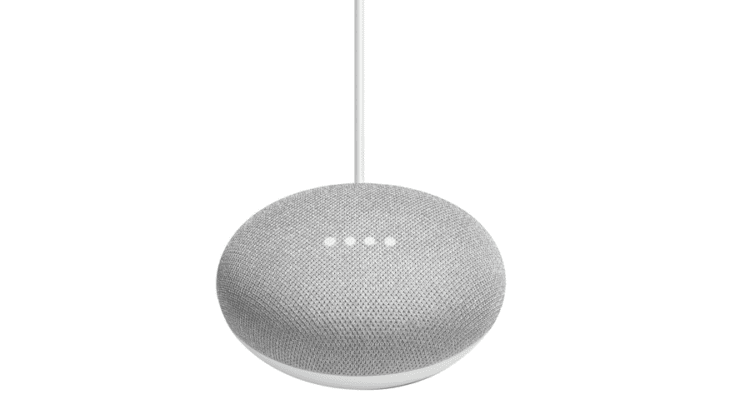 Google Home Mini
Black Friday Price: $29.99 (was $49)
Bonus: $10 Best Buy Gift Card
There's no denying that voice-activated smart home assistants like Google Home and Amazon's Alexa are hot. They're also now mainstream enough that you can drop a device in every room of your home. This deal from Best Buy matches Target's version, and probably Walmart's as well, but is no less compelling for that. Pick one up wherever you happen to do your Black Friday shopping this year.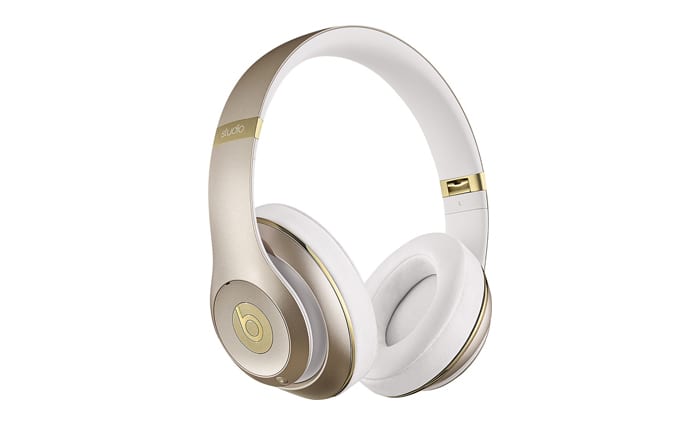 Beats by Dr. Dre Beats Studio2 Wireless Over-the-Ear Headphones
Black Friday Price: $159.99 (was $379.99)
If there are no discounted Beats headphones, is it even Black Friday? We like the 58% discount on these sleek wireless Beats Studio2 headphones.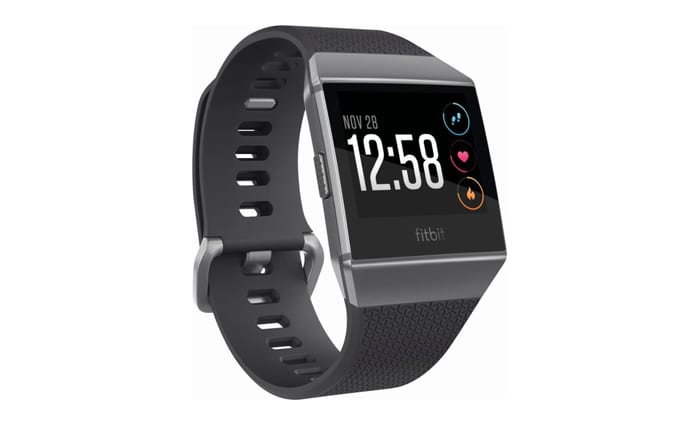 Fitbit Ionic Smartwatch
Black Friday Price: $299.95
Bonus: $50 Best Buy Gift Card
Fitbit deals are more or less the same everywhere, but this is the only place we saw the Fitbit Ionic Smartwatch. It doesn't get a discount, exactly, but it does come with a $50 Best Buy gift card. Spend it on a pair of those Google Home Minis we mentioned above.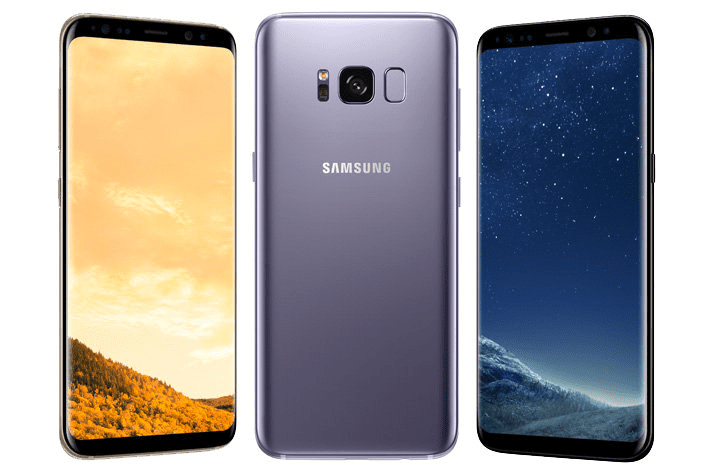 Unlocked Samsung Galaxy Note8, Galaxy S8, or Galaxy S8+
Black Friday Discount: $150 off
Premium phone, check.
Unlocked, check.
$150 discount, check.
And that's why it's on this list.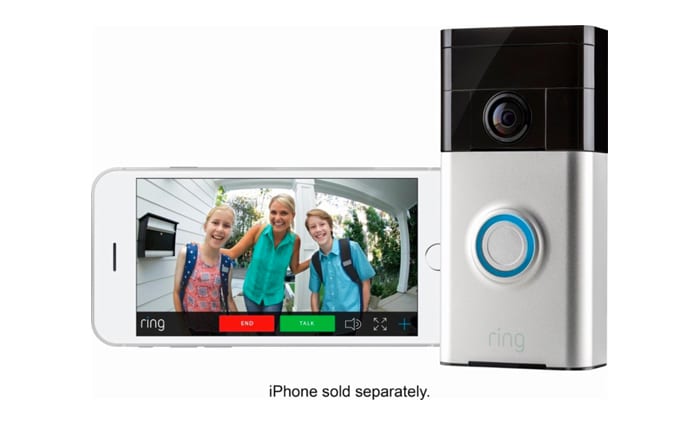 Ring Video Doorbell
Black Friday Price: $99.99 (was $179.99)
Our doorbells are now equipped with cameras and connected to apps on our phones, because we live in the future. This is a great discount on some affordable tech that feels a lot more posh than it is.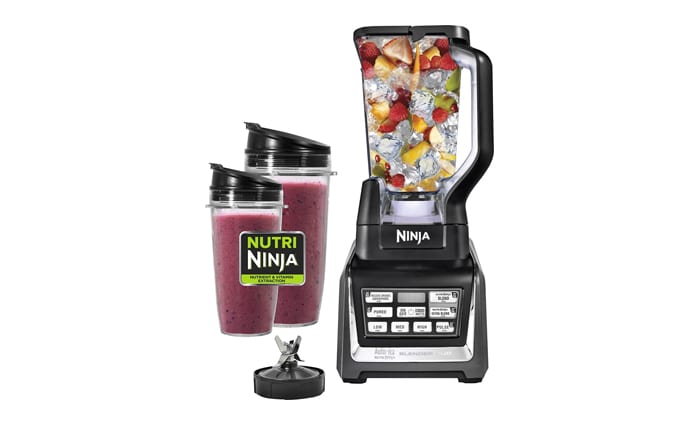 Nutri Ninja 72-oz Blender Duo with Auto IQ
Black Friday Price: $99.99 (was $199.99)
How about a 50% discount on a blender that's smarter than you? It even comes with smaller cups so you can more blend small quantities more easily.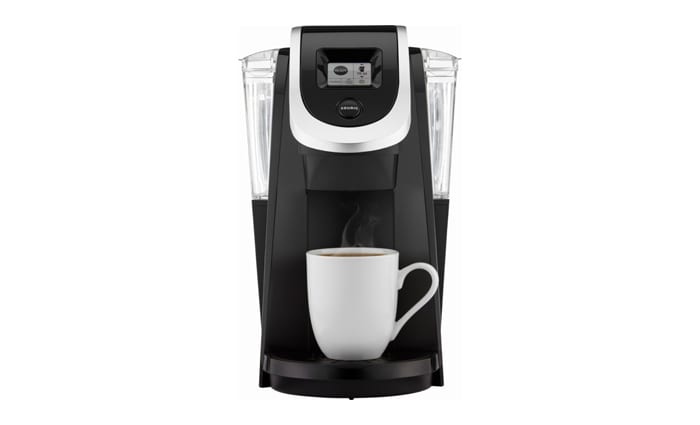 Keurig K200 Coffee Maker
Black Friday Price: $89.99 (was $119.99)
Bonus: $20 Best Buy Gift Card
Keurigs are always popular Black Friday deals. Not only does the K200 get a $30 discount, it also comes with a $20 Best Buy gift card.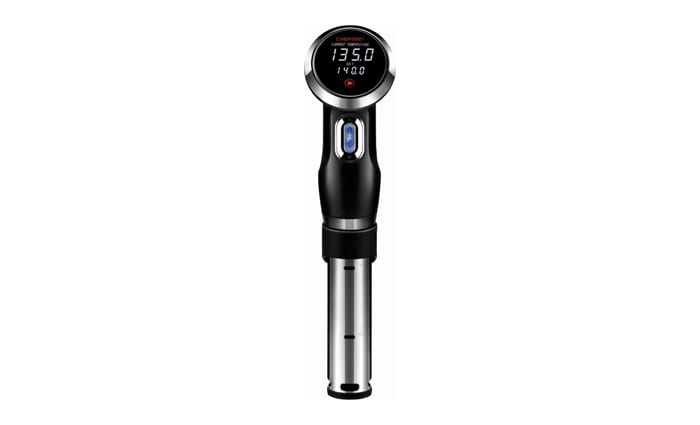 Chefman Sous Vide Precision Cooker
Black Friday Price: $49.99 (was $99.99)
Okay, so sous vide is something of a cult niche in cooking right now, and part of that is undoubtedly due to the fact that the cost to give sous vide a try is prohibitively high for a kitchen tool you might end up hating. Sous vide fans swear by the technique, though, and this $49.99 sous vide precision cooker is priced to entice you to try. I hear sous vide bacon is amazing.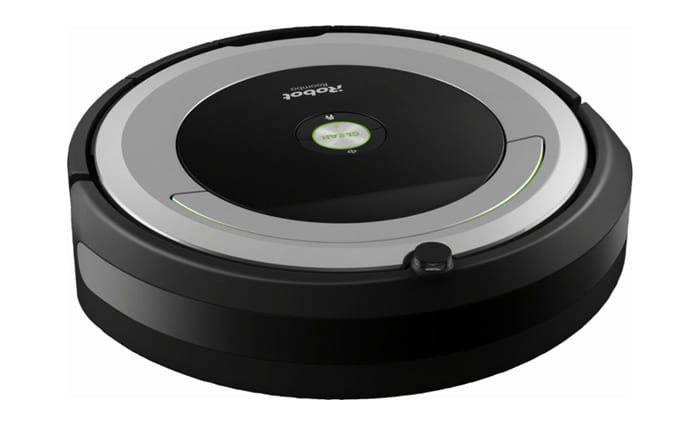 iRobot Roomba 690 App-Controlled Robot Vacuum
Black Friday Price: $274.99 (was $374.99)
Forget the hackneyed stereotypes about vacuums making bad gifts. Roomba does the work for you while you kick up your feet, and has an x-factor that makes them great gift options. They can be pricey, though, so Black Friday discounts are a real treat.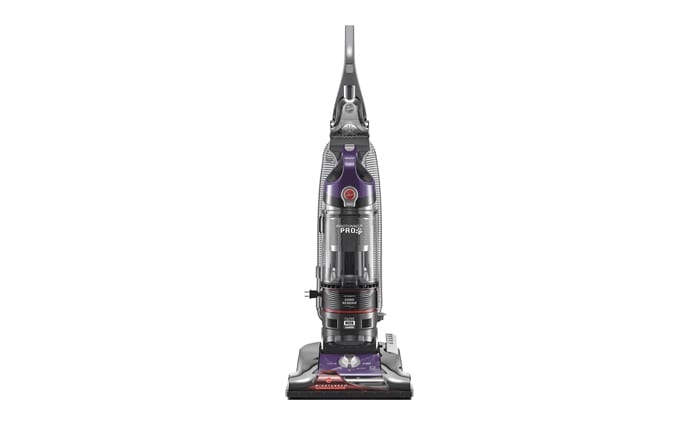 Hoover WindTunnel 3 Pro Bagless Pet Upright Vacuum
Black Friday Price: $79.99 (was $169.99)
But as much as we love the Roomba, sometimes you really do just need a good, cheap vacuum. This Hoover WindTunnel is well priced for Black Friday shoppers, a great option for new households on a tight budget.
Which Best Buy Black Friday deals are you excited about? Comment below to tell us!
Related Deals:
Philips Hue Starter Kit $60 Shipped