How to Save Money and Get Discounts at Best Buy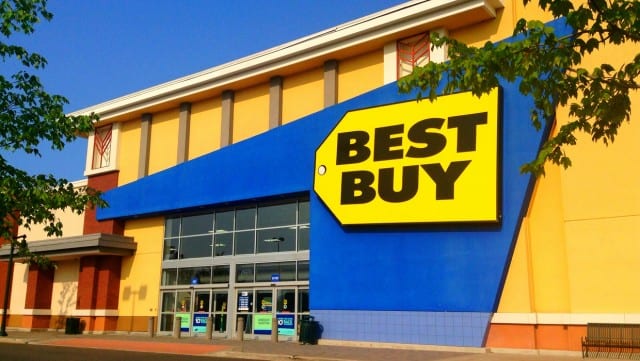 Best Buy is brimming with good deals, and if you go into the store informed about their price match policy and knowledgeable about their various discounts, it's more likely than not that you'll leave the store having saved significantly. So whether you're upgrading your TV, shopping for a new computer, itching for the latest fitness tracker or just browsing the video games, prepare yourself for the maximum discount by checking out our shopping tips and tricks.
First, we've answered your most pressing questions about how to save at the electronics giant in a handy FAQ. Next, we've outlined some of the best strategies for getting the most out of your Best Buy budget. Read on!
Best Buy Shopping FAQ
Ordering Online at Best Buy
Where do I find Best Buy coupons?
You'll often find sale prices on select items online, but Best Buy online coupons are available less frequently. Keep an eye out for Best Buy coupon codes in our collection of online coupons. You can also sign up to be a My Best Buy Member to get exclusive offers.
How do I enter a promo code online at Best Buy?
Whether you login to your account or check out as a guest, you'll need to navigate to the payment page of checkout to enter a Best Buy promo code. After you enter your credit card information, you'll see a link to "Use a Best Buy Gift Card, Discount Code, or Store Credit." Click the link, and when the form pops up, enter your promo code and click "Apply." You should see the discount reflected in your order summary at the right.
How much is Best Buy shipping?
Based on the shipping option you select and the item you are purchasing, shipping rates at Best Buy may vary. However, most items qualify for free shipping with your purchase of $35 or more. In addition, if you spend $1,500 or more in a calendar year, you'll be designated a Best Buy Elite Member, which gets you free shipping on any purchase of eligible items with no minimum. Best Buy has also historically waived the minimum threshold during the holiday season, so you can get your shopping down from your couch. For more information, see Best Buy's shipping and delivery policy.
How much is the student discount at Best Buy?
How much you'll save with your student email address will depend on the item, but you can typically save 10-30% on student deals at Best Buy. Examples of items typically offered in this section include laptops/notebooks, TVs, small appliances, audio equipment, computer accessories, and more. You can even stack your student discount on top of the sale price of an item. To get your discount, sign up for an account with your college email address, and then sign up for student deals. Your first set of offers will be emailed to you and will appear on your Member Offers page.
Saving Money at Best Buy In-Store
Does Best Buy offer military discounts?
Some Best Buy locations will give military discounts, but these are given at the discretion of each location. When available, Best Buy military discounts usually take 10% off the purchase price. While there is no formal policy or online military discount available, you can call your local store to find out if military discounts are provided in-store.
What do I need to make a tax-exempt purchase at Best Buy?
You can either use a government-issued credit card or apply for a Best Buy Tax-Exempt Quick Card. The Best Buy Tax-Exempt Quick Card lets people with a tax-exempt status quickly purchase eligible products in-store and online. You can apply in-store to receive your card instantly, or print and mail this registration form with your tax exemption certificate.
What is an Open-Box Item at Best Buy?
You can find open-box items in-store and online at BestBuy.com. These items either served as in-store displays or were returned by other customers, so the packaging may be open, but each open-box product goes through an inspection to ensure it works. Each of these items is assigned a condition of Excellent-Certified, Excellent, Satisfactory or Fair. Unless stated, all parts and accessories are included, and the item is still covered under warranty.
Who does Best Buy price match with?
Best Buy will match the price of any local competitor, including their online prices, as well as the price of a product from any of these online retailers: Amazon.com, Crutchfield.com, Dell.com, HP.com, Newegg.com, and TigerDirect.com. If the price of an item is less at BestBuy.com, it will be matched in-store automatically. You can also request to lower the price of an item you bought if it went on sale during the return or exchange period. Remember that Best Buy's price match guarantee doesn't cover clearance or open-box items. See the full policy for more information.

Copyright ©
Best Buy Shopping Tips
How to negotiate price at Best Buy
Certain brands at Best Buy have larger margins, and a salesperson may be willing to negotiate a better price with you, especially on a more expensive item. You can also try bundling items at Best Buy and asking for a discount on multiple products, like a TV and Blu-Ray player. Products with damaged packaging or open-box items can often give you a leg to stand on when negotiating a deal, and thanks to Best Buy's price match guarantee, your smartphone can help you negotiate a better price if you can find the product for less elsewhere. Sometimes, Best Buy may even beat the price of a competitor. You can also try negotiating at the end of the month, when salespeople are trying to hit their sales goals.
Shop clearance, outlet, refurbished, and open-box items
Whether you're shopping in-store or online, you'll be able to find deep discounts on items that are on clearance or have been refurbished or returned. You can also shop the outlet section online, visit a physical outlet location, or check out a warehouse sale.
Take advantage of additional discounts, member offers, and credit card offers
If you have a college email address, it's a good idea to keep tabs on the student deals at Best Buy. Keep track of the weekly ad, and if you're considering making a large purchase, look into opening a Best Buy credit card.
What are your favorite tips and tricks for saving money at Best Buy? Tell us about them in the comments!