Best Home Depot Shopping Tips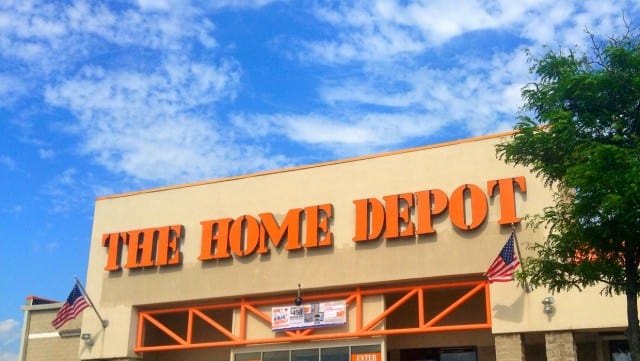 Home Depot has a reputation of being the go-to for contractors and other home improvement type businesses, but did you know they sell home decor now? And Fitness equipment? And K-Cups? Let's explore the best ways to save at The Home Depot, which could become your next go-to site for just about anything!
The Home Depot App
The Home Depot app doesn't currently offer coupons or discounts, but it does allow you to track your orders, order items for free in-store pick up, and easily compare their prices while shopping in other stores. They also have a scan feature that allows you to scan a grill for example, and show you similar items found at The Home Depot. It also shows you the price.
The Home Depot Credit Card
They offer four different kinds of store credit cards. One is for consumers, a loan for a project, and two are for contractors.
When you first open your credit card you can save up to $100 back as a statement credit; get a $25 credit for a $25-$999 purchase, or $100 credit for a purchase of $1000 or more. The purchase amount must be made within 30 days of opening your account.
Buy discounted Home Depot gift cards from resellers.
Since discounts and coupons can be hard to come by, a easy way to save is to shop with discounted gift cards. Here's a few sites that offer them at a 1-5.5% discount:
Home Depot Coupons

We reached out to our friends at The Home Depot to answer all our coupon questions that aren't readily available on their site. According to Freeman Setrana, Head of Performance Marketing at The Home Depot, here's what you need to know about their coupon policy:
They do not accept competitor's coupons, including coupons from Lowe's home mailers.
They do, however, accept manufacturer coupons.
You are allowed to use the home mailer and email coupons online only when stated on the coupon.
You cannot use your military discount online, but you can use it in-store.
The military discount at The Home Depot is 10%. See their detailed policy below.
They price match their competitors. Refer to their low price guarantee policy listed below.
You can use gift cards online, but not store credit unless stated.
You can find the latest Home Depot coupons at Brad's Deals.
Email Newsletter
If you sign up for their email newsletter you'll receive a $5 off $50 home and garden in-store purchase coupon. They may offer other exclusive discounts and savings as rewards for being an email subscriber. Alternatively, you can get the same coupon for signing up for mobile alerts.
If you sign up for the Style & Decor email newsletter you'll receive a 10% off coupon to use on a furniture, home accents, bedding, or bath purchase.
Price Match Policy

Online Purchases
The Home Depot Low Price Guarantee includes the price of the item(s) plus shipping cost. Price Match items must be available from competitors to ship to the customer's location.
In-Store Purchases
If you find a current lower price on an identical, in-stock item from any other retailer, they will match the price. Just bring the ad, printout, or photo with you to the register for validation. (This may involve the associate contacting the competitor).
Military Discount
Home Depot offers military personal a discount of 10%, with a maximum discount of $500 on a purchase. There are some exclusions, including installation products or services, gift cards, special buy appliances, and some commodities, such as building materials. The discount is not available for online purchases. To use Home Depot's discount, you should present acceptable proof of military service at your local store.
(Check out our list of military discounts to save at more than 200 stores, including Home Depot.)
Make Purchases With Your Own Credit Cards
If you've been reading our blog for awhile, you know we're a huge fan of using credit cards to reap the benefits in the form of points and other rewards programs. Check out this article Brad's Deals travel expert Mark wrote rounding up the best cashback credit cards.
Shipping & Delivery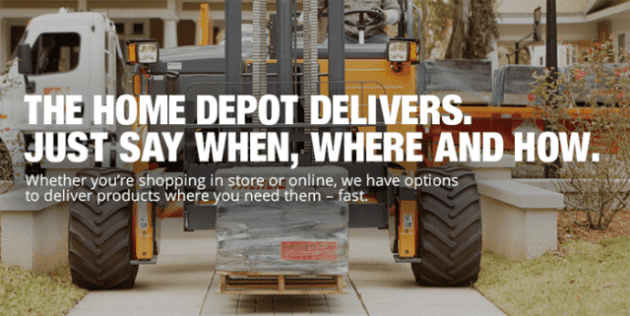 Free 2-day shipping over $45
They offer free 2-day shipping on thousands of items sitewide, as well as free shipping on orders over $45. For larger items, truck delivery is available for a $55 fee and can be scheduled the same day for orders placed by noon.
Free in-store pickup
They also have free in-store pickup options available on most items, which are ready in 2-hours if they are carried at your local store. Otherwise, it could take about a week to have an online order shipped to your local store. Orders will remain available at the store for 30 days from the date you receive your order confirmation. Check out their coupon policy for more information.
What do you love to save on most at The Home Depot? Let us know in the comments!