Visiting Disney World's Animal Kingdom after Reopening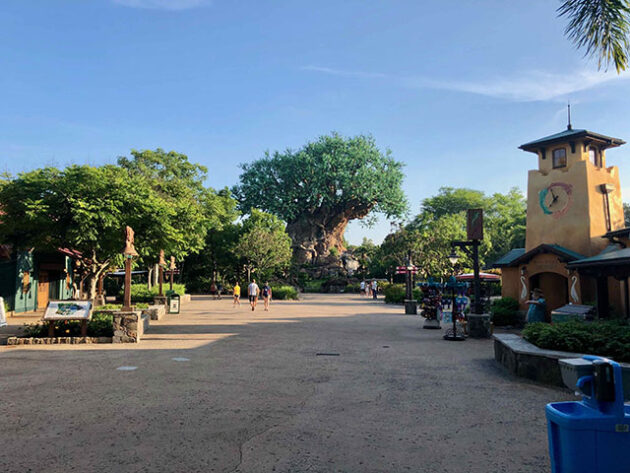 Disney World had been closed since March 15th due to the pandemic, but on July 11th, two of their theme parks reopened to guests. It's been a turbulent time for the entire travel industry, and I've been checking in on some of the most popular destinations (like Las Vegas) to see what it's like to visit and I'm in Orlando this week checking out the Disney World reopening. The first park I visited was Disney's Animal Kingdom and here's what I learned.
Why Visit Disney Now?
I am the in-house travel expert at Brad's Deals. It's my life's passion and how I make a living. I didn't initially plan on visiting Disney World right after reopening, but several things lined up that made it a reality, including an already-purchased ticket from a canceled trip in March.
I don't think now is the time to be planning your family's trip to Disney World. Rather, use this series of blog posts as a guide for when it's safer to travel to understand what a company like Disney is doing to make its parks as safe as possible for guests.
Booking My Tickets to Disney's Animal Kingdom
Disney has unveiled a Park Reservation System for guests to reserve a date for their park visit. This means that park hopping is currently not allowed at Walt Disney World (check out our guide to reopening for specifics). Furthermore, three buckets of potential reservations exist. One for resort guests, one for annual pass holders, and one for regular ticket holders. When I booked, Disney wasn't selling 2020 park tickets, but they are now for all dates. You can see which parks are available on their website before buying tickets.
I had my tickets already, so I made my park reservations and was all set.
Arriving at Disney's Animal Kingdom
We rented a car for our trip to avoid Ubers and Lyfts, so arriving was easy, though Disney parking is an astonishing $25! Once there, Disney starts the social distancing by parking cars at least one space apart.
Walking up to the entrance, a new tent has been erected before security, where AdventHealth employees screen visitors for their temperature. If you have above a 100.4 degree fever, you won't be immediately let into the parks. You'll have a chance to cool off in a separate tent and re-test, in case there was a misread on your first try.
After that, Animal Kingdom is testing a new security screening process, which betters the experience for everyone involved. Guests no longer have to wait in long lines for a Disney security guard to scan their bag contents. Instead, an AI-informed screening process has been instituted and guests can walk on through one at a time.
When I arrived shortly before the official opening, guests were already being let into the park. This is different than normal operations, normally involving long lines of folks waiting to be let in and a formal "rope drop" and all-out sprint to the first attraction of the day. In addition, throughout the arrival process, there were "Wait Here" markers placed all over the pavement to tell guests where to stand (which is 6 feet apart or more). These markers could also be found throughout the park.
What Was The Guest Experience Like?
Masks are required for all visitors at all times at Walt Disney World, and I didn't see anyone trying to get away with not wearing one. When it comes time to eat or drink, you're allowed to remove your mask. I had also heard that you could remove your mask on Kilimanjaro Safari, an outdoor simulated safari attraction, but I didn't hear any announcements about that when I rode, so I don't know if there's been a change in policy.
Many of your favorite Disney rides have adjusted ride load policies. Some rides load every other row, others give an entire car to the whole party. Kilimanjaro Safari has installed plexiglass dividers between every row so that they can continue to load the whole vehicle. Every ride was different I felt safe during my various adventures throughout the day.
Even though Disney World is one of the most visited resorts in the world, you wouldn't know it right now based on how many were in the park. I visited on Monday, July 13th, and walked onto nearly every ride in the park. In fact, I did every ride in the park twice, decided it was too hot to keep walking around the park and was back in my hotel room by 2 PM.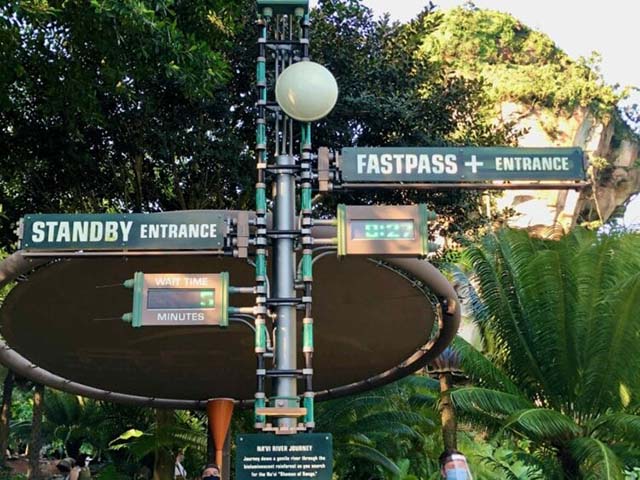 Avatar: Flight of Passage is the most popular ride in the park and on my last visit, it had a 3-hour wait most of the day. This time, it was a 5-minute wait. It took longer to walk through the queue to reach the pre-show experience than the actual wait itself!
Animal Kingdom has fewer rides than the other parks, so guests may find that there's not enough to do to fill a day, given most of the shows are closed in the park. However, Animal Kingdom does have several animal attractions where you can spend unlimited amounts of time, so if you're a fan of zoo-like experiences, this may be a great chance to visit. Finally, as a lover of all the details that Disney puts into their parks, I found it much easier to notice the little things when there were fewer people in my way! I noticed ambient music more often as well.
For food, quick service restaurants allow you to mobile order from your phone, minimizing your time inside a restaurant and in line. This is a great move and my ordering experience today was seamless and quick. For table service restaurants, menus are available via QR code, and reservations are encouraged. Of course, all efforts are being made to distance guests as much as possible while dining.
Overall
Obviously, we're in the middle of a pandemic and Florida, in particular, is having a rough time. Visitation will pick up with time and Disney will adjust their policies accordingly. It's not the time to visit, given what's going on outside Disney's gates, but I do have to remark how empty Animal Kingdom was as I reflect on my past trips that required multiple hours of planning, early mornings, and long, hot days. In addition, I think Disney has done as good a job as possible in trying to operate their theme parks safely for their guests and employees.