6 Ways You Can Earn Cash and Rewards With Your Fitness Tracker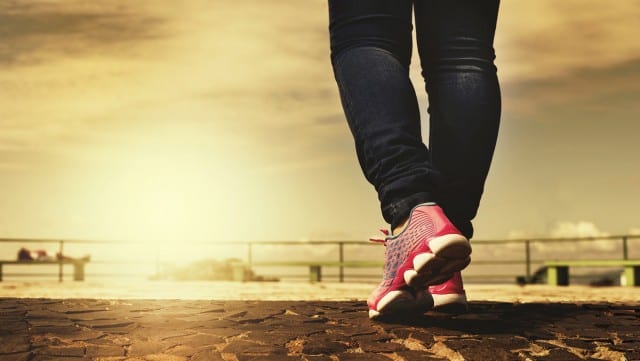 Got a brand new Fitbit from Christmas and a New Year's resolution to exercise more? Here's how you can earn some extra cash and bennies with all those extra steps. Yes, really!

I'm not a pro athlete, but I get paid to work out. I keep my Fitbit on me at all times, logging all of the steps, workouts, and calories that slowly but surely earn me a little extra cash on the side.
Wait. Full stop, you say. Your fitness tracker is earning extra cash? Is that actually a real thing that exists? Can I get a piece of that action?
Yes, yes, and OH YES YOU CAN.
There's a whole host of websites and apps out there that connect to fitness trackers like Fitbit and Jawbone, along with other tracking services you may use like RunKeeper or your Withings scale, and the more you steps you take, the more food you track, the more health data you feed them, the more points you earn to cash in for things like gift cards.
Achievement
Hook up your tracking devices, apps and social accounts up to Achievement to put your healthy habits to work earning points towards a $50 check. And because it rewards you with cold, hard cash, it's definitely my favorite of the incentive apps we found.
Walking works out to 1 point for every 125 steps on average, but it's on a sliding scale so walking more earns more points per step, and less works out to less. My average of 6,400-6,600 steps on weekdays when I don't go for a run works out to 51-53 points per day. Although it can take awhile to accumulate the 50,000 points required for a payout, it's hard to argue when annoying your friends with tweets about your lunch is passively adding to your total points. Also, if you use both Fitbit and MyFitnessPal, connect them to double dip on points when you weigh in.
Here's a screenshot of my own AchieveMint account: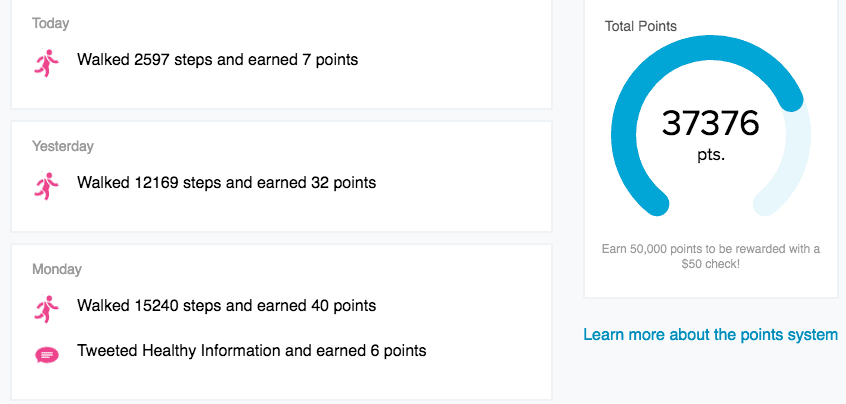 Achievement currently syncs with a number of fitness, lifestyle and social media apps, including Fitbit, RunKeeper, Twitter, Foursquare, Jawbone, Garmin, MyFitnessPal, and many more.
StepBet
The premise behind StepBet is simple: Incentivize yourself to reach your step goal by put some money behind it. The average bet is $40 and most games are 6 weeks long, though you need to hit your weekly goals to avoid disqualification. When you hit your goals, you'll get your money back, plus a nice payout funded from the bets that other players lost.
Higi
Like Achievement, Balance Rewards account. Connect your Fitbit or other fitness tracker to your account from your Dashboard to earn points for your daily fitness activities. 5000 points is worth a $5 store coupon.
And yes, it is crazy hard to find the page where you sync up your apps, so I'm including a shortcut. Log in, then go here: https://www.walgreens.com/steps/appmarket.jsp
Sweatcoin
If cryptocurrency is your jam, then you might want to check out Sweatcoin. Using GPS and your phone's accelerometer, your steps are converted to sweatcoins. The exchange rate is currently .95 sweatcoins per 1,000 steps. Sweatcoins can be exchanged for various goods and services including iPhones and vacations and even charitable donations, but our pick is the one that sends you $1,000 via Paypal for 20,000 sweatcoins. The biggest drawback to Sweatcoin, though, is its reliance on GPS, which means you can't rack up the points indoors on a treadmill.
Charity Miles
What if walking to the grocery store or your neighborhood cafe could help your favorite charity? That's precisely what Charity Miles aims to do, turning your steps into donations to more than 40 causes devoted to health, kids, animals, the environment, veterans, and more. So far, the app has helped to raise over $2.75 million for charity.