Get To Know the Black Wall Street App and Founder Mandy Bowman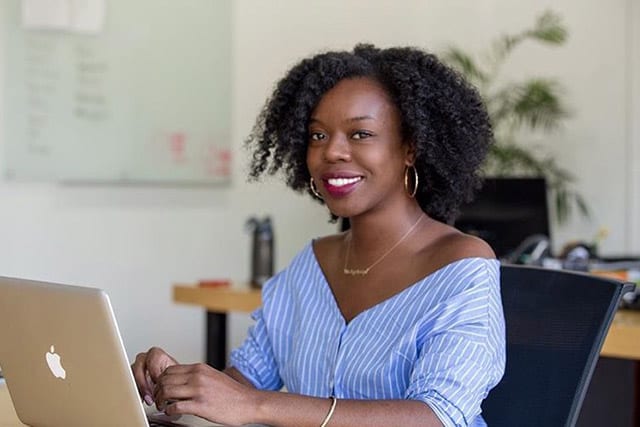 In our efforts to highlight and feature more Black-owned businesses, we've begun a new partnership with the Official Black Wall Street App. Founded by Mandy Bowman, this app allows you to explore and discover Black-owned businesses locally in your area or across that nation through online-based shops. They've got a free app for Android and iOS and just launched a new website! Keep reading for more information on this partnership.
Table of Contents
Learn more about the Official Black Wall Street app and how it can help you support your local community, and in honor of Women's History Month, get to know the founder and CEO, Mandy Bowman, a little more in our short interview. Plus, join us on Instagram for a Live interview with Mandy tomorrow, 3/23, at 4 PM Central.
Created by Mandy Bowman, the Official Black Wall Street App (BWS) is a growing directory of stores and services for those looking to shop and support local Black-owned businesses.
After reading and learning about the Tulsa Race Riots in 1921, Mandy set out to discover as many Black-owned businesses to support as she could in her area. Finding that locating these businesses was more difficult than she expected, she started compiling her own directory of businesses to reference later on.
The BWS app was created as a way to share her findings and to help others like herself who needed the right resources to help support these local businesses. They also strive to support Black entrepreneurs and have recently partnered with global law firm Baker Botts to provide $10 million in legal services to support Black entrepreneurship.
On the app, you'll find categories like women's and men's apparel, footwear, vintage and thrift stores, beauty salons and barbershops, event planning, and more. Search Black-owned businesses from across the nation and even in 10 other countries around the world. Below I'll walk you through how to search your area for these local businesses.
Use the app to get an alert when you're near a Black-owned business, find reviews, directions, and business info on these businesses, and bookmark your favorite businesses to be notified when they have new offers.
So what does this partnership mean for Brad's Deals and Official Black Wall Street app users? It means more awareness and access to small, Black-owned businesses. Explore new businesses in your area or shop nationally at online-based stores that will ship products to your doorstep.
Another perk? The BWS app also has an "Offers" button at the bottom where you can click and save money! That's our favorite thing, and we know it's one of yours too. Just click the "Offers" button and browse categories to find coupon codes and promotions to save money while you support these Black-owned businesses.
This is an easy-to-use, convenient way for you to discover new businesses, products, and discounts. And Mandy and her team have already done all the research for you.
Once you've downloaded the app and created a profile, you'll want to ensure you've shared your location. Then you can search for businesses in your area based on the categories you select.
First, you'll have to create a profile. Then once logged into the app, just tap the search bar and search options are available.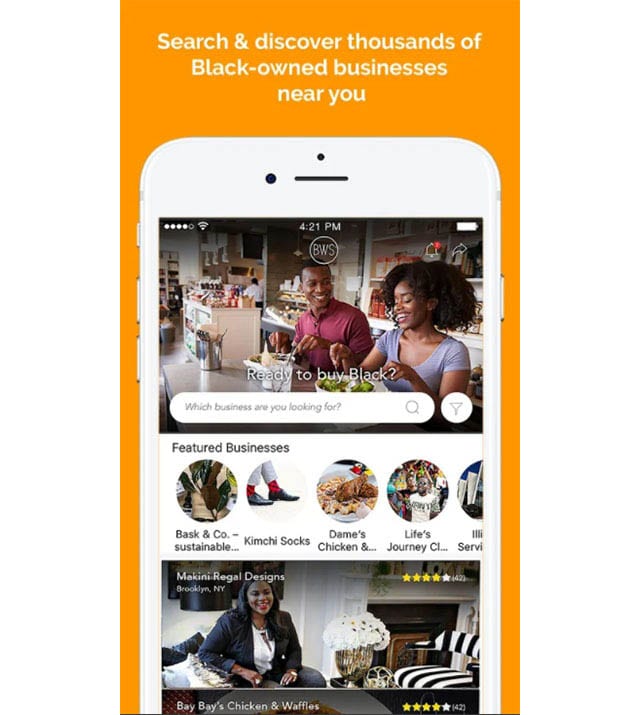 You can also choose to view a map and see all of the Black-owned businesses in your search area. This can be used in your local neighborhood or if you're traveling, you can look up your travel destination before you go to plan your trip around supporting these local services.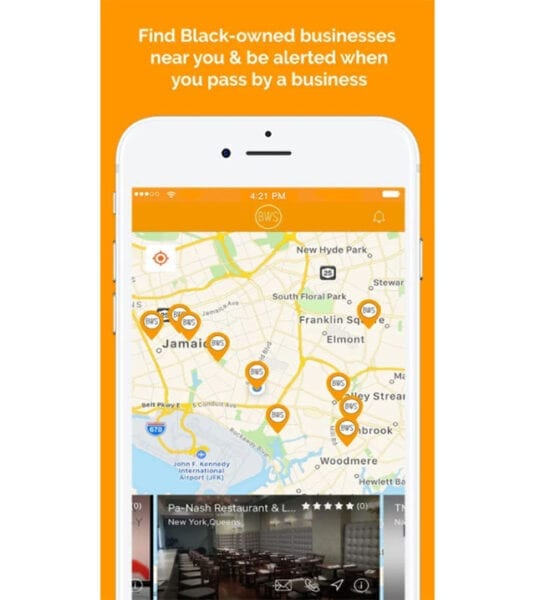 Once you've decided on a place you want to visit (or shop online – they offer online-based searches as well!), you can rea reviews about the business right in the app.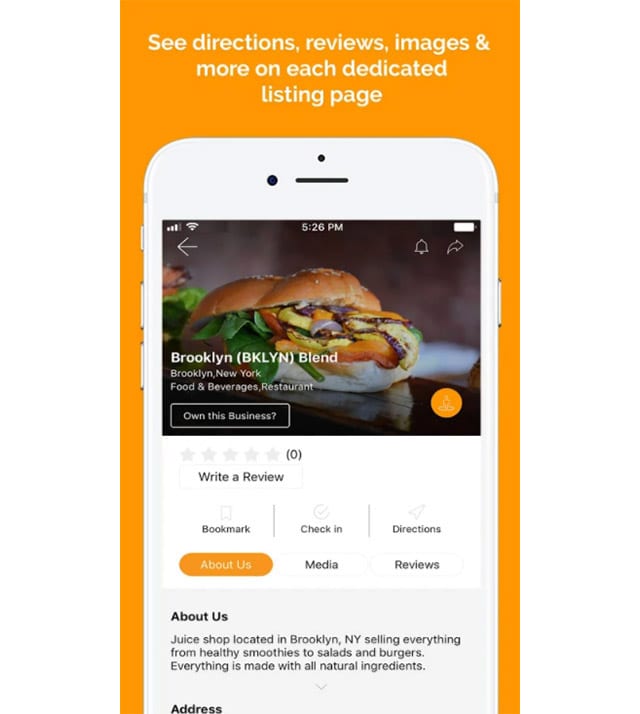 One of my favorite features on the app is the Offers feature. You can browse in-store and online discounts for each of these businesses and snag some good deals!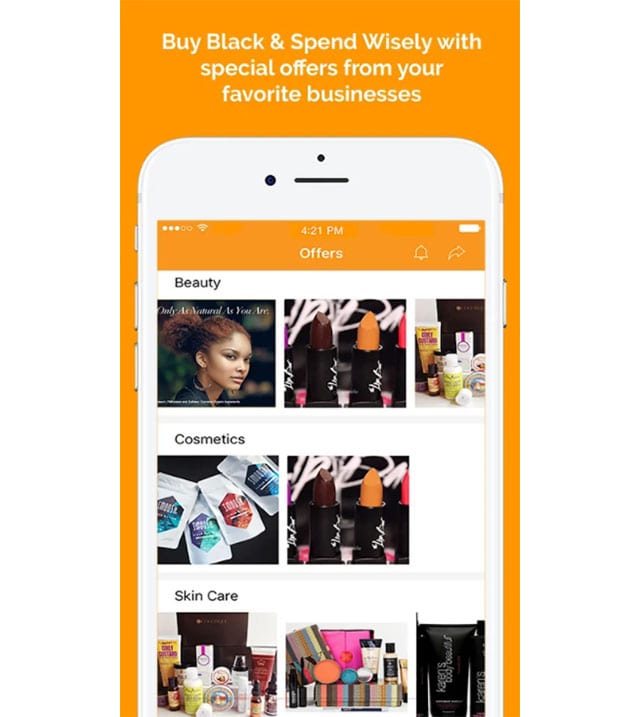 This is definitely an app you can spend some time playing around with for lots of different results. You can also use it to plan some shopping excursions the next time you travel to another city.
Along with the app, BWS recently launched a website. Much like the app, you can search local and online-based businesses and apply to have your business added to the directory. But you can also shop BWS merchandise and check out their blog.
If you're a Black-owned business owner, entrepreneur, or know someone who should be added to this directory, you can submit a business listing to the app. You'll gain access to over 350K consumers, free legal services, and more resources to grow your business.
For more information, visit the Official Black Wall Street App website to apply!
Along with introducing you to this app, we wanted to introduce you to its founder and CEO, Mandy Bowman. Mandy is an absolute inspiration, as you'll see below, and we hope you'll enjoy getting to know her a little bit more as much as we did.
Where do you see the BWS app in 5 years? What are your current goals?
In 5 years I see the BWS app becoming a global tech ecosystem that assists black entrepreneurs with expanding their reach and finding funding opportunities. I really want to change the narrative and provide a platform that not only showcases the many business owners in our community but also revolutionizes the way we support them. Our current goals are to produce more content featuring black business owners and their journey, create more tech-enabled products that align with our mission, and expand into other countries around the world.
Are there any businesses on the BWS app you frequent yourself?
I actually found some of my most favorite Black-owned businesses on the BWS app. One of my favorite spas, and a #selfcare Sunday stable, is Skinfatuated NYC. On my way back home I'll usually drop by Happy Cork to pick up a bottle of wine. Happy Cork is a Black-owned wine and spirits shop in Brooklyn. I also love getting my scented candles from Light The Candle Co.!
Do you have any advice you'd like to offer other women who are starting their own business?
My advice to other women who are starting their own business is to remember that we are capable leaders because we are women and not in spite of it. Our perspectives, empathy, and tenacity bring so much to the table. I've met so many brilliant women who have wrestled with bouts of imposter syndrome (myself included). So do whatever it takes for you to truly believe that you deserve that seat at the table. Because you do. 🙂
Name one woman who has inspired you the most, and why?
Fannie B Peck! She led a group called the Detroit Housewives League in the 1930s. It was an organization of Black women in Detroit who banded together in hopes of encouraging others to patronize Black businesses with the tagline "Buy, Boost, Build." These housewives were upset that businesses would take their money but would seldom hire African Americans, so they decided to spend their dollars within the Black community instead. Fannie B Peck and the housewives began spreading this message to other cities and forming local chapters, and they grew to be such a force that they influenced over 10,000 women to join in supporting Black businesses around the country and even created 75,000 jobs for African Americans. I am still in awe at how these women were able to organize and create change on such a massive level and during a time when women, especially Black women, had very little rights.
What is a quote that inspires you?
"Failure is just the opportunity to begin again more intelligently."
You can get the app for free on Android and iOS. Also, keep an eye out because they're looking to do a relaunch of their app very soon and new features will be added!
We'll be hosting an Instagram Live tomorrow, 3/23, at 4 PM Central on our Instagram page. You're invited! Give us both a follow and we hope to see you tomorrow.