8 Smart Technology Upgrades that Will Save You Money on Utilities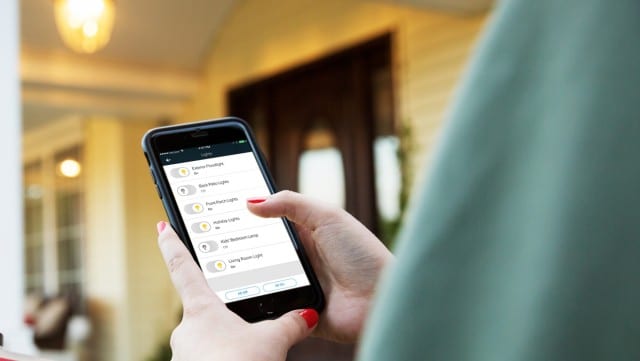 Have you ever left your lights on so you wouldn't come home to a dark house? Or kept the AC on the cool side while you're away so you don't melt when you walk in the door? Or maybe you forgot to turn something off before you left for the day and couldn't stop thinking about the money and energy going out the window. Whether intentional or accidental, these small acts are money wasters. 
But what if you could have a comfortable home environment without tossing your cash away? This is where a connected smart home goes from a futuristic ideal to a practical way to save money today.
We started building our connected home because we love gadgets. It's fun to have light bulbs that turn on by voice command and change into a variety of colors. It's convenient to be able to turn our Christmas lights on automatically at a certain time, or from another room when we're getting ready to host a holiday gathering. It didn't take long, however, for us to see that our fun hobby had the potential to save us money in the long run! Here's where you can add technology to your home to find extra savings in your utility bills.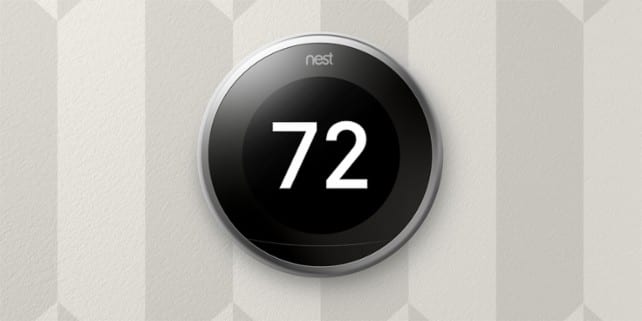 Smart Thermostats
Most people know by now that programmable thermostats can save you money. Rather than just leaving the heat or air conditioning on at a constant temperature throughout the day (and let's be honest, who has the time to constantly adjust thermostats?), having them turn on and off to match your lifestyle is far more efficient. But what if you have a flexible schedule? What if you're someone who often works late? A heating/cooling schedule a good start, but it's even more efficient if you can tailor your home environment controls to you and the way you actually live your life.
Enter the smart thermostat. You've probably heard about the Nest Learning Thermostat, but there are plenty of other options out there now, like this Honeywell Touch-Screen Programmable Thermostat from Newegg. Smart thermostats can come with a variety of features that make them appealing, including:
Adaptability: The ability to "learn" your schedule and adjust accordingly
Voice recognition: Just tell your thermostat that you're too cold and it will up the heat a notch or two
Online connectivity: Adjust the temperature from work, the car or the beach
Cost awareness: The ability to automatically adjust based on peak electricity costs
Beyond the built-in features, what makes smart thermostats even more efficient is the ability to trigger them using other devices. Here are some examples:
You leave work. Your phone automatically triggers your air conditioning to kick on so the house is just the right temperature when you get home.
Your kids get home from school and use your smart lock to enter the house. It sends you a text message to let you know they've arrived safely, and it also tells your thermostat to turn up the heat so they have a comfortable environment for doing homework.
You're heading on vacation. Tap a button your phone (or tell your voice-enabled hub) that you're "away" and trigger all of your devices to go into vacation mode, including your heating/cooling system.
Open the windows for some fresh air. Your security system tells your thermostat that the windows are open and to turn off heating/cooling until they are closed again. You also get a text message, just in case it's a break in.
Now you're only heating the house when you need to. Your kids aren't cooling the backyard when they leave the back door open in the summer. And your air conditioner cools the house down before peak prices kick in so you can stay comfortable while saving for your dream vacation.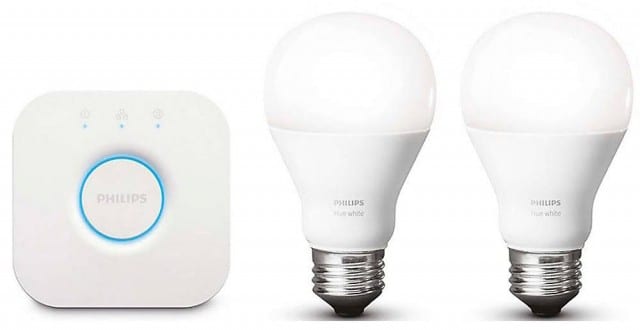 Connected Lighting
Smart lighting can fall into several categories. You might have Wi-Fi-enabled bulbs, such as Philips Hue. You might have lamps that are using a smart outlet like the one made by GE. Or, you could have connected light switches such as those provided by Lutron. Many smart home upgrades are compatible with Alexa and Google Home, so be sure to look for that if you have one already. With these options, you no longer need to leave lights on in the morning when you'll be home late. You can control them via app, or you can have them automatically turn on when you pull into your driveway. A quick look will tell you if anyone left lights on while you're away, and just a tap on your device can ensure they are all off so you're not wasting electricity (and money) when you're not home.
With true smart bulbs and light switches, there's another money-saving feature built in: They are dimmable. You don't always need your light to operate at full brightness, and reducing brightness means reducing costs. They not only use less electricity, you can extend the life of the bulb itself. Some of the lights in our home even double as nightlights.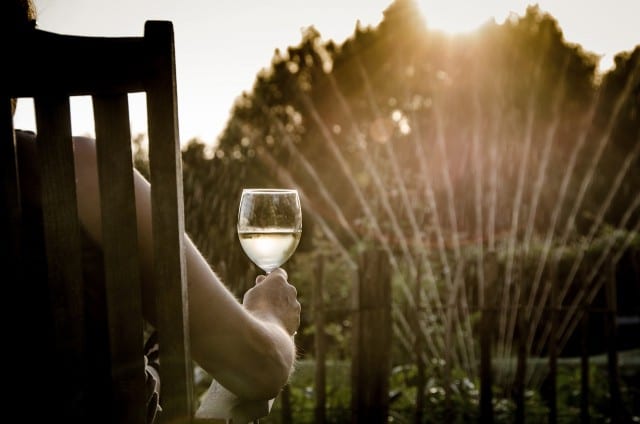 Smart Water Sprinklers
We're old-school with our lawn–we hope it rains regularly enough to maintain it with no effort from us. But if you care a bit more about cultivating a lush lawn and you've already got an in-ground sprinkler system, you may want to look for a smart sprinkler controller. Rather than using a generic schedule to water your lawn, the smart controllers like the Rainmaker 8 Zone Smart Wi-Fi Sprinkler Controller rely on weather reports, soil information and more to create the perfect schedule for your house, with almost no effort from you. This means big savings on your water bill and a healthier lawn. And there's no worry that your sprinkler will kick on in the middle of your annual 4th of July cookout. You still maintain complete control with your smartphone or tablet.
Other Smart Add-Ons
If you are serious about creating a smart home, there are plenty of other solutions that can save you money on utilities over the long run.
Electricity monitors: These plug into your electric panel and monitor your usage throughout the day. Some can even pinpoint specific appliances based on their energy draw, so you can see where your resources are being wasted.
Connected outlets: These easy-to-add devices allow you to turn a regular appliance into a "smart" one, and they can stop energy drain by allowing you to turn off the whole outlet when the appliance isn't in use.
Smart window shades: These can open in the morning to gently wake you and then close when the sun is at its strongest to help keep you cool (and minimize air conditioning use).
Smart appliances: Large appliances like washing machines and dryers can communicate with your utility providers to run once peak times are over to save you money on electricity and water. As a bonus, they will text you when the wash is done so you don't forget to put the clothes in the dryer and waste money and water re-washing.
Monitoring devices: Smart water sensors, air quality monitors and similar devices can alert you to potentially costly problems like water leaks before they get out of hand.
Price Points
At some point you may have started to wonder just how much all of this is going to cost you. Good question! Some solutions are pricier than others, but there is some good news. Beyond just offering long-term energy cost savings, many of these solutions are great for the environment and for home safety and security. As such, there are often rebates available for upgrades. Before you buy, do your homework to find possible rebates and even freebies. Look for:
Federal, state and local incentives
Rebates from utility companies (I've seen rebates and free offers from electric, water and gas providers)
Home insurance discounts and rebate offers
Be creative! The discounts aren't necessarily specific to smart devices. I found several police departments who were giving rebates for the purchase and installation of security cameras.
Things to Consider
In terms of saving money and energy, there is one caveat to all of this connectivity: WiFi-enabled devices are always drawing power to stay connected. There is a cost associated with this, although it's a small one. It's also important to remember that if you lose your internet connection, you won't be able to communicate with many of your appliances/devices, especially if you're out of the home. It's typically only an inconvenience, but if you've been looking for a reason to update your internet service equipment, this could be it.
As you shop, keep in mind that you want devices that are cross compatible. You can choose to buy into a specific ecosystem that comes with a hub and a set of branded devices or piece together your own components. You might already have something, like a security system, that can tie your smart devices together. Whatever you choose, make sure everybody plays nicely together. Not sure? Websites like IFTTT and Stringify allow you to create triggers to help your smart devices talk to each other. If you're putting together your own system, that's a starting place to ensure that you'll be able to get them communicating in one way or another. And If you need help or have questions, one place to start might be your internet service provider. Cable and internet companies are rolling out smart home innovations that not only include home security systems, but also smart home features too. Some of them will even install certain devices for you.
Remember that you don't need to dive all in to make an impact–start with what's most important to your lifestyle. We just wanted to make sure kids were turning off lights and to keep from constantly readjusting heating and cooling zones based on our schedule each season. Your needs might be different. But just substituting in a few smart devices can make your life easier, your energy consumption lower and your savings rise.
Christy Matte is a die-hard techie who enjoys video games, surfing the web, and any gadget she can get her hands on, in addition to being a mother to two busy children. She blogs at QuirkyFusion.com and covers home automation, home security, and other related topics for Xfinity Home.
Cover photo courtesy of XFINITY Home