How I Turned My Chase Sapphire Reserve 100k Bonus into a Trip Around the World
When the Chase Sapphire Reserve card premiered in August 2016, it made quite a splash. It's not everyday we see cards offering bonuses of 100,000 Ultimate Rewards points just for meeting the minimum spend requirements, so of course I signed up …
---
When the Chase Sapphire Reserve card premiered in August 2016, it made quite a splash. It's not everyday we see cards offering bonuses of 100,000 Ultimate Rewards points just for meeting the minimum spend requirements, so of course I signed up right away. When those 100,000 points hit my account, I was eager to use them. How? I took my fiancée on a nine-day, around-the-world adventure to the Maldives for her birthday. It was a whirlwind trip, but one of the best we've ever taken.
There's one destination that's been on my to-do list since I started collecting points and miles: the Park Hyatt Maldives. Not only am I a devout Hyatt fan (they have some of the best service of any hotel program, in my opinion), but the island resort is nothing short of incredible. With only 50 villas on the entire island, it's an out-of-the way paradise situated just 40 miles from the equator in the middle of the Indian Ocean.
I knew before I booked this flight that flying around the globe in the space of nine days would require some comfort – there was no way we were doing this in economy. I began looking for availability, and settled on flying Singapore Airlines business class on the way from Los Angeles, to Seoul, then Singapore, and finally to Malé, Maldives.
Getting from our home in Phoenix to LAX was an easy, $49 Southwest flight, and getting from Malé to the resort required a domestic flight on Maldivian Airlines, as well as a boat transfer to the island. On the way home, we flew Etihad Airways from Malé to Abu Dhabi, to Los Angeles, to Phoenix, all in business class.
Here's how I booked these flights using award points, and how you can do the same:
Getting there on Singapore Airlines Business Class Award – LAX-ICN-SIN-MLE
Award cost: 76,500 Singapore KrisFlyer Miles + $457 in Taxes
Miles earned with: Chase Sapphire Reserve and Amex Everyday Preferred Card
Value: $11,000 per person
After spending the weekend in Los Angeles visiting friends, we departed on Sunday afternoon from Los Angeles on Singapore Airlines, flying three separate business class flights to get to Malé, the capital of the Maldives.
How we booked these flights: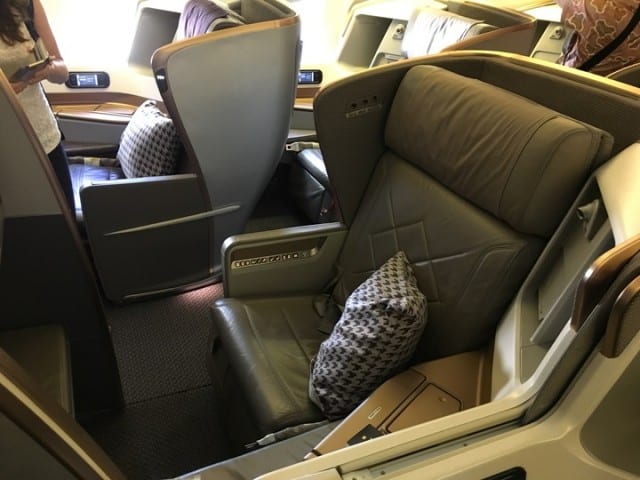 Our business class seats on our flight from LAX to ICN.
We booked this award using Singapore KrisFlyer miles, even though neither of us had ever flown the airline before. But how? Singapore Airlines is a credit card transfer partner with every major transfer currency out there. That means that if you have Chase Ultimate Rewards points, Amex Membership Rewards points, Citi ThankYou points, or SPG Starwood points, you can transfer directly into a Singapore Airlines account at a 1:1 ratio for all points currencies. This is super useful, as it's easy to consolidate several smaller balances in these programs into one larger award once transferred into Singapore KrisFlyer.
When we booked this trip back in October 2016, Singapore Airlines' program was a bit different. We could use fewer miles to book awards, but we were subjected to higher fuel surcharges. We paid 76,500 KrisFlyer miles, plus $457 in taxes and fuel surcharges for each ticket. If you booked that same award today, it would cost you 90,000 miles, and only about $30-40 in taxes.
For us, three flights in business on Singapore seemed worth the miles and the cash. We transferred 118,000 Chase Ultimate Rewards points (which I earned from my Chase Sapphire Reserve bonus plus some additional spend) and 35,000 Amex Membership Rewards points, which I earned from the Amex Everyday Preferred card. Since I earn triple the points on travel purchases, I used my Reserve card to pay for the taxes, which earned me 2,742 Ultimate Rewards points (which I value at $60.32). Out of pocket, these tickets would have cost us $11,000 per person, so at over 14 cents per point in value on the redemption, we definitely got our money's worth!
Looking to earn similar amounts of miles? The Chase Sapphire Preferred card currently has a 60,000 point bonus, and the Ink Business Preferred card has an 100,000 point bonus. As mentioned, other cards with large sign-up bonuses, like the Citi Prestige card, also have the ability to transfer into Singapore Airlines.
First flight: Los Angeles to Seoul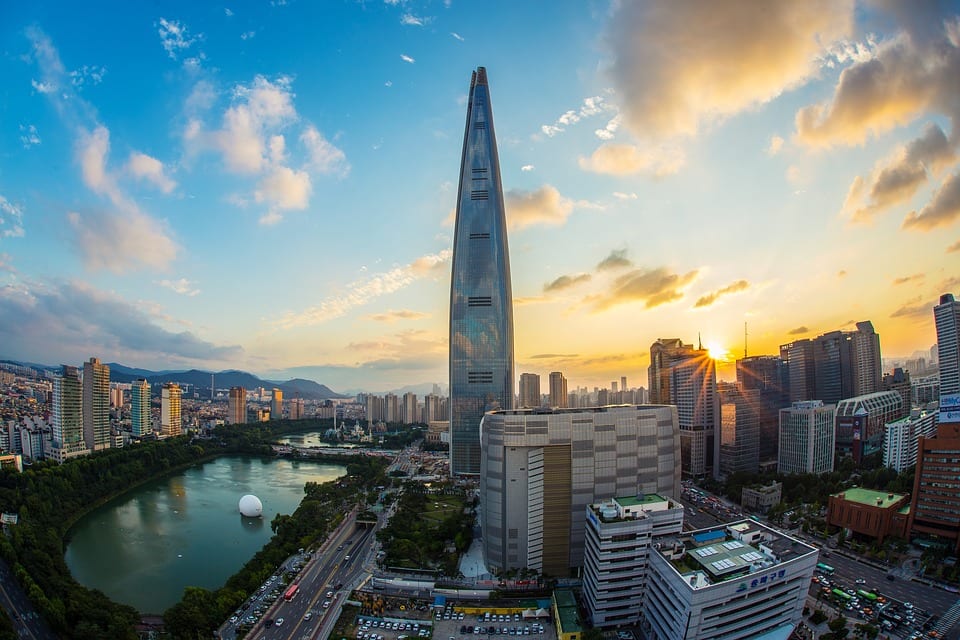 The idea of flying 10,975 miles on one of the best airlines in the world, all in business class, got me pretty excited. After clearing the always-long security lines at LAX's spectacular Tom Bradley International Terminal, we entered the Star Alliance Business class lounge, a shared lounge that all Star Alliance members use. If you're flying business class on a Star Alliance member airline (like United, Singapore or Lufthansa), you'll have access too.
The lounge itself is really nice, with a very L.A. vibe to it. The walls are adorned with famous quotes celebrating Los Angeles and the miracle of flight. One of my favorite aspects of the lounge – aside from the free beer, wine, and liquor – was the open-air terrace that lets travelers enjoy the California weather before or during long trips.
When it was time to board, we took the elevator down to the main level and walked to our gate. First class boarded first, then business class. One of the perks of first and business class is that you get your own jetway, so you won't see an economy passenger for your entire trip.
After settling in with some champagne, we were on our way. Singapore Airlines is famous for their in-flight service, and I found it to be spectacular on all three flights we took. One amazing option for premium economy, business, and first class passengers is the ability to "Book the Cook," which allows you to pre-select from a number of gourmet options before your trip, for free. For our first meal, I selected the USDA Prime steak, and my fiancée chose Chilean Sea Bass. Since this was a longer flight, there were two meal services. I went with the Korean Beef option for my second meal, and she got to chow down on Crab Ravioli.
At around 10:30 P.M. local Seoul time, after sleeping a few hours in Singapore Airlines' spectacular new business class seats, it was time for our overnight layover in Seoul.
Layover Hotel: The Grand Hyatt Incheon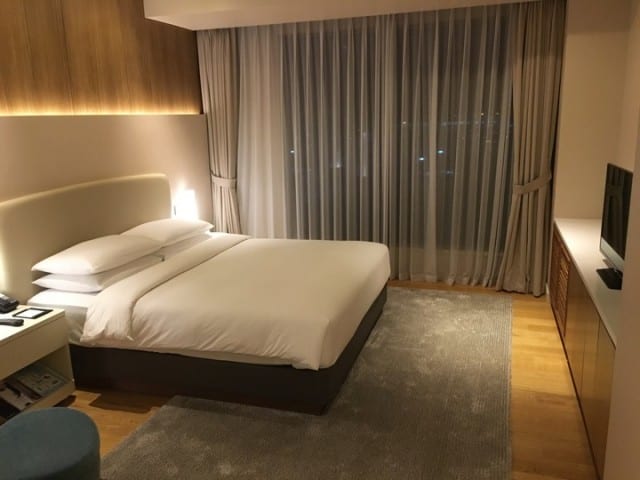 Booked with: Chase Hyatt Annual Free Night Award ($0)
Earned from: Chase Hyatt card
Award value: $180
We only had about 11 hours in Seoul, which didn't leave enough time to venture into the city. Instead, we booked the Grand Hyatt Incheon, located three minutes away from the terminal, and reachable by free luxury motor coach every 15 minutes. We arrived later at night, so those coaches had stopped running and the hotel gave us the option of either calling once we arrived and getting a free ride to the hotel (which is hard to do without incurring hefty cell phone charges), or pre-reserving their arrival services for $20. Since our layover was short, I thought it was worth the money to book the arrival services, because I wanted the hotel to know we were arriving so check-in would be faster.
The arrival services went off without a hitch, and we arrived by a very high-end Mercedes to the very-modern lobby of the Grand Hyatt Incheon's West Wing. As a Globalist member, I received an incredible one-bedroom suite upgrade, as well as club level access that was useful for morning breakfast. What an incredible value, especially considering we received this room from our annual free Category 1-4 night from the Chase Hyatt credit card. This is seriously one of the best airport hotels in the world, there's a fantastic gym, an indoor pool complex, and we found breakfast to be amazing in the club lounge.
But, before we knew it, we had to get back to the airport for the next leg of our journey to Singapore.
Second flight: Seoul to Singapore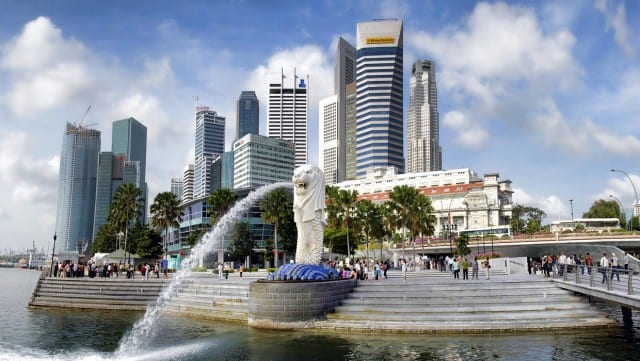 After clearing security and immigration, we had only 30 minutes before our flight to enjoy Singapore's SilverKris lounge. It was small, but had a nice food and beverage selection that helped us kill some time before boarding.
Our next two legs on Singapore took place on A330 aircrafts, which feature an older "angled-flat" business class product. While they wouldn't be ideal to fly for more than a six-hour flight, they were perfectly fine for our intra-Asia travels. After about 5 1/2 hours of flying, we arrived in Singapore for our six-hour layover.
Singapore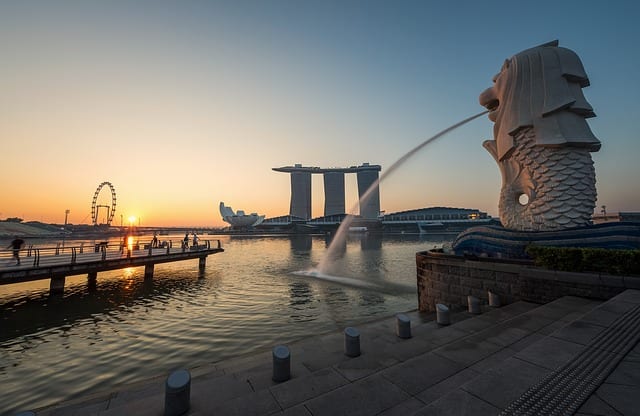 Singapore is famous for many things: no chewing gum, strict drug trafficking laws, and, of course, airport. It's always at the top of the list for best airports in the world, so I was excited to see it for myself for the first time. But, this was also my first time in Singapore, so I wanted to get out and see some of the city as well.
We stored our luggage for $12 at the airport, and took a taxi into the city to the Gardens by the Bay. This was an excellent layover stop, with incredible flower and plant displays throughout. After spending a few hours there, we wandered over to the adjacent Marina Bay Sands Hotel to check one of the most spectacular hotel/casinos outside of Las Vegas. Before we knew it, it was time to hop back on the plane.
Third Flight: Singapore to Malé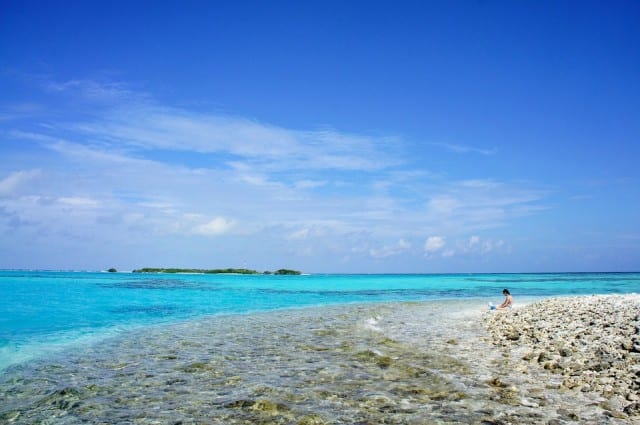 Singapore to Malé was another fine business class flight on board Singapore Airlines, but after yet another steak dinner, and lots of sightseeing, I passed out for most of the four hour flight. Which was helpful, since our journey wasn't quite over yet…
How we got from Malé to the Park Hyatt Maldives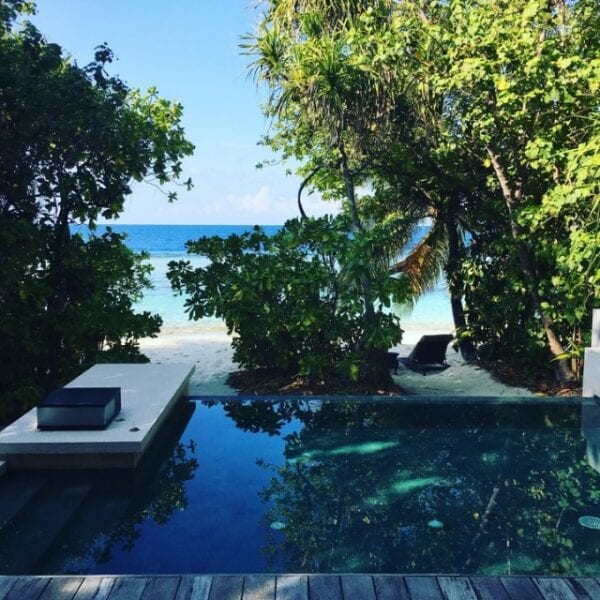 Cost: $520 per person round trip
The Maldives is a spectacular place, but it's very hard to get around the country – it is a nation made up of more than 1,200 islands, after all. When you arrive in Malé, you have to either be hop on a speed boat, float plane, or twin-engine prop plane to get to your resort. To get to the Park Hyatt Maldives, we had to take both a twin-engine prop plane and speed boat.
While this is a lot of traveling, the Park Hyatt made it as seamless as possible. As soon as we cleared Maldivian customs, we were met by a hotel representative who escorted us over to the domestic terminal, taking our bags and passports for check-in for our next flight. All we had to do was wait in the domestic lounge, which was comfortable enough for the 45-minute wait.
Once we had tickets in hand, we headed down to the departure area, where we boarded at Dash-8 plane for our hour-long flight from Malé to Kooddoo. Once there, we were met by yet another Park Hyatt representative, who took our bags and loaded them and us into a golf cart to a waiting speed boat.
On board, we were given life jackets, as well as a cold towel and some iced tea/snacks. Since it was after midnight, there wasn't much to see, but we definitely got the sense of our isolation as we sped 40 minutes through the dark night to an unknown location.
The Park Hyatt Maldives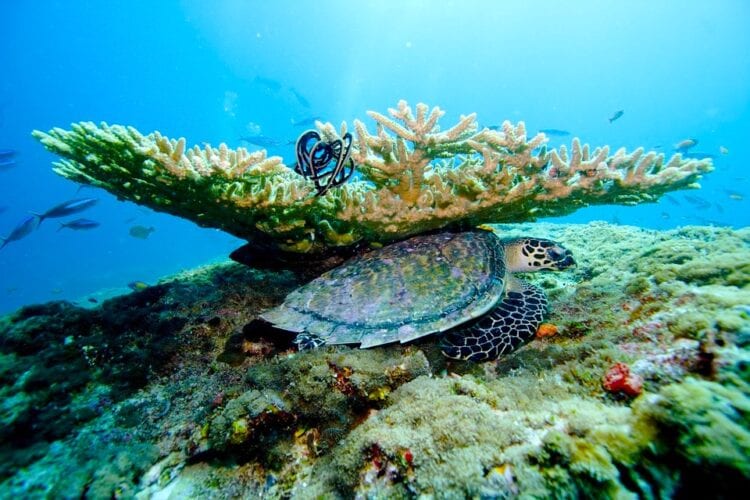 Award cost: 100,000 Hyatt Points
Earned from: Hyatt Stays
Value: $2,611.20
Finally, we arrived at the Park Hyatt Maldives. We were met on the arrival dock by our host, Ameez, who was our hotel contact throughout our stay. He drove us by golf cart directly to our villa. Because of my Globalist status, we were upgraded to a Park Pool Villa, which included our own plunge pool and direct beach access from our room.
One thing to know about the Maldives: it's expensive. Having Globalist status allowed us to eat a hearty breakfast, which worked as lunch for us as well. We bought a box of Cliff Bars for about $12 before we left the U.S. to hold us over until dinner. Another great Globalist perk was the daily Sundowner, which got us a free drink and some light appetizers from 5 p.m. to 7 p.m. each night. After 7, drinks were 15 percent off for Globalists as well. With beers starting at $8, and wine starting at $14 a glass, the discount was appreciated.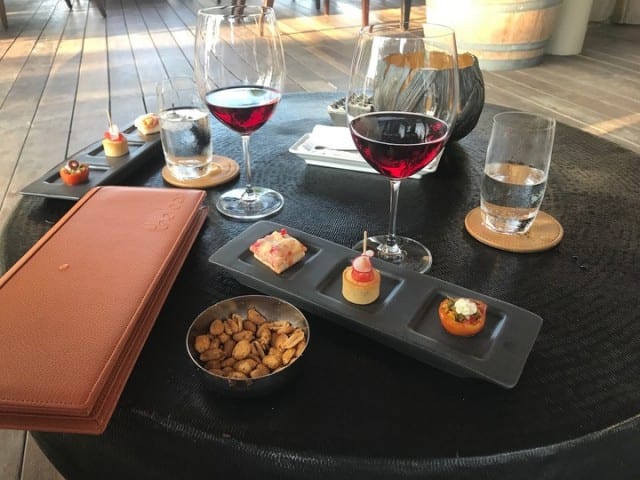 Dinner costs were expensive; we spent about $200 each out of pocket during our four days at the resort. Room service costs were identical to in-restaurant prices, so we enjoyed many of our meals in our villa.
The island has some of the best snorkeling on earth. I've been all over the world, and never seen snorkeling like this before. Fins, masks, and snorkels are free from the resort, and this activity took up the majority of our time on the island. Kayaks were also free to use, and were fun to paddle around the island. Other activities, like scuba diving, fishing, and island tours, were just too expensive for our tastes.
If you're a read-a-book-by-the-beach kind of person, this is the place for you.
After four days of lazing about, it was time to leave. The hotel arranges all transfers for you based on your departing flight, so we were told that our luggage would be picked up from our villa at 2:30 p.m. We handled check-out formalities, and at 3 p.m., we were on board the boat back to Kooddoo, then on a flight back to Malé. There, we were met by another Park Hyatt representative and escorted through security to the check-in counter for our flight to Abu Dhabi. Check-in was about 10 minutes away, so our guide waited in line for us instead of making us stand with the other passengers. It was a very nice touch to the incredible service provided at the Park Hyatt!
Going home on Etihad Airways – MLE-AUH-LAX
Award cost: 63,000 American Miles (after 10% rebate from Citi AA Card)
Earned through: American Airlines and partner flying
Value: $8,000 per person
First flight: Malé to Abu Dhabi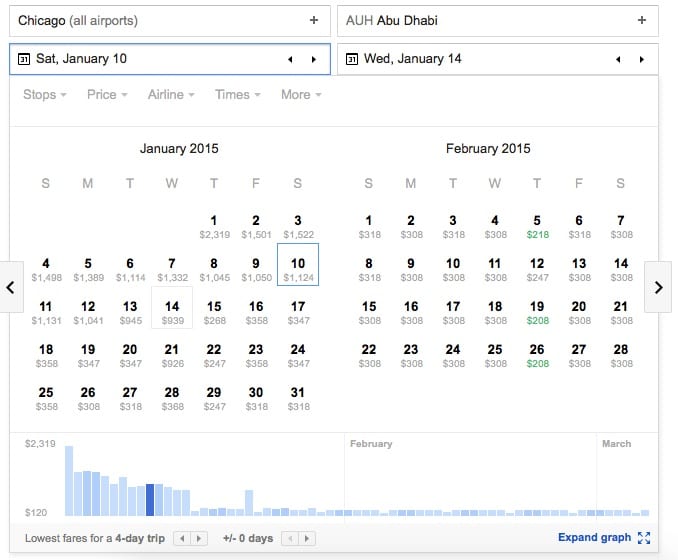 We'd flown Etihad before, between Doha and Dubai, and we wanted to fly them again pronto. They're one of the best airlines in the world to fly in business class. When we found out that Malé to the U.S. is the same price as the Middle East to the U.S. on American Airlines miles, we jumped at the opportunity to fly them again.
Our flight from Malé to Abu Dhabi was aboard Etihad's regional A320 product, which American Airlines flies frequently around the U.S. However, the difference between the two in business class is vast. Etihad has incredibly comfortable seats, entertainment, and catering. For a three and a half hour flight, it was more than comfortable.
Layover Hotel: Hyatt Capital Gate Abu Dhabi
We had eight hours overnight to spend in Abu Dhabi, so we elected to stay at the architecturally-significant Hyatt Capital Gate. Again, we were upgraded to an incredible one-bedroom suite, which overlooked some royal palaces in the country. It was a large amount of space for what amounted to five hours of sleep, but for $130, it was a great layover hotel. Globalist status also got us free breakfast at the hotel restaurant 18 degrees, which is located on the 18th floor.
Second Flight: Abu Dhabi to Los Angeles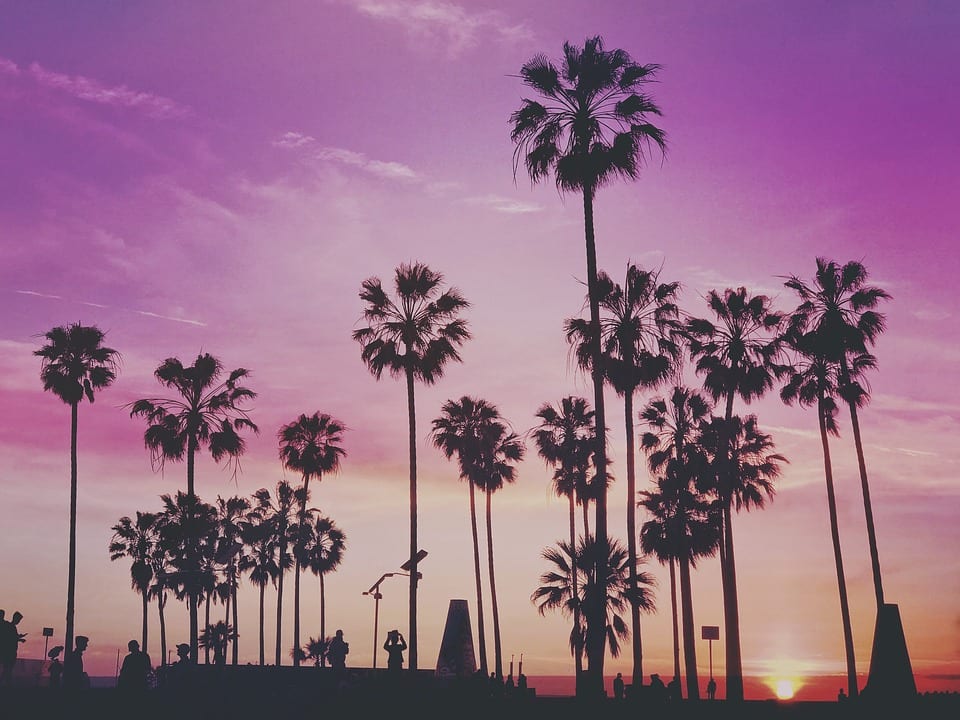 The Abu Dhabi to LAX flight on Etihad is the world's sixth longest flight, and it ended up taking 15.5 hours for us. For this long of a flight, business class is an absolute necessity.
While this flight doesn't feature Etihad's "Business Studio" product, which is newer, the seats we found were plenty comfortable for the flight. Also, Etihad's service, which features "Dine Anytime" scheduling, meaning you can eat when you'd like to, makes the flight even more enjoyable.
Having traveled all around the world in less than a week, we were pretty tired, so we slept for over eight hours of the flight time! The rest of the time was filled with "Curb Your Enthusiasm" reruns and actions films. Before we knew it, we were back where we started in Los Angeles.
Final thoughts.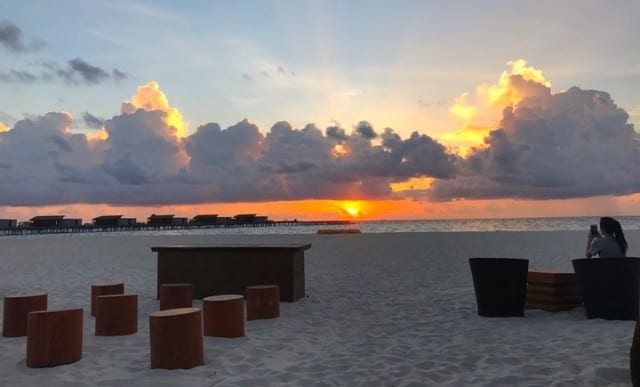 Overall, was it worth flying around the world in a week? Yes. We had some incredible experiences that would have cost us almost $40,000 if we'd paid out of pocket. Instead, we paid just $1,300 per person. It's staggering to realize that we saved about $37,000 by utilizing things like credit card bonuses and hotel status. The Maldives definitely lived up to the hype, and we're already planning our next trip back!
Have you been to the Maldives? Tell us about your experience in the comments!