Wait Until Black Friday For the Best Deal on a New iPhone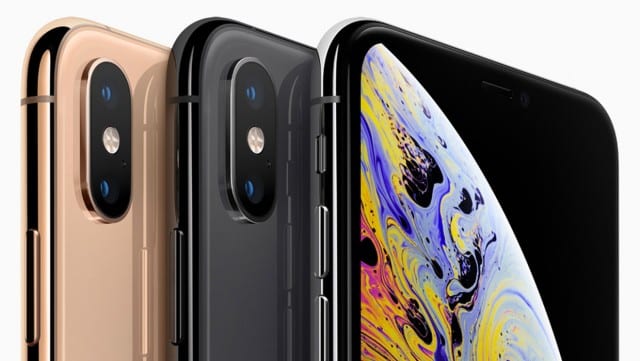 Alert all Apple addicts! The new iPhones are here, and pre-ordering will begin soon. While we know you're probably excited to upgrade to the latest and greatest, you probably shouldn't be setting up camp in the Apple Store parking lot just yet.

When will the new iPhones be released?
The Apple iPhone XS and XS Max will hit stores on September 21, and preorders beginning on September 14, 2018.
The Apple iPhone XR will come a bit later, arriving in stores on October 26, with preorders starting on October 19, 2018…
But you really should wait if you want an iPhone deal.
If you're looking to upgrade to the XS, XS Max, or XR, our best advice is to wait. Black Friday is typically the best time of the year to get deals on iPhones, and you're probably not going to see many discounts on the shiny new phones right after they come out. I'll say it again: if you're not waiting until Black Friday to get an iPhone XS, XS Max, or XR, you are literally throwing your money away. To underline my point, let's break down the Black Friday iPhone deals from years passed, shall we?
2013: iPhone 5c and 5s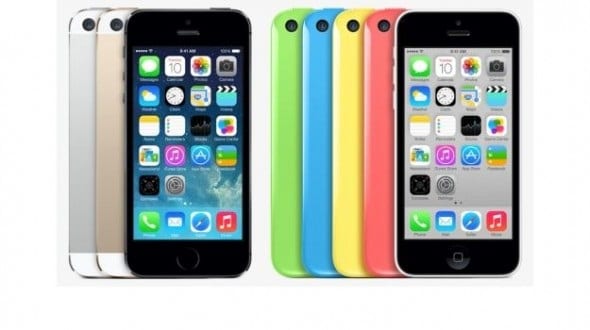 Ah this takes me back. The release of the 5c and the 5s marked the first time Apple offered two different options, the cheaper colorful plastic 5c, and the sleek, more expensive metallic 5s. When they were first released on September 20, 2013, the 5c retailed for $99, and the 5s was $199 (with the purchase of a phone contract). Once Black Friday sales were live, the prices dropped dramatically.
Walmart had by far the best deal on both: a 16 GB 5c went for $45 and included a $75 Walmart gift card–meaning some lucky Black Friday shoppers were essentially paid $35 to take home a brand new phone. For the 16 GB 5s, Walmart first knocked $10 off its base price of $199, and then threw in a $75 Walmart gift card with the purchase of a two-year contacts, which brought down the net cost of the phone to $114. Plus, trading in an old phone could get you up to $300, so many people got paid to upgrade–even to the 5s.
I doubt anyone who spent $99 on the 5c when it first came out was too pleased when they realized they could have saved that hundred bucks AND made a $35 profit if they'd just had the patience to wait a couple months.
2014: iPhone 6 and 6 Plus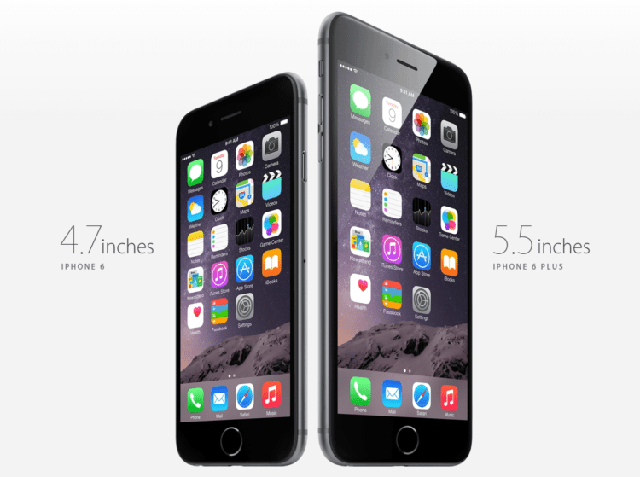 When they came out in 2014, the iPhone 6 retailed at $199, the 6 Plus at $299 and the older 5s was reduced to $99 with a phone contract. Come Black Friday, Walmart — again the champion of the Black Friday iPhone sale — was offering a $75 gift card with the purchase of a two-year contract and either the 16 GB 5s, which they were selling for a base price of $79 or the 16 GB iPhone 6, which was on sale for $179.
There were no sales on the 6 Plus, but there was an up to $200 gift card option on the table for trading in an old phone. At the end of the day, this meant the iPhone 5s was going for a net price $4, and the iPhone 6 had a net price of $104. If you traded in an old phone in good, working condition, you could easily get either one for free–plus a well-endowed Walmart gift card to boot.
2015: iPhone 6s and 6s Plus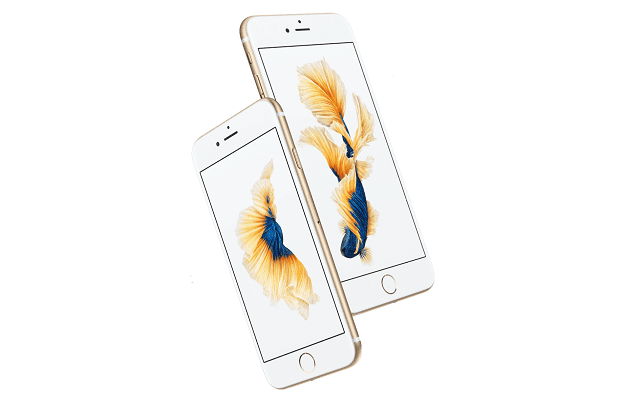 In 2015, Apple sold five varieties of the iPhone, ranging from the 5s to the 6s Plus. The 5s was free with a two-year contract, the 6 was $99, the 6 Plus was $199, the 6s was $199, and the 6s Plus was $299. These were the upfront costs, not including the monthly fee that most phone contracts added on, which were between $25 and $30/month for two years.
During Black Friday, the savings were once again quite noteworthy. Target offered a $250 Target gift card with the purchase of the iPhone 6s or 6s Plus, and cut $50 off both phones' upfront cost. This meant folks who bought the 6s on Black Friday were essentially paid $100 to upgrade, while folks who bought the 6s Plus got their phablets for a net upfront cost of $0. While this only accounts for the upfront payment, many phone companies also cut the monthly payments for customers who traded in older smartphone models. T-Mobile's initial monthly price for the iPhone 6s was $27/month, but people who traded in their old phones got a $7/month discount, bringing down the monthly cost to $20, a yearly savings of $84.
2016: iPhone 7 and iPhone 7s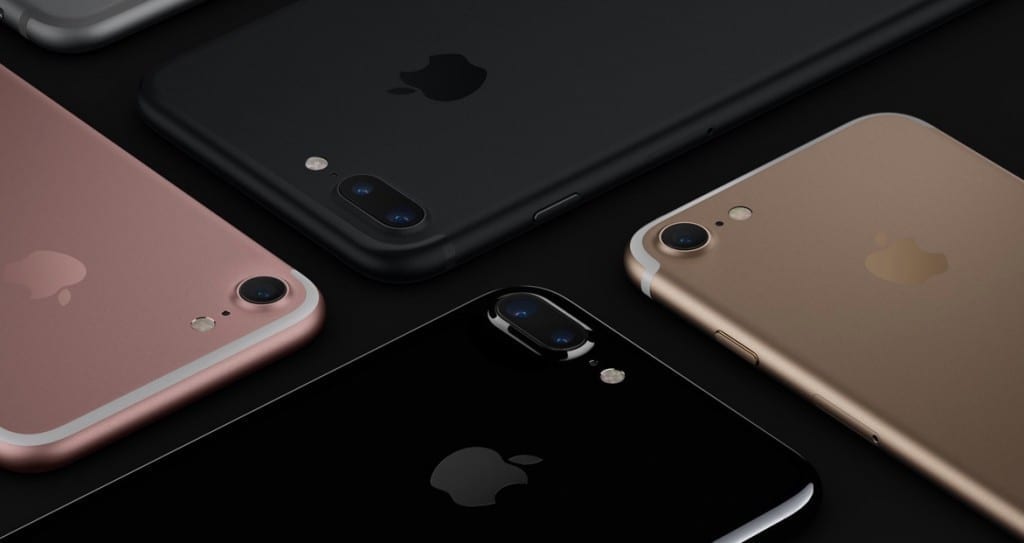 Last year, Apple sold five different versions of the iPhone, ranging from the 5-sized SE to the 7 Plus. As all major wireless carriers have now caught on to the fact that customers like to upgrade their phones early and often, most of them switched to contracts that offer little to nothing down, and a monthly payment (which is on top of the monthly service and insurance payments, btw) that ranging from $20-$37 depending on the make and model of the iPhone you bought.
And then when Black Friday arrived. Apple didn't run a Black Friday sale, but the iPhone 7 and 7 Plus could be had at Walmart, Target, and Best Buy for $0 down with an installment billing agreement, plus a $250 in-store gift card to use on a future purchase — effectively a $250 discount. At Walmart, you could even schedule an appointment to skip all of the waiting in line!
Just to drive the point home, take a look at the actual Black Friday ads for the iPhone 7 and 7 Plus. You won't get a sweetheart deal like this on the iPhone X on launch day.
Target, Black Friday 2016: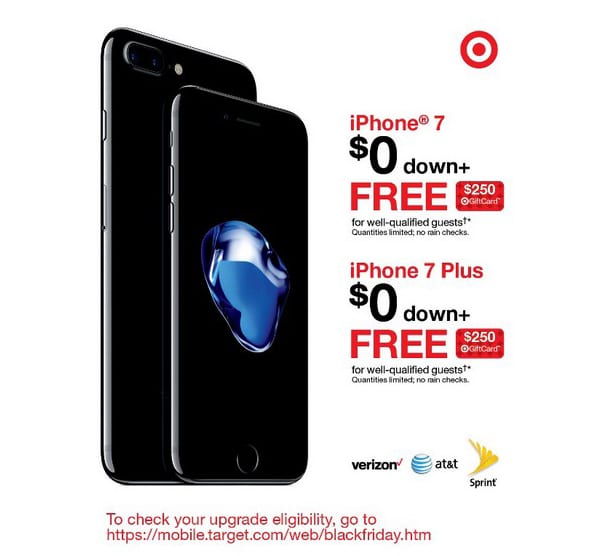 Best Buy, Black Friday 2016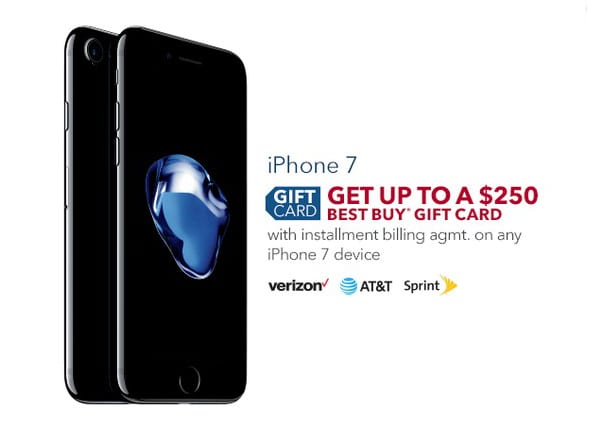 Walmart, Black Friday 2016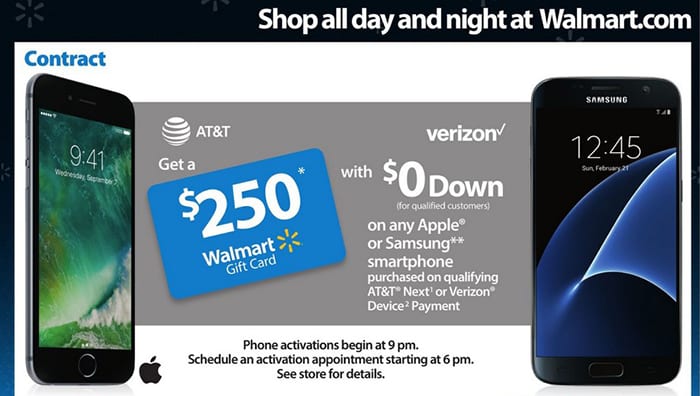 2017: iPhone 8, 8 Plus, and X
Just last year, waiting until Black Friday to pick up your new iPhone paid off in some hefty gift card incentives. Walmart offered a $300 gift card with contract, and Target offered $a 250 gift card with contract.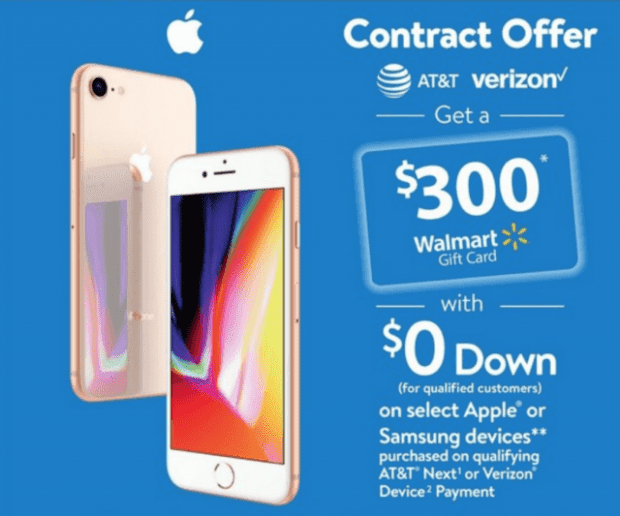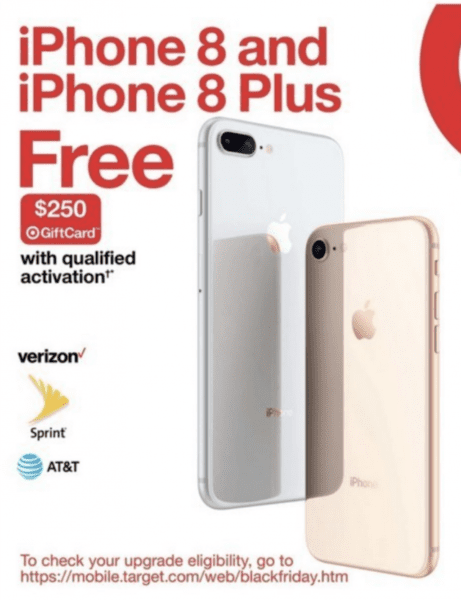 2018: iPhone XS, XS Max, and XR
It's too early to know exactly what the Black Friday deals on new iPhones will be like, but we can be all but certain that with the vendor incentives, sticking it out until November with your old phone is going to be totally worth it.
For the most current deals on iPhones and iPhone accessories, check out these retailers:
Verizon, Amazon, Walmart, Target, Apple
Related posts:
Are Refurbished Apple Products Worth It?
The Best Place to Buy a Mac Online
Are you willing to wait until Black Friday to upgrade your iPhone? Let us know in the comments!