15 Places to Get a Free or Cheap Dog on National Hot Dog Day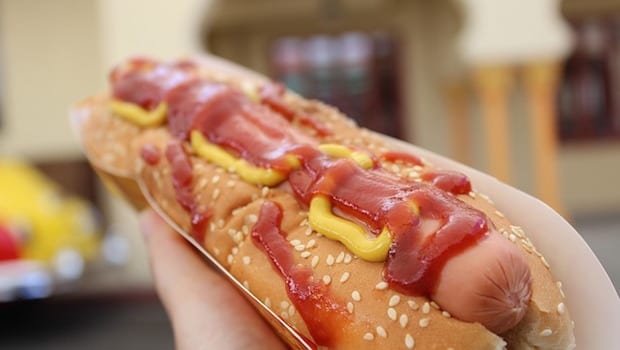 July is National Hot Dog Month, per the highly esteemed National Hot Dog and Sausage Council, and general consensus has declared 7/18 as National Hot Dog Day. Many retailers are offering hot dog deals on this most wonderful holiday, as well as all month long. What does this great amount of Hot Dog celebration mean for you? A whole lot of dogs, baby. 
Today, hot dogs are an essential part of American culture, from baseball franks to county fair coneys, it's safe to say that all red-blooded patriots in this country enjoy chowing down on their favorite style of dog from time to time. In fact, the National Hot Dog and Sausage Council reports that in 2016, nearly one billion pounds of hot dogs were sold in retail stores, and that number doesn't even take into account the 19.4 million hot dogs consumed at sports games.

But it wasn't always this way. Believe it or not, our founding fathers were not serving up Chicago dogs at that first fourth of July cookout. In fact, hot dogs didn't really take off in this country until the late 19th century. Despite having been invented by hungry German butchers way back in 1487, it was the 1893 Columbia Exposition in Chicago that made them popular, as visitors from around the globe were introduced to the delicious dog, they suddenly realized just how convenient a sausage nestled in a fluffy bun could be for a meal on-the-go. 
The rest is history, and whether you're a fan of the classic New York dog or the artisan San Fran frankfurter, I think we can all agree that the best hot dog around is the one you don't have to pay for. So in honor of this month's meaty holiday, here are all the places you can get a hot dog for free (or almost free).
Deals & Freebies for National Hot Dog Day 2018:
7-Eleven: Big Bite hot dogs are $1 each.
Burger King: Classic grilled dogs are just 79 cents all month long at participating locations.
Dog Haus: Download the Dog Haus app to get a free hot dog on 7/18.
Harris Teeter: Pick up 14 oz. Ball Park Angus Franks for $1.99 per package, and an 8-pk of Wonder Hot Dog Buns for $0.99 on 7/18. Limit 2 while supplies last.
Hot Dog on a Stick: On 7/23, buy a lemonade, get a free spicy stick item.

Hwy 55 Burgers, Shakes & Fries: $1 hot dogs with My Hwy 55 app download on 7/18 from 2-5pm.

Kwik Trip: Enjoy $1 Corn Dogs through 7/19.
Love's Travel Stops: Grab a bar code from Love's Facebook, Twitter, or Instagram psges to get a free hot dog all day on 7/18.
National Coney Island – Free Coney to the first 100 customers at participating locations
Know any other places you can gobble up a dog for less on Wednesday? Let us know in the comments!