20 Top Deals to Grab at Target's Black Friday Sale in 2017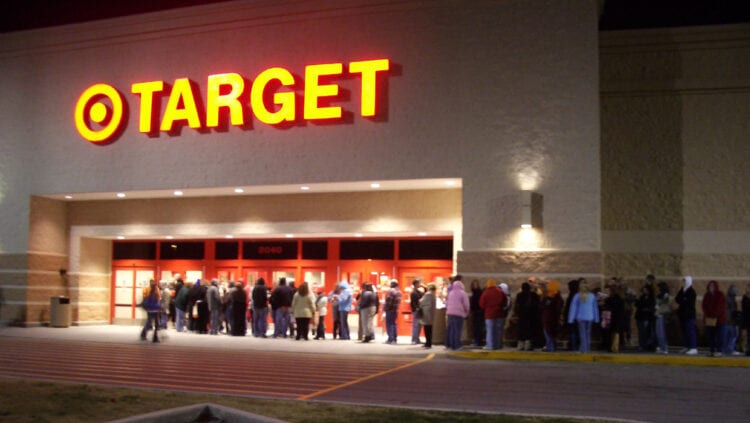 If there's anything that this largely no-frills Black Friday ad makes clear, it's that when it comes to knowing exactly what their shoppers want, Target is one of the best.
The Target Black Friday ad wastes no space on the kind of sale filler that can make your eyes glaze over like we often see with other ads. The designers keep it clean rather than cluttered, and the overall effect is that everything in it is pure consumer eye candy.
What time does the Target Black Friday sale start?
Target will will launch their Black Friday doorbusters in-store at 6pm on Thanksgiving night and close at midnight. The store will then reopen for the Black Friday early bird shoppers at 6am.
"We know that shopping Black Friday deals at Target is an annual tradition for many of our guests across the country," says Janna Potts, Target executive vice president and chief stores officer. "Our hours for this year ensure we're ready with great deals for those guests who want to shop following their Thanksgiving dinner, while also giving our teams a chance to recharge and prepare our stores before we open on Friday to greet guests with even more holiday savings."
We expect Target's Black Friday deals to be available online beginning at midnight Central time on Thanksgiving morning. If you have your eye on something in this sale, we recommend staying up until midnight on Wednesday, unless you're a REDcard holder in which case...
Get early access to Target's Black Friday deals with your REDcard.
Target Black Friday shoppers with REDcards will be treated to early access to more than 100 Black Friday deals starting "early the morning of Nov. 22." We believe this means select Early Access deals will start at midnight on Wednesday morning.
It's also worth remembering that paying with your REDcard will take an additional 5% off any purchase. This discount can be substantial when you're buying big ticket items, though we'll also take the opportunity to remind our readers that we recommend putting expensive electronics and appliances on a cash back credit card instead, which also can provide you with additional benefits like price protection and extended warranties.
More Target Black Friday Tips
Spend $50 or more at Target or Target.com on Black Friday 11/24 to get 20% off a future purchase (redeemable 11/28-12/10).
Get a map of your local Target store on the Target app to scope out where the deals you want will be located.
Target Black Friday Ad: 2016 vs. 2017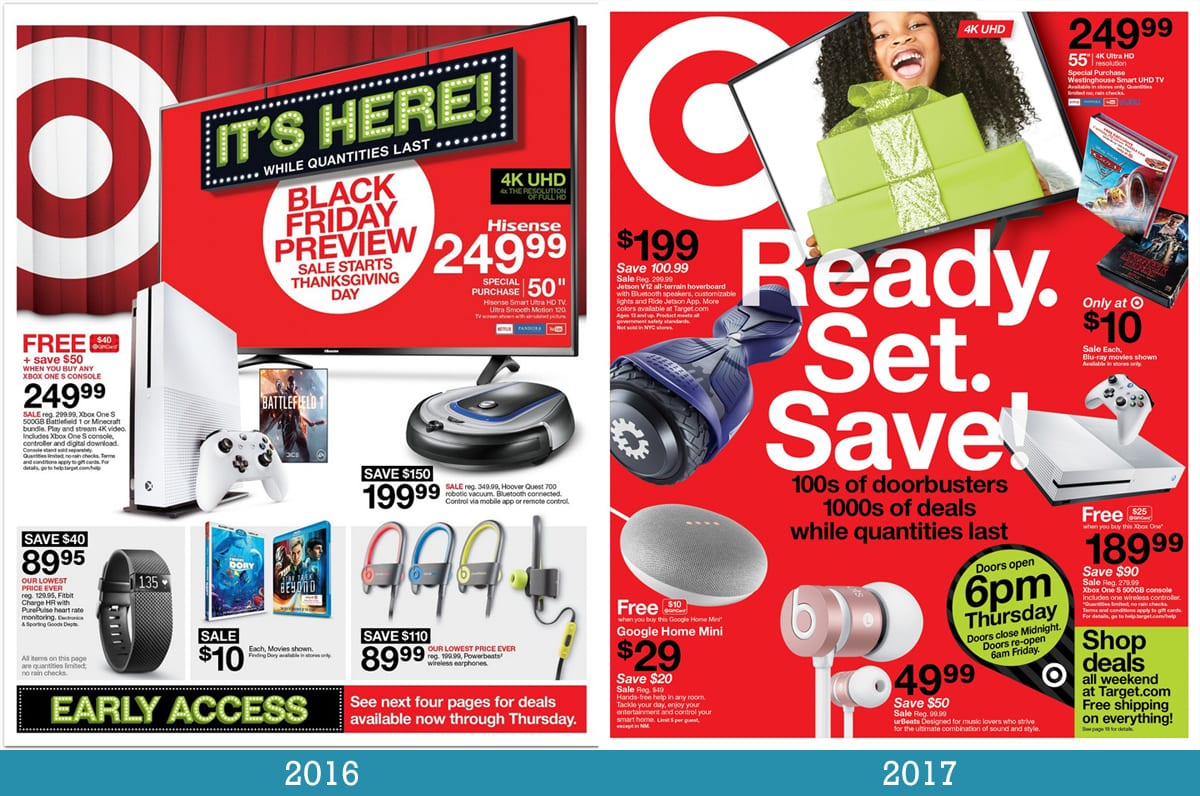 Target is one of the best at presenting a clean, compelling Black Friday ad year after year, but the gist of its contents tend to fall into a pattern. Comparing last year's cover to the 2017 cover, we see:
The eye-popping doorbuster TV
A gaming console
Beats headphones or earbuds
$10 new release Blu-rays
These are legitimately great deals, of course, so we're not complaining, even if it can be a bit predictable.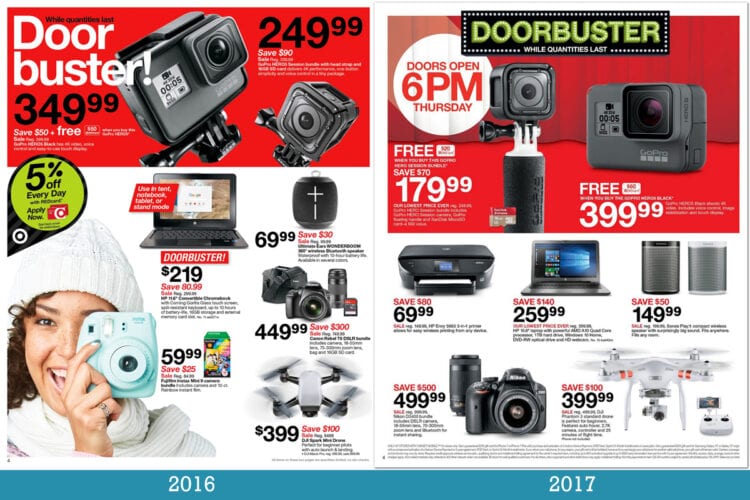 We were also struck by the similarities on these two pages, both featuring:
GoPro cameras
a doorbuster laptop
a DSLR bundle
a drone toy at the exact same price point
As with the cover, these deals are pretty great – even if they're not exactly surprising.
Our Favorite Target Black Friday Deals for 2017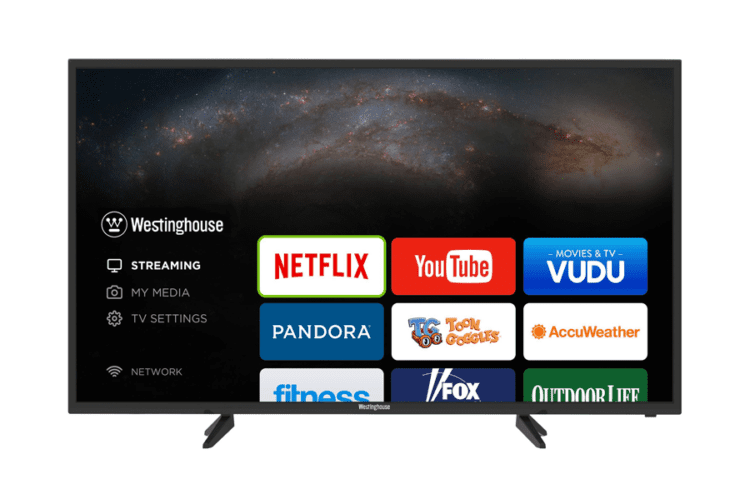 Westinghouse 55" 4K UHD Smart TV
Black Friday Price: $249.99
Available in-store only

In their press release, Target called out this TV doorbuster as its lowest price ever on a 55-inch television, and it's the lowest price we've seen on a 55-inch TV. Alas, you'll need to line up early for this one – this is the TV everyone will be clamoring for this year, it's not not for sale online, and with such limited inventory we expect it to sell out more or less immediately. Target will give out TV tickets 30 minutes before the doors open to shoppers in line on a first-come first-served basis, and you'll have 2 hours to pick up your TV from the Guest Service desk.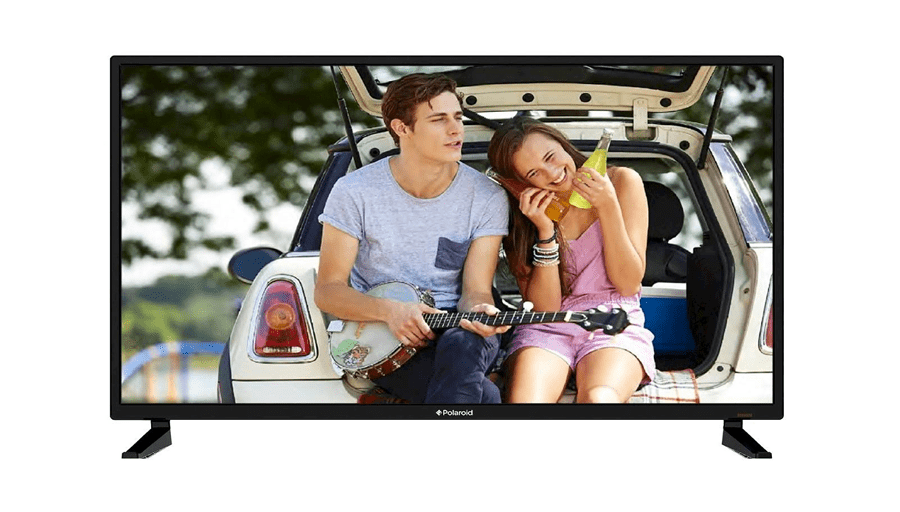 Polaroid 32" LED TV
Black Friday Price: $89.99 ($129.99)
This year's frontrunner into the "cheapest TV you can find" category – so far. We have yet to see what Walmart and Amazon come up with here, but I would expect them to be not far off.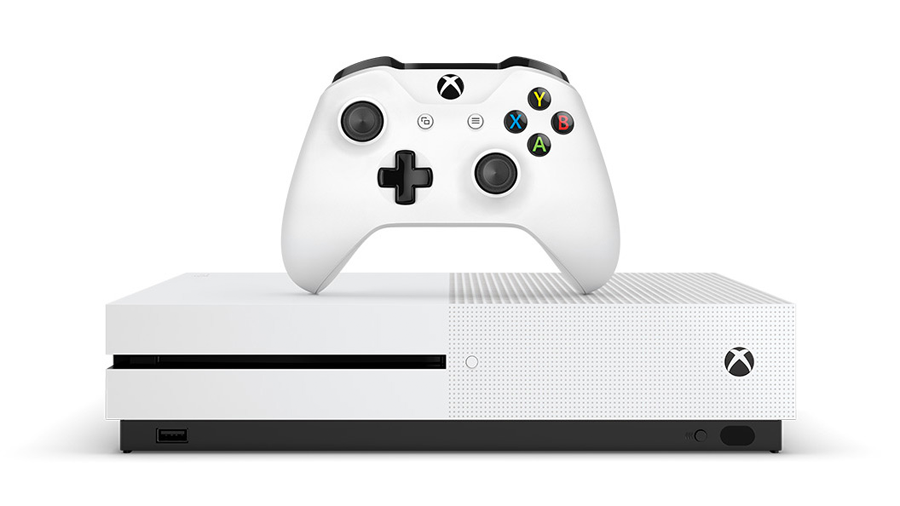 Xbox One S 500GB Console with Wireless Controller
Black Friday Price: $189.99 (was $279.99)
Bonus: $25 Target Gift Card
We actually think the Kohl's deal on this console is better since it comes with $45 in Kohl's Cash compared to Target's offering of a $25 gift card. However, we know that not everyone places the value on Kohl's Cash that we do, and it's worth noting that Kohl's Cash has a short shelf life while a Target gift card will last awhile.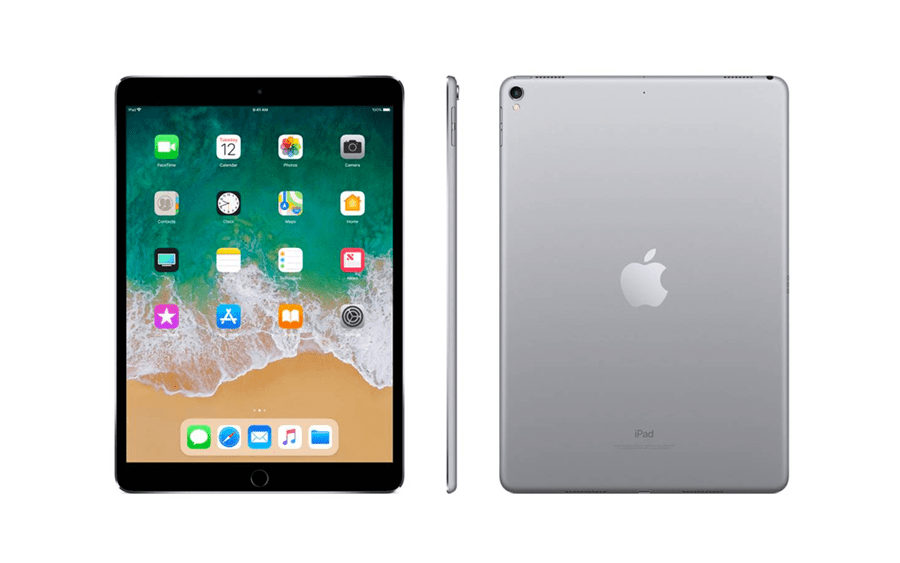 iPad Pro 10.5-inch
Black Friday Price: from $529.99 (was from $649.99)
The rarity of discounts on Apple products means we're never not going to sit up and take notice when they pop up.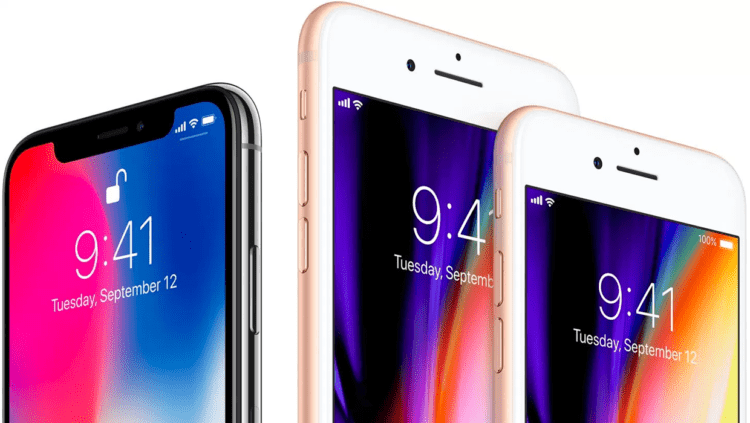 iPhone 8 and 8 Plus
Black Friday Price: No downpayment with qualified activation
Bonus: $250 Target Gift Card
You know how every single year we always, always advise our readers that buying the new iPhone on launch day is a bad deal? Because there's always a killer Black Friday deal and often a gift card? Well, we have no shame in saying we told you so.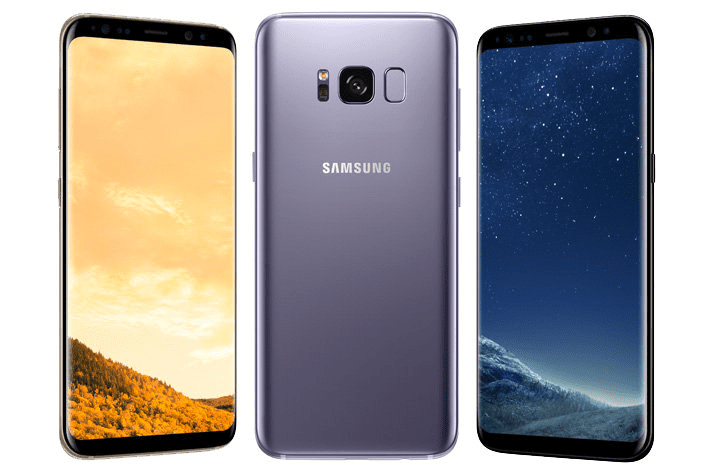 Samsung Galaxy Note8, Galaxy S8, or Galaxy S8+
Black Friday Price: No downpayment with qualified activation
Bonus: $300 Target Gift Card
What's true for the latest iPhone is generally also true for the best-of-class Android offerings. In fact, the gift card here is even better than the iPhone, just in case you've been looking for an excuse to make the leap from iOS to Android.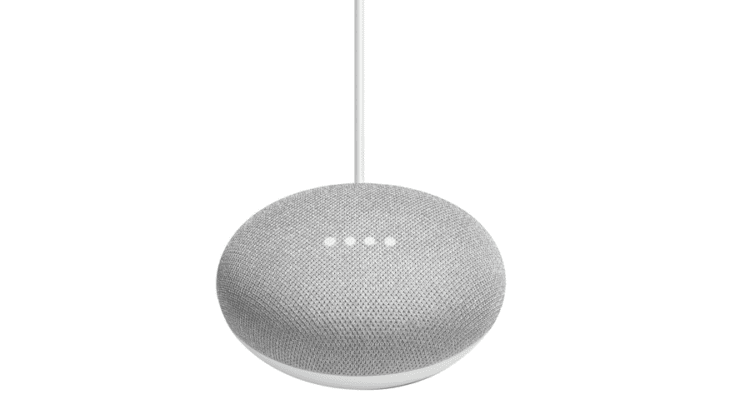 Google Home Mini
Black Friday Price: $29 (was $49)
Bonus: $10 Target Gift Card
This is possibly our favorite deal in this entire ad. Not only is $29 a ridiculous price for this brand new Google Home device, but they'll give you an extra $10 to take it home. That completely obliterates the deals we're seeing on the rival Amazon Echo Dot and effectively kills all of your excuses for not jumping on the bandwagon.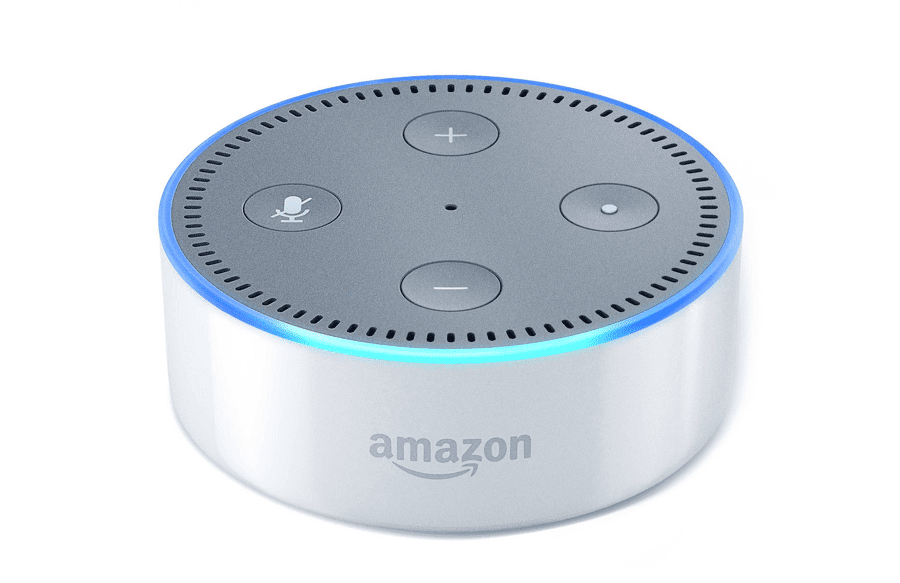 Amazon Echo Dot
Black Friday Price: $29.99 (was $49.99)
That said, though, Alexa is still just better at some things than a Google Home device. (And vice versa.) But hey, now you can afford to get one of each and pit them against each other, decide for yourself which you like best.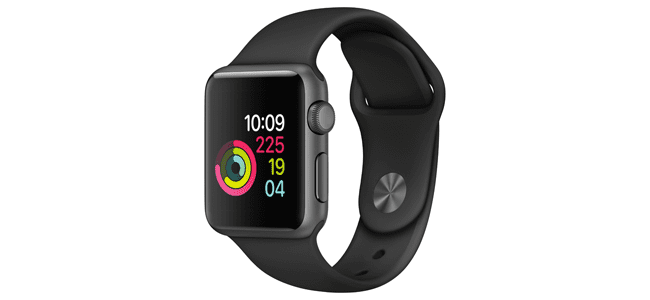 Apple Watch Series 1
Black Friday Price: from $179.99 (was from $249.99)
This is easily the cheapest Apple Watch we've seen outside of refurb deals. If you've been looking for a budget-friendly way to pick one up, well, voila.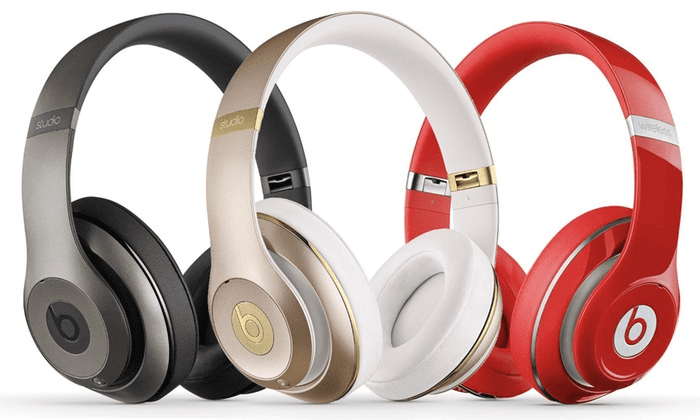 Beats Studio 2 Wireless Headphones
Black Friday Price: $159.99 (was $379.99)
Would it even be Black Friday without deals on Beats headphones? The discount on the Beats Studio 2 Wireless Headphones is particularly good, dropping from $379.99 to just $159.99. We have a feeling these will go fast.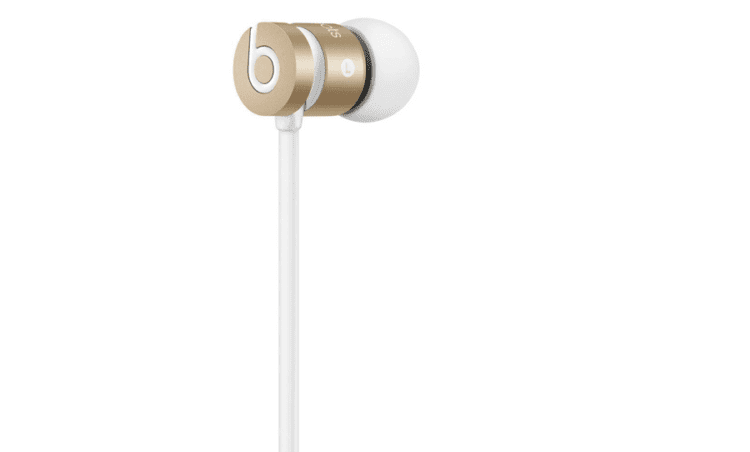 Beats urBeats In-Ear Wired Headphones
Black Friday Price: $49.99 (was $99.99)
Don't mind the wires? This deal on urBeats matches a comparable deal we saw back in October at Dick's Sporting Goods. The only way to get them cheaper is to buy them open box.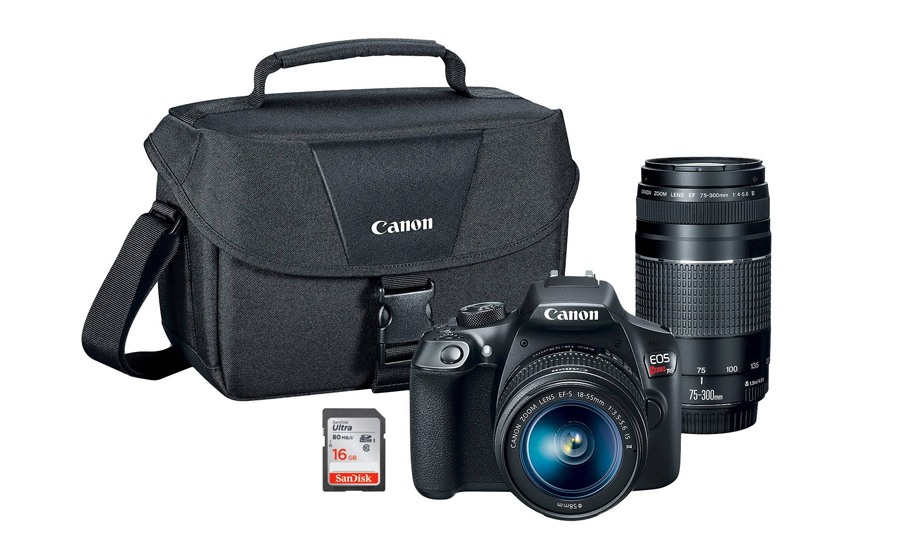 Canon Rebel T6 DSLR + 18-55mm Lens, 25-300mm Lens, Bag, and 16GB SD Card
Black Friday Price: $449.99 (was $749.99)
Target is consistently good with the DSLR camera deals, and this year is no exception. This bundle gets you an 18MP body, an 18-55mm "walking around" lens, a 25-300mm zoom, a 16GB SD card that you'll want to upgrade almost immediately, and a bag to carry it all in.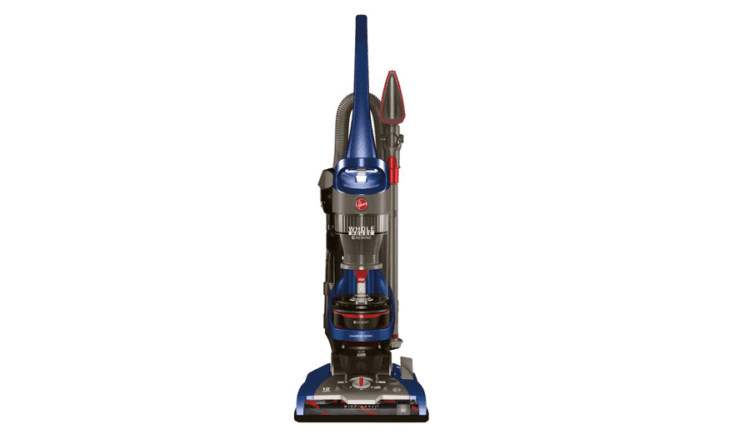 Hoover WindTunnel 2 Whole House Rewind Upright Vacuum
Black Friday Price: $69.99 (was $149.99)
This vacuum was a hot seller when it was marked down to its Black Friday price the day the Target ad dropped. It's a quality vacuum for more than 50% off, are you surprised? We're not.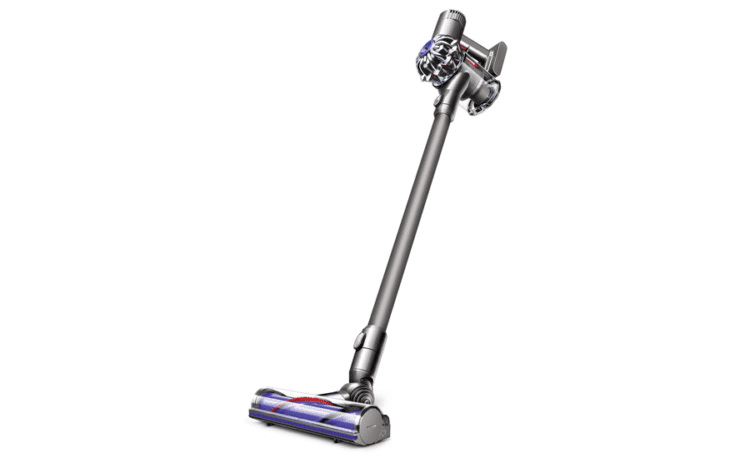 Dyson V6 Animal Vacuum
Black Friday Price: $249.99 (was $499.99)
On the higher end of the vacuum spectrum, don't overlook the Dyson V6 Animal, marked down from $499.99 to $249.99. Holiday discounts on Dyson are de rigueur, but a good one that deal hunters like us look forward to every year.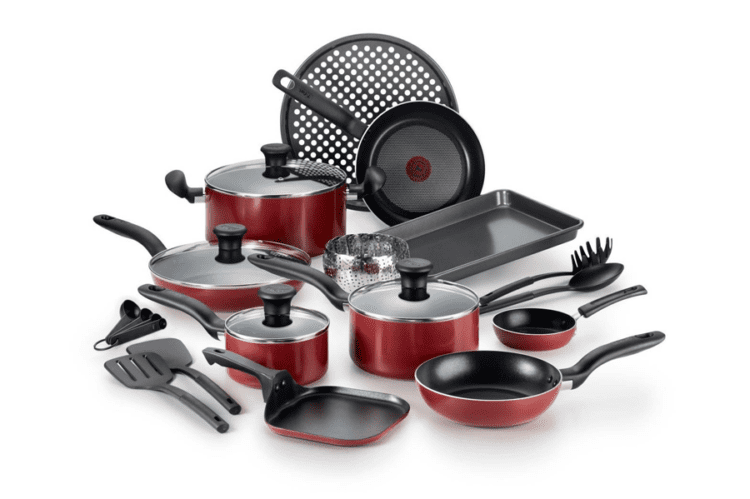 T-fal 20-pc Nonstick Cookware Set
Black Friday Price: $49.99 (was $99.99)
Looking at cookware sets, T-fal is where you get the most bang for your buck. It's a great first set for students moving into their own apartments for the first time or for anyone looking to replace their scratched and dented cookware on a budget.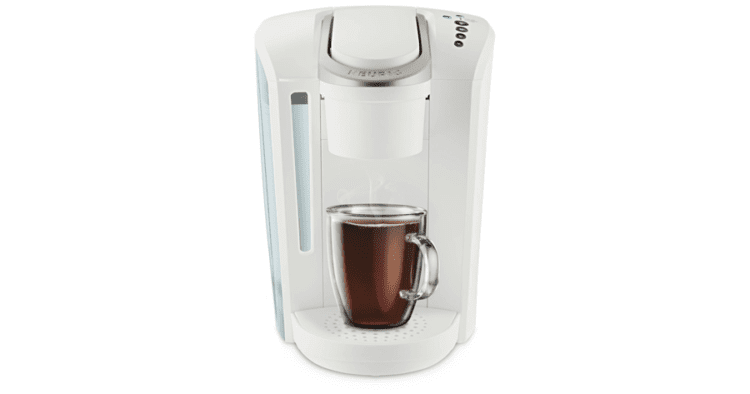 Keurig K-Select Brewing System
Black Friday Price: $99.99 (was $129.99)
Bonus: $20 Target Gift Card
Pro-tip: Use the gift card to stock up on k-cups and Keurig-compatible coffee pods.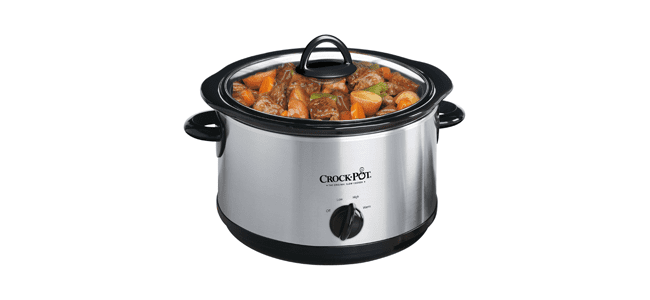 Crock-Pot 4.5-qt Manual Slow Cooker
Black Friday Price: $10 (was $19.99)
Yeah, yeah, we know that Instant Pots are getting all of the buzz right now, but can we show our beloved slow cookers a little love, too? This model for $10 is a steal.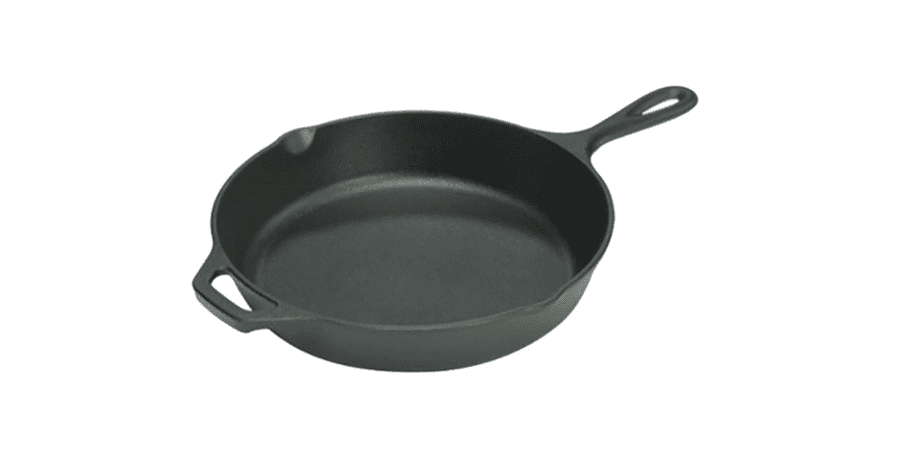 Lodge 10.25" Cast-Iron Skillet
Black Friday Price: $10 (was $14.99)
A 10-inch cast iron skillet made our list of the best Black Friday deals last year. Lodge is considered one of the best cast iron skillet brands out there, and we love the handy little pour spouts on the sides, making this an even better skillet than last year's entry!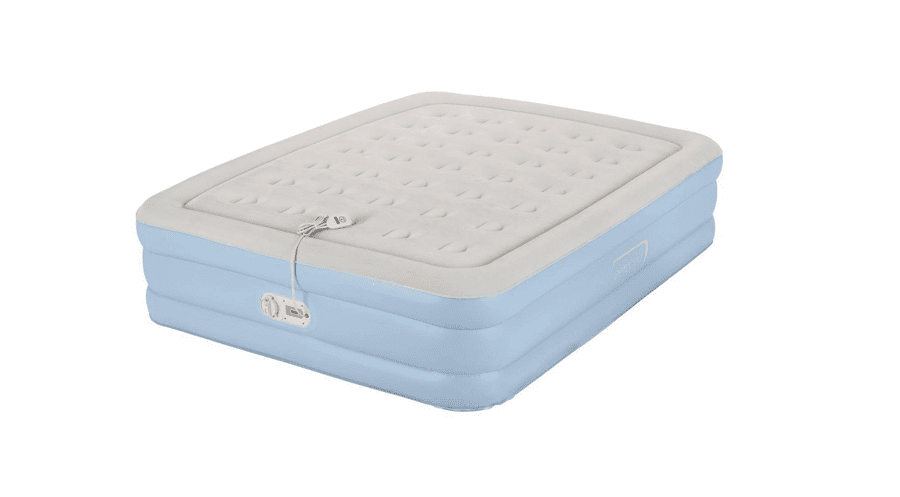 AeroBed One-Touch Comfort Queen Double-High Air Mattress
Black Friday Price: $49.99 (was $149.99)
When Target included this air mattress in their early access sale on the day the Black Friday ad was released, it sold out within minutes.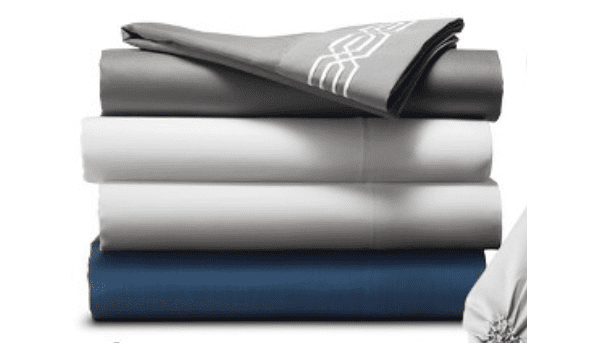 1,050 Thread Count 6-pc Sheet Set (Full, Queen or King)
Black Friday Price: $25
Available in-store only

Sleeping in comfort knowing your luxury sheets didn't cost a small fortune seems like kind of a no brainer to us. This is the best deal on a 1000+ thread count sheet set that we've seen so far this Black Friday season, but you'll have to line up at your local Target to get it – it won't be available online.
Related Deals:
Lego BB-8 $80 Shipped + Free Gift
Target: 30% Off Holiday Inflatables