8 Ways to Virtually Visit Santa Before Christmas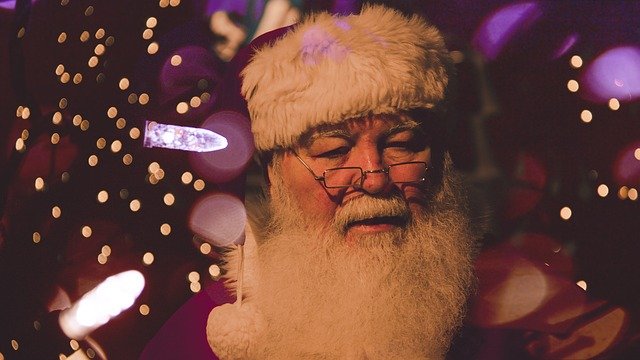 Due to restrictions put in place in many states this year, visiting Santa is not something a lot of families are able to do. Luckily, many services saw this problem as an opportunity this year and we've seen some wonderful virtual options for children to talk to Santa in the safety of their own homes!
Whether you're looking for a personalized video chat with Santa Claus or a customized pre-recorded message for your kids, our list below covers some great options to give your children a magical holiday experience while still sticking to and following Covid-19 safety restrictions.
Most calls range from 5-10 minutes and some feature Santas that can be selected based on your own family's background. Some options are free and others have costs based on the package options you choose. Be sure to book a time slot soon, as we're getting closer and closer to the big day!
How to Snag a Virtual Santa Visit
Macy's Santaland At Home
A virtual experience for up to 3 kids at a time, Macy's Santaland is bringing the same Christmas magic they normally have in-store right into your own home.
Parents can sign up for a Santaland account and then their kids can go through the interactive journey, guided by elves, until they meet Santa at the end of the event for an interactive video where they can share their Christmas and get a photo with Santa.
Cost: This is the best part. This experience is entirely free!
Sam's Club Santa Session
Through the Sam's Club Santa Session, kids will chat with a Santa Claus (that can be chosen to best suit your family and background) via a Zoom call.
Parents will sign up and book a reservation with Santa and then will receive a Zoom link within 24 hours of your reserved time. Each session is 5 minutes and there is no limit to how many children can attend your reserved video time.
Cost: Create a photo account with Sam's Club and this experience is free!
Cherry Hill Program's Create Holiday Magic
Normally an in-mall Santa experience company, Cherry Hill is offering a variety of Santa experiences through their Create Holiday Magic Program. They offer a variety of packages including free photos for kids and/or pets with Santa Claus (upgraded backgrounds available for $19.99) or a video of Santa reading Twas the Night Before Christmas for $9.99.
Santa video packages start at $59.99 and will get your child a photo with Santa, exclusive story time video, and access to bonus online content. Other packages, costing more, offer a gift box or a live Zoom call with Santa himself.
Cost: Varies. $0 up to $99.99.
JingleRing Live
JingleRing Live is another personalized virtual Santa experience for up to 3 children, with an additional fee per child for up to 5 children per call. Kids will get to enjoy some on-screen entertainment while they wait for Santa to join their call. This is not through Zoom and no additional software is needed.
Calls will run around 10-20 minutes and you'll also received a recorded video of your visit that you can share with friends and family.
Cost: $24.95
T-Mobile's Santa Calling
Now through December 23, you can reserve a time to video chat with Santa through T-Mobile's Santa Calling. You do not need to be a T-Mobile customer to experience this event.
Every morning at 9 a.m. PT, they will announce new time slots here. Check early to try to snag one for the day. If you miss out, you can try again the next day! If you do snag a video call with Santa, you'll receive an email link to join the event and be sent a video download after the event that you can save and share.
Cost: Free to everyone!
Santa the Experience
In this virtual experience, kids will get to interact with Santa's elves for a few minutes and then will get to have a live chat with Santa Claus himself for the final 5 minutes of the Santa Experience call.
The elves take you on a tour of the North Pole before introducing you to Santa. You can personalize the experience by sharing the names and ages of your children as well as a funny story from this year. An Elftastic package gets you a recording of the Zoom, printable Nice List certificates, and a photo of your children with Santa.
Cost: $34.95 to $79.95 depending on your time slot and additional package options
It's the Real Santa
With It's the Real Santa, your child will receive a personalized pre-recorded message from Santa Claus with lots of details about their own life so they know Santa is talking only to them.
Parents will sign up and fill out a form with the child's name (and pronunciation), age, hobbies, and 1-2 sentences of your own choice so Santa can make your child feel special.
Cost: $44.95
Chit-Chat with Santa
A live and personal call with Santa Claus himself, Chit-Chat with Santa gives families with any number of children a chance to have a video chat with Santa.
Sign up now and book a time slot through December 24 for your child to have a 6-minute talk with Santa Claus. This service is web browser-based and it requires no additional software and will work on any device with a camera. 
Cost: $35
Will you be setting up any chats with Santa for your little ones this year? Have you started any new traditions with all the 2020 restrictions? Let us know in the comments!