Black Friday Predictions: The 2017 Walmart Black Friday Ad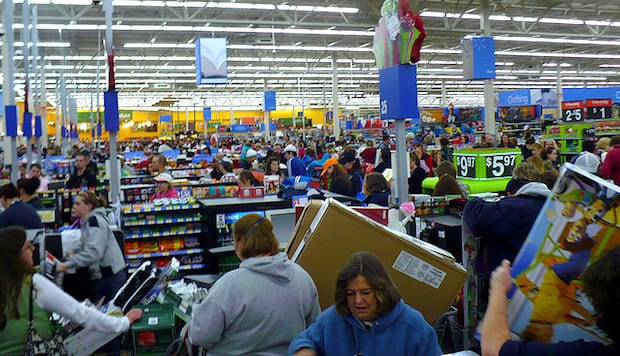 Walmart's Black Friday ad is the hottest of the hot. Every year, when Black Friday season starts to heat up, we get comment after comment, email after email, begging for information about Walmart's elusive Black Friday ad. While this frenzy can be fun, the truth is that you don't need the Black Friday circular to plan for your holiday shopping at Walmart. Why? Because the old ads tell us everything we need to know. 
When will we see the 2017 Walmart Black Friday ad?
I get it, you wanna see what exciting new deals are on sale this year. To figure out when, exactly we're going to see the 2017 ads, let's take a look at the Walmart Black Friday ad publication dates from the last few years:
2013: Monday, November 11
2014: Tuesday, November 11
2015: Wednesday, November 11
2016: Wednesday, November 9
Walmart has historically been super into 11/11 as an ideal ad release day, but last year we saw them stick to a Wednesday release on November 9. This year, we could see it coming out as early as Wednesday, November 8 if they stick to the Wednesday release date. If it's not out by then, Thursday, November 9th may likely be our lucky day. Make a wish for crazy savings!
Once the Walmart ad arrives, you'll find it in our 2017 Black Friday Shopping Guide.
What will Walmart's Black Friday hours be?
Walmart has been opening its doors at 6 p.m. on Thanksgiving Day for the past three years, and we expect it to hold with this pattern in 2017. It's interesting to note that, while Black Friday sale start times have been steadily increasing from 2007 on, last year, a few stores, like Staples and Gamestop made a statement by reversing their stance on Thanksgiving Day hours and reverting back to early morning Black Friday bonanza sales. While we don't expect Walmart to do anything this drastic, if they DID, it would be a game changer for the Black Friday industry. We can dream, but the reality is likely going to be a 6 p.m. Thanksgiving sale start time.
If you're not feeling the idea of ditching your loving family on Thanksgiving Day and dealing with frantic crowds of deal chasers, you probably won't have to. Last year marked the first time that most of the big box store's doorbuster deals were available online, starting at 12:01 a.m. on Thanksgiving Day. We expect to see a similar online sale happening this year, so stay up late while you're marinating the turkey, and hop onto Walmart.com to skip the lines.
What should you expect from Walmart Black Friday Doorbusters?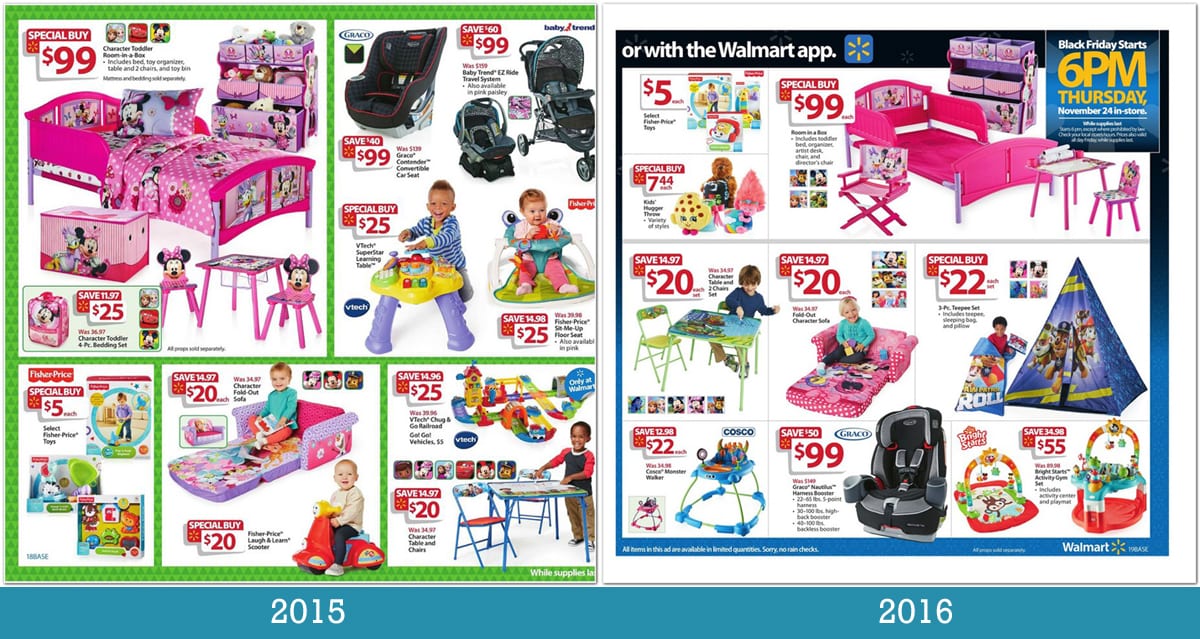 Small kitchen electronics for under $10
Walmart always has small kitchen electronics, like a crockpot, a coffee maker, a toaster and a skillet, on sale for under $10. Last year they were going for $9.76, the year before, $9.72, and in 2013, these items were sold for $9.44. We don't expect to see much of a change in price this year, so you'll likely see same stuff on sale for under $10!
Chromecasts for $25 or less
In 2014 and 2015, we saw the Chromecast for $20 in the Walmart Black Friday ad. Last year, we saw the Chromecast 2 for $25 and we expect to see the same deal this year. Get ready to turn your regular old television into a Smart TV for less than $30.
Samsung Tablet for under $70
Last year, we saw the Samsung Tab E 7 Lite for $69, and in 2015 the Tab 7 Lite was $79. As these tablets continue to get bigger and better, we think you'll see another version this year with the $69 price tag, or maybe even less.
24-piece Pyrex set for $19
This has been at $19 for the past several years, so we predict we're going to see it back there come Black Friday. Right now it's going for $26.42, which isn't too much more than the Black Friday price.
More encore Black Friday Deals at Walmart
These are just a few of the deals we expect to see return for Black Friday at Walmart. This is not meant to be an exhaustive list. We've linked to the last four years of Walmart Black Friday ads at the end of this article so you can compare for yourself.
Fitbit Flex 2
2014: $69
2015: $59
2016: $69
2017 Prediction: $59
HP 2541 Wireless Printer
2013: $29
2014: $29
2015: $19
2016: $19
2017 Prediction: $19
Logitech M325 Mouse
2014: $8.97
2015: $8.88
2016: $8.88
2017 Prediction: $8.77
Xbox One or PlayStation 4 Controller
2014: $39.96
2015: $39
2016: $39
2017 Prediction: $39
Assorted Movies
2013: $1.96
2014: $1.96
2015: $1.96
2016: $1.96
2017 Prediction: $1.96
Kids Karaoke Machine
2014: $49
2015: $49
2016: $49
2017 Prediction: $49
50-Piece Wooden Train Table
2014: $40
2015: $37
2016: $37
2017 Prediction: $35
Assorted Board Games
2014: $4.88
2015: $4.88
2016: $4.88
2017 Prediction: $4.88
Pogo Sticks & Scooters
2013: $13
2014: $15
2015: $15
2016: $15
2017 Prediction: $15
Ride-On Vehicles
2013: $99
2014: $99
2015: $99
2016: $99
2017 Prediction: $99
14' Trampoline
2013: $165
2014: $158
2015: $154
2016: $159
2017 Prediction: $154
Character Table & Chairs
2013: $20
2014: $20
2015: $20
2016: $20
2017 Prediction: $19
T-fal 18-Piece Ceramic Cookware Set
2014: $49
2015: $49
2016: $49
2017 Prediction: $49
Shark Navigator Vacuum Cleaner
2015: $97
2016: $98
2017 Prediction: $97
Brother Sewing Machine
2013: $49.88
2014: $49.97
2015: $49.97
2016: $49.97
2017 Prediction: $49.97
Compare for yourself!
The deals we've called out above are far from a complete list. Check out the last three years of Walmart Black Friday ads below to make your own comparisons and to help plan this year's holiday shopping budget.