The 5 Best Places to Find Kate Spade on Sale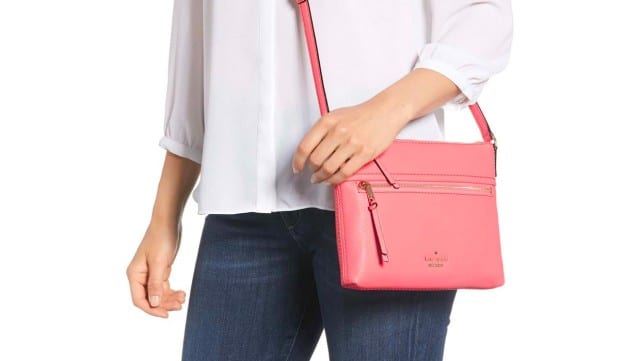 Whether it was gifted to us for high school graduation or the first "grown-up" bag we bought with the paycheck from our first jobs, possession of a Kate Spade handbag nearly always represented a life transition in which we leveled up – and we never looked back. Find out the best places to get Kate Spade on sale.
Kate Spade's clean, professional lines are interspersed with the stray bits of glitter or whimsy that adeptly toe the line between teen and adult without ever seeming juvenile. Kate Spade's designs have never stopped delighting us, and the never-ending cycle of full-to-bursting collections seem to indicate that the feeling is mutual. And with such a large body of work translating into inventory and price tags, it's pretty inevitable that there will be Kate Spade clearance sales. And guess what? They're pretty great, lucky us!
Here's five of our favorite stores for finding Kate Spade on sale.
Our favorite place to look for cheap Kate Spade is… drumroll, please… Kate Spade! Was that a little too obvious? Perhaps, but the facts are these: the vast majority of the Kate Spade deals we post come directly from the brand. "Surprise sales" offering up to 75% off pop up throughout the year, most often in February, March, May, September, and December, though there's no hard and fast schedule. Best of all, you never have to question whether or not the bargain is too good to be true. Set up a Deal Alert for Kate Spade Surprise Sale to get a notification when the next one turns up.
The sale section at Nordstrom is often a treasure trove of Kate Spade clearance. As of our publication date, Nordstrom was offering as much as 60% off clearance jewelry and shoes, up to 50% off Kate Spade handbags, and up to 40% off apparel.
While Macy's will have all of the Kate Spade handbags, jewelry, and apparel that you expect, we also love them for designer home goods like kitchen towels, dinnerware, and table linens. We've spotted phone cases as low as $11, jewelry priced from $16, and ballet flats marked down to just $28.
If deals on Kate Spade apparel are what you seek, then Bloomingdale's is the best place to start. The clearance section here will round out your wardrobe nicely, with everything from hats and scarves to dresses and jumpsuits. There's even some girls' clothing on sale here – along with handbags and plenty of jewelry, of course.
You'll find plenty of Kate Spade handbags and phone cases on sale at Overstock, but the real find here is the designer sunglasses, which we don't see as often at venerable retailers like Macy's and Nordstrom. We also often spot Kate Spade fragrances like Twirl and Walk on Air at a nice discount here.
Get Kate Spade Deal Alerts
Let us do the work – set up a Deal Alert for Kate Spade, sit back, and relax. We'll send the best Kate Spade deals straight to your inbox.

How to Spot a Counterfeit Kate Spade Bag
No matter where you're shopping, you'll want to make sure that you're buying an authentic Kate Spade bag. Here's a few tips on what to look for:
Kate Spade embosses the logo on any leather goods. If the Kate Spade logo is sewn into a leather bag on a fabric tag, it's probably a counterfeit.
Check out the hardware. The metal studs on the bottom of an authentic Kate Spade bag should not be pointy or larger than a dime. All of the hardware should be the same gold or silver, and it will feel heavy.
Does it look more like another designer? If your first impression at a glance was that it looked like Coach or Burberry, walk away.
Is the leather good quality? Saffiano leather is stiff and has a characteristic crosshatch texture. Other materials, like canvas or suede, should be smooth and free of imperfections.
Even stitching is a must. Look at the stitching around the edges of the bag. The stitches all should be the same size and perfectly straight.
"kate spade" is always lowercase. Any capital letters in the logo are a big giveaway that the item is a fake.
Related coupons: