Why (and How!) to Fly Etihad Airways, the Swankiest Hotel in the Sky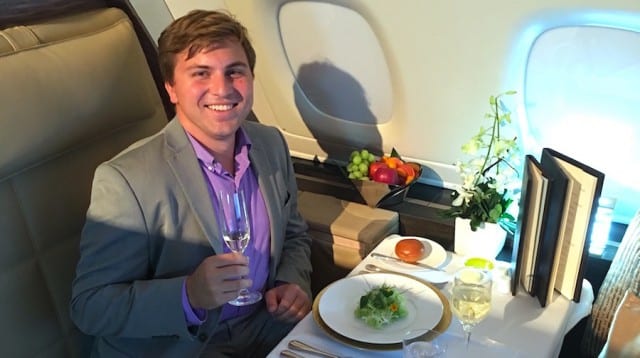 Ah the perks of being a travel writer! On Monday, I was invited to attend the opening of Etihad Airways' newest lounge at Los Angeles International Airport. I've flown in business class with Etihad in the past (on miles, naturally), so I knew it would be a classy affair. I was right. Here's how you can visit this lounge and take one of Etihad's star-quality flights, even if you're on a budget. 
While this lounge is smaller than the other lounges I've been in, both stateside and in Abu Dhabi, it's still very well-appointed. Open from 1:30 p.m. until 4:55 p.m. daily for Etihad's once-daily direct flight to Abu Dhabi, the lounge will also be accessible for Etihad's partner airlines like Alitalia and Air Berlin. However, with only 76 seats, and a capacity of 122, I have a feeling travelers might feel a bit cramped during rush periods.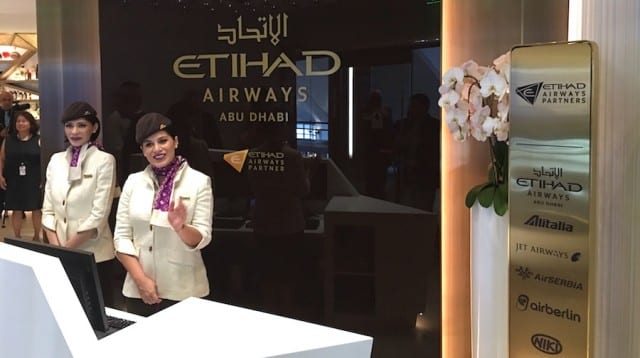 Maybe the surprisingly in-depth cocktail selection will make up for the lack of space. This menu is as chic as any you'd find in a top-tier L.A. club, featuring a drink inspired by each of Etihad's destinations. I was feeling the California vibes, and ordered "The Los Angeles," an alcoholic take on the horchata with a cotton candy topping. As everyone's head is in the clouds here in the city of angels, I found it a well-themed and delicious concoction.
When it comes to food, loungers will have several choices. There's the buffet, which, with its fine selection of fruits, salads and Middle Eastern dishes, is a definite upgrade to what you'd find in an Admirals Club. There's also an a la cart menu so you can enjoy a made-to-order meal and dine as if you were in a restaurant.
Etihad CEO James Hogan was flown in for the event. While addressing the crowd, Hogan said Etihad wasn't necessarily trying to compete with other airlines, but was instead trying to compete with the fine hotels and affinity brands of the world, and if this lounge is any indication, they seem to be well on their way. After a short ribbon cutting ceremony, the lounge was open for business!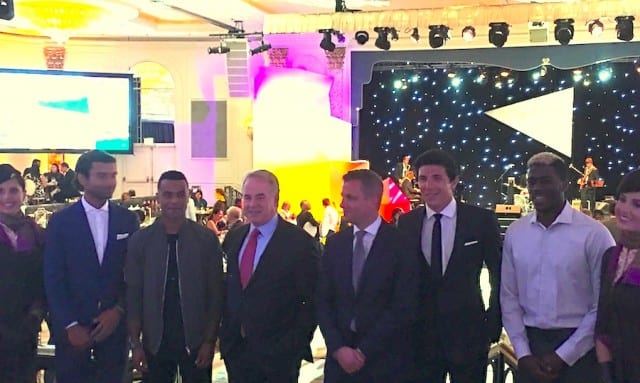 But this is Etihad, after all, and they weren't quite done dazzling. Later that evening, they had a soirée at the Four Seasons Beverly-Wilshire, which is one of the best hotels in Los Angeles. Entering the 14,300 square-foot ballroom, they had flight attendants waiting to greet guests with champagne and appetizers. As Etihad is a sponsor of the L.A. Galaxy, they brought in a few of their players in to take pictures with guests. And for some reason, David Hasselhoff was there too. Sadly I didn't get a picture with him. He's taller than I imagined, though.
The highlight for me was getting to tour The Residence, a swanky first class seat that's way out of my budget. More of a three-room suite than a seat, it includes a living area, a bathroom with private shower, and a double bed for sleeping. A butler, trained by the Savoy in London, awaits your every need.
Overall, Etihad put on an incredible event, which matches their insistence on quality over quantity. They've said many times that they're not trying to be the world's largest airline, but the world's greatest airline, which is a clear dig at Emirates. Only time will tell if they can continue this momentum in the future, but their current accommodations are definitely stunning.
How can the average Joe can fly Etihad for less?
Etihad's economy seats are actually comparatively well-priced for those flying to the Middle East, usually costing between $600 and $1,000 a pop. But as most of their flights clock in at over 13 hours, using miles or points to upgrade to a business or first class seat is worth your while. Fortunately, Etihad partners with a number of flexible points currencies, which means you can transfer points directly into their program from Citi or American Express Membership Rewards and gain faster access to upgrades.
Loyal American flyers will be happy to know that Etihad is also an American partner, so you can use American miles to fly on Etihad, as I did in March. You can fly in business class all the way to the Middle East from the United States, and connect from there to anywhere in the Middle East or Indian sub-continent for the same mileage, for 70,000 miles, or 115,000 miles for first class. These miles can be attained by flying American, or by putting everyday spending on a co-branded credit card, like the Citi AAdvantage World Elite MasterCard. You can also transfer SPG hotel points from the program into American at a 1:1 ratio. With this program, you'll get an extra 5,000 American miles for every 20,000 SPG points you transfer.
If you have any questions about Etihad, feel free to email me at mark@bradsdeals.com